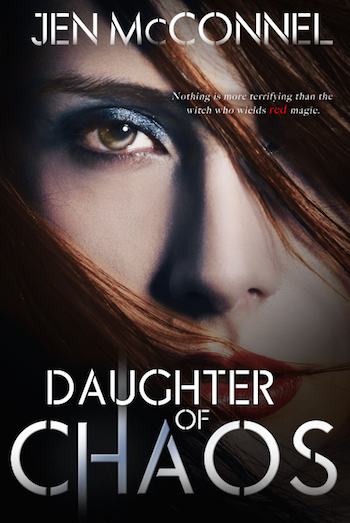 Witchcraft mixed with mythology, does it get any better? For me, no. It definitely does not. And that's why I truly enjoyed Daughter of Chaos by Jen McConnel.
The story follows Darlena -- a witch who must chose her path of magic after reaching a certain age. After choosing Red magic (the color no witch dares to take on), Darlena becomes responsible for chaos and mayhem, which draws her deep into darkness. So will the Red magic become too much for Darlena? And can she learn to control it before it controls her?
Daughter of Chaos is honestly a must for anyone whose a fan of young adult fantasy. I was fortunate enough to chat with author Jen McConnel to get the inside scoop on her magical novel.
What was the inspiration behind your book Daughter of Chaos?
I used to be a middle school Language Arts teacher, and every quarter, I set aside time for creative writing. During one of these lessons, the students and I were using story starters -- sentences or phrases as inspiration -- and I chose the phrase "She was a funny looking old woman, but..." I started writing, just having fun, and before I knew it, I'd filled pages and pages about a girl facing off with Hecate. The story started then, and when I went home that night, I couldn't wait to keep writing.
I'm usually a pantser when I write, so having a story spill out of me wasn't new or surprising, but what did surprise me was how quickly I fell in love with this story. When I finished the first draft, I couldn't stop myself, and I began drafting the rest of the trilogy (and making notes for possible spin-offs). And all that from one little phrase!
Tell me a bit about your background and how you became a writer.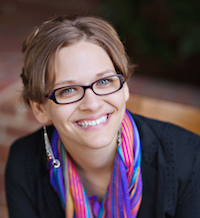 Literacy has always been huge for me, and I am a lifelong avid reader. That's had a huge impact on my writing: I remember writing rather bad fan-fiction continuing the story after I'd read Scarlet, the sequel to Gone with the Wind. Books have always been my passion!
I honestly can't remember when I started writing, but I was filling notebooks with poetry and stories by the time I was in second grade. In college, however, I started writing poetry again, and that's when I started seriously pursuing publication. By the time I graduated, I'd had a couple of poems published, and after my first year teaching middle school, I started writing prose again. Since then, I just haven't stopped, and I'm so lucky to have friends and family who support my writing. My husband and mom have both been especially wonderful; they are the best cheerleaders and support system I could ask for!
One of things I loved about your book was all the different magic and mythologies. What made you decide to put these all these things together in one story?
I've always, always loved mythology. I got my hands on the D'Aulaires' Book of Greek Myths in third grade. From that point on, I was hooked, and I dove headfirst into myths and folk tales from around the world. In college, I even considered a minor in comparative religion (I ended up with history), and I took a few wonderful courses on world mythology while I was there. Myth and magic go hand in hand for me, and it just seemed to be a natural fit to populate Darlena's world with as many forces from global mythology as would fit the story. It's been really fun learning more about different gods and goddesses as I write this trilogy, and you can expect to meet even more in the second book!
Witches are such a popular theme in books right now, but yours definitely sets itself apart from the rest (in a good way!). How do you feel your book is different from other witch books on the market (without giving away too many spoilers)?
Thank you! It's funny; even though I love reading paranormal and fantasy stories, I don't actually think I've read a lot of witchy YA! Still, one thing that readers have told me makes Daughter of Chaos different is the presence and active involvement of Darlena's parents. She's not away at boarding school, she's not an orphan, and she hasn't been abandoned by either of her parents. They're at home waiting for her each day, and they hold her accountable for some of her crazy choices. I loved writing their family dynamic, and I love the fact that her parents are in no way to blame for what happens to Darlena; she makes her own choices, and the struggles she faces aren't dictated by her heritage.
Another way this book stands apart is the mythology mash-up. There are so many awesome myth-based books out right now, but most of them stick to one pantheon or another. Darlena's world is dominated by Greek deities in Daughter of Chaos, but there are other gods and goddesses present, and that only increases as the series goes on. It was a lot of fun throwing different mythologies together and creating Darlena's magical world.
What is next for you in terms of writing? Can we expect any new projects from you soon?
Yes! I've got a number of things in the works (probably because I just can't seem to stop writing). I'm editing the second book in the Red Magic series, which is due out early in 2015, and in the meantime, I'm gearing up for the release of the sequel to my New Adult mystery, The Secret of Isobel Key. I'll also be signing Daughter of Chaos at BEA on May 31; I'm so excited for the coming months!
If you had to describe Daughter of Chaos in one word, what would it be?
The entire book? Electric. The character? Impulsive.
Related
Popular in the Community