The history of representation in Western art is unfortunately a pretty narrow one, consisting almost exclusively of white, cis men and women.
Artists like Kehinde Wiley and Mickalene Thomas have retroactively inserted black bodies into the art historical lexicon, thereby widening the range of portraiture's scope. Queens-based artist Janet Bruesselbach is broadening the scope further, through a series of full-length oil portraits depicting trans women. The project, titled "Daughters of Mercury," aims to provide trans individuals with an artistic visibility they don't yet possess, through a series of loving portraits.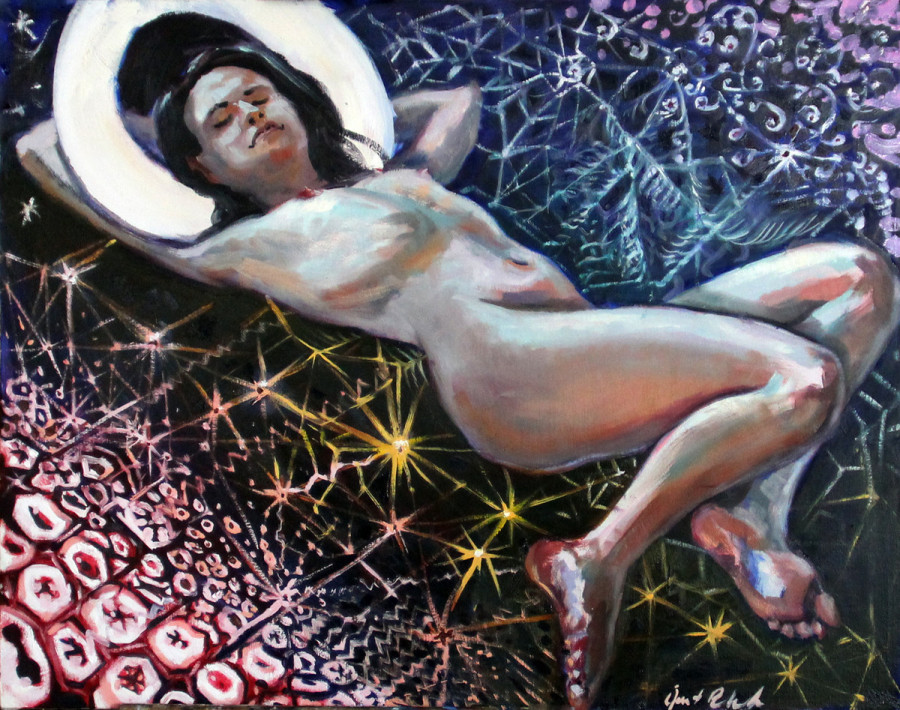 Alice, oil on canvas, 37x29in, 2014
"This series was inspired by my love for the trans women I have met online and my sympathy with the struggles they have being seen as women and people," Bruesselbach explained to The Huffington Post. "As an artist, if I'm close to someone I will inevitably try to paint a portrait of them. This started with Maddie, but I met more and more beautiful women that I felt were not often the subjects of classical oil portraits, and whom I wanted to earn, as models, some of the money they needed toward ongoing expenses, and to offset pay and hiring discrimination.
The venture's title, "Daughters of Mercury," stems from the idea of alchemical transformation. "I'm not much of a romantic or mystic," Bruesselbach says on Kickstarter, "but arguably, the painting process is one of transmutation of pigment into life. Its negotiations of representation parallel the continual aesthetic and cultural decisions trans women are often forced to make."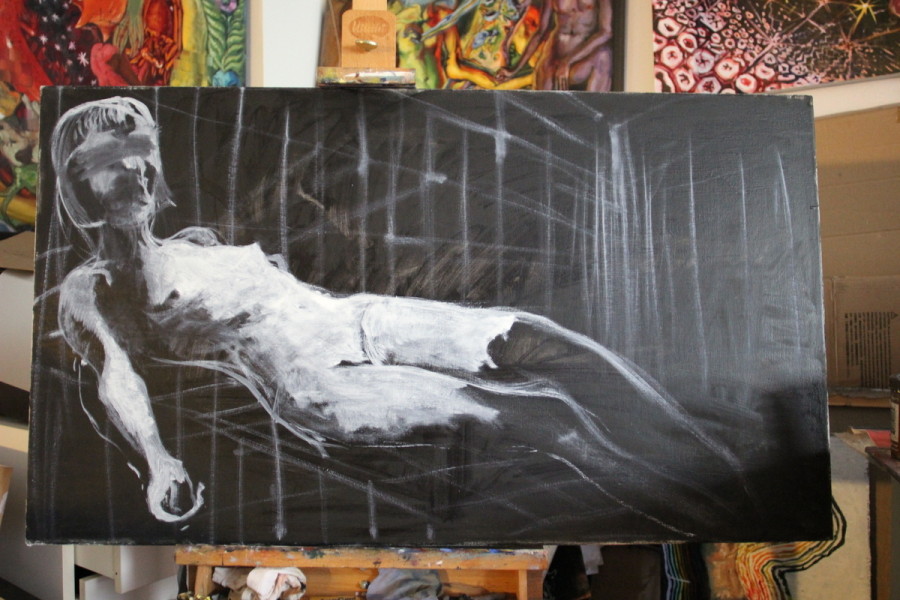 Maddie, in progress, oil on canvas, 48x24in
Although she cites Baroque painters and representational modernists as influences, Bruesselbach's true artistic inspiration comes from interacting with her subjects and exploring the complex process of visual representation. "I hope to communicate that trans female bodies are female bodies, and that there is a huge diversity among trans women in gender presentation, sexuality, profession, class, ability, race, and body type. I want to bring attention to the lives and work of my subjects. But I also just want to make gorgeous paintings people want to look at."
Bruesselbach is currently raising funds for her project on Kickstarter, hoping to collect $20,000 by October 26 to purchase supplies and pay her models. She hopes her vision will appeal to those outside the trans community who can help make this long overdue artistic intervention a reality. "While I've only gotten positive responses to the series so far, many of the people I talk to consider the audience to be niche, and expect only the trans community to support it... Trans women are everywhere, but until recently have been marginalized by the invisibility enforced by the intensification of misogynist violence toward them. It is up to cisnormative society to stop questioning their femininity, embrace their beauty, and counter the disadvantages they have just by being themselves."
Calling all HuffPost superfans!
Sign up for membership to become a founding member and help shape HuffPost's next chapter
BEFORE YOU GO
PHOTO GALLERY
Trans Artists Changing The Landscape