 Patricia Zenn already had a religion when she grew up in Malibu: surfing. But as she was constantly teased by her classmates about her family name ("Are you Buddhist or what?"), curiosity led her to borrow a book about Buddhism when she was only 11 years old. To her surprise, she instantly realized "this was it!"
Fast forward to 1977, when she was in her early 30s, the Sixteenth Gyalwa Karmapa ordained her in the Tibetan Buddhist tradition and gave her the Tibetan name Karma Lekshe Tsomo. Very fittingly, "Lekshe" means "eloquent." Venerable Lekshe quickly realized that conditions for Buddhist nuns were dire. She single-handedly started a movement to give Himalayan nuns access to education. At the time, more than 30 years ago, this idea was, at best, treated as a waste of time, or even discouraged by the established monasteries.
"They're telling the nuns, 'Oh, you're so humble, you're not interested in gaining prestige and power like these Westerners,'" Lekshe says with a calm voice but a quizzical look. "Well, I just wonder why they are not telling the monks that. If women are perpetually disadvantaged, this is what you end up with. Surveys show that the nuns' health is by far the worst of any group. Their educational standards are by far the worst too. There is a lot of work to be done, and awareness raising, especially among women."
Karma Lekshe Tsomo set out to develop a network of supporters, even at the risk of her own life and cost to her health. Along with her late teacher Freda Bedi and her friend Jetsunma Tenzin Palmo, she is among the earliest and fiercest advocates for the education of Tibetan nuns. Karma Lekshe Tsomo is the president of Sakyadhita ("Daughters of the Buddha"), the most important international association of Buddhist women, and of Jamyang Foundation, a non-profit dedicated to the education of Himalayan women.
I am often surprised how few Buddhist women know about Sakyadhita, and this is why I write about it here. This week several thousand Buddhist women (and a few men) gather for the Sakyadhita conference in Vaishali, an ancient city in North India that the Buddha visited on many occasions. Every time Sakyadhita chooses a different country, but at every conference they discuss meaningful ways in which Buddhist women can advance their access to education and full ordination (which is not available to women in several Buddhist traditions despite the Buddha's initiative to ordain women). The Sakyadhita conferences have generated a worldwide Buddhist women's movement. "Cultivating confidence," "Buddhism at the Grassroots," "Women Changing Buddhism" and "Women's Stories" from India and all over the world are part of the topics presented at this year's conference. Noted speakers this year include Venerable Jetsunma Tenzin Palmo, whose life story has been told in Vicki Mackenzie's bestselling "Cave in the Snow," and Rita M. Gross, the author of "Buddhism After Patriarchy."
What is the main obstacle? "Sexism," Lekshe candidly sums it up. She is not afraid to use the F-word. "Feminism," she says, delivering the punch line with a coy smile, "has been called the radical theory that women are completely human." The gender imbalance affects Buddhist women worldwide. "We are talking about more than 300 million women dedicated to peace, honesty, loving-kindness and compassion. Certainly we would want to optimize the talents and potential of these wonderful women." In the West, more and more teachers recognize this potential, but "women have almost no voice in Asian Buddhist institutions. For women to move into positions of leadership, they need to be fully educated and trained."
Lekshe, a professor in Religious Studies at the University of San Diego, is confident that things will change: "Why shouldn't women have the same opportunities? More and more, I see it as a human rights issue."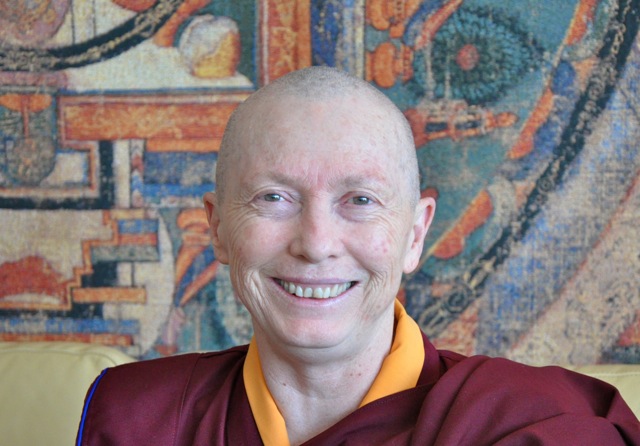 Venerable Karma Lekshe Tsomo, the president of Sakyadhita (Photo copyright: Gayle M. Landes)
An interview with Karma Lekshe Tsomo about her international research:
Calling all HuffPost superfans!
Sign up for membership to become a founding member and help shape HuffPost's next chapter