A police officer who fatally shot a Black man during a traffic stop outside of Minneapolis on Sunday was likely trying to shock him with a stun gun when she mistakenly used her firearm, authorities said Monday.
Police pulled over Daunte Wright, 20, in Brooklyn Center, Minnesota, Sunday afternoon, for what authorities said was a traffic violation. An officer shot Wright while he was attempting to return to his vehicle, Brooklyn Center Police Chief Tim Gannon said at a press conference, citing newly released police body camera video.
"It is my belief that the officer had the intention to deploy their Taser, but instead shot Mr. Wright with a single bullet," Gannon said. "This appears to me, from what I viewed and the officer's reaction in distress immediately after, that this was an accidental discharge that resulted in the tragic death of Mr. Wright."
The officer was identified by the Minnesota Bureau of Criminal Apprehension on Monday night as Kimberly Potter, a 26-year veteran of the force.
The Hennepin County Medical Examiner said on Monday that Wright died of a single gunshot wound to the chest and that the "manner of death is homicide." The office added that homicide is not a legal determination and does not relate to "culpability or intent."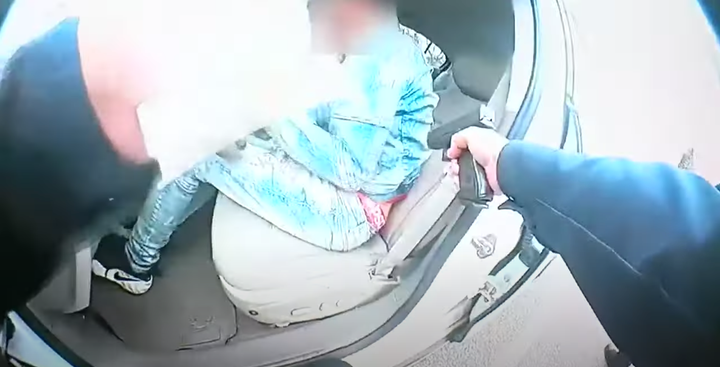 Hundreds of protestors gathered outside the police station in Brooklyn Center again on Monday in defiance of a curfew that went into effect at 7 p.m. Authorities declared the assembly unlawful and ordered those gathered to leave before police in riot gear and National Guard troops used tear gas and rubber bullets to disperse the crowd.
Several hours later, it seemed like many demonstrators had left. About 40 people were arrested, Minnesota State Patrol told reporters early Tuesday morning, and numerous stores were looted.
"I'm asking everybody to go home. We need to keep the peace in our city," Brooklyn Center Mayor Mike Elliott said in a news interview Monday night. "We need to make sure that there is a tomorrow that people can gather peacefully as well and continue to express their grief."
A separate protest in solidarity with those outside Minneapolis led to clashes between demonstrators and police in Portland, Oregon on Monday. About 250 people surrounded a police precinct and broke windows. Authorities said the situation had "devolved into a riot" and declared the protest an unlawful assembly.
Body camera footage appears to show officers attempting to place Wright under arrest outside of his vehicle when a struggle ensues. Wright appears to climb back into his car, and a female officer is heard repeatedly shouting "Taser" next to his open door, brandishing what appears to be a gun. Wright then drives away as the officer appears to express shock, telling fellow officers, "I shot him."
Police said Wright's car traveled several blocks before crashing into another vehicle. He died at the scene despite the efforts of officers and medical personnel.
Wright had initially been pulled over due to an expired registration on his vehicle. During the traffic stop, an officer discovered there was a warrant out for Wright's arrest for a gross misdemeanor, Gannon said.
Gannon said Potter has been removed from active duty to administrative leave, pending the results of a full investigation. Elliott, speaking at Monday's press conference, said he supports the officer's firing.
The mayor also said Monday that the city council had fired the Brooklyn Center city manager, Curt Boganey, and voted to give authority over the police department to the mayor. The Star Tribune added later that day that city leaders were reportedly preparing to fire the city's police chief.
Wright's death inflamed tensions and reignited protests in a region already grappling with grief, as former Minneapolis police Officer Derek Chauvin stands trial for murder nearby in the 2020 death of George Floyd.
Civil rights lawyer Ben Crump, who recently helped secure a $27 million settlement to Floyd's family from the city of Minneapolis, announced Monday that he will be representing Wright's family. In a statement, he called the young man's death "entirely preventable and inhumane."
"What will it take for law enforcement to stop killing people of color?" Crump said. "The growing number of Black men and women who have been killed or harmed by police is far. Too heavy a price for the equality we are seeking. We join Daunte's family in demanding justice for him, and holding those responsible for his death accountable."
In anticipation of further unrest, Minneapolis Mayor Jacob Frey on Monday declared a local emergency for the area. It includes a curfew that will start at 7 p.m. local time and end at 6 a.m. Tuesday.
A group of about 500 people walked to the headquarters of the Brooklyn Center police on Sunday, where they were met by officers in riot gear. Authorities called on the crowd to disperse, firing crowd-control devices into the protesters. National Guard troops were called to the scene just before midnight amid reports of looting.
A woman who identified herself as Wright's mother spoke at the scene shortly after the shooting, saying she wanted "justice for Daunte." She urged protesters to remain peaceful.
"We don't want it to be about all this violence," the woman, Katie Wright, told the Star-Tribune. "All he did was have air fresheners in the car and they told him to get out of the car."
In an interview shared on Twitter by local KARE reporter Chris Hrapsky, Wright said she was on the phone with her son around the time he was shot by police.
"I heard the police officer come to the window and say, 'Put the phone down and get out of the car,' and Daunte said, 'Why?' And he said, 'We'll explain to you when you get out of the car,'" she recalled.
Wright said she heard what sounded like the phone being placed down inside of the car and then some "scuffling." She heard one officer instruct her son not to run while another told him to put the phone down. Their call was then disconnected.
Wright said she called her son again about a minute later. His girlfriend, who had been a passenger in the vehicle, answered and informed her that her son had been shot.
"She put it on the driver's side and my son was laying there, lifeless," Wright said, describing what sounded like a video call.
Minnesota Gov. Tim Walz (D) said he was "closely monitoring the situation."
"Gwen and I are praying for Daunte Wright's family as our state mourns another life of a Black man taken by law enforcement," Walz said on Twitter.
The shooting occurred amid the trial of Chauvin, the former police officer accused of murder for kneeling on Floyd's neck for more than nine minutes during an arrest last year. Floyd's death, captured on video and circulated on social media, sparked a wave of nation- and worldwide protests calling for an end to police brutality and systemic racism.
As Chauvin's trial moved into its third week of testimony Monday, defense attorney Eric Nelson asked the judge to sequester the jury following the shooting in Brooklyn Center and subsequent civil unrest. He also requested that the court ask each juror whether they were aware of the shooting and, if so, whether it had affected their ability to be an impartial juror in Chauvin's trial.
Hennepin County District Judge Peter Cahill, who is presiding over the trial, denied Nelson's request, saying the shooting was "totally" separate from the Chauvin case.
Hayley Miller contributed reporting.
This story has been updated throughout.
Popular in the Community