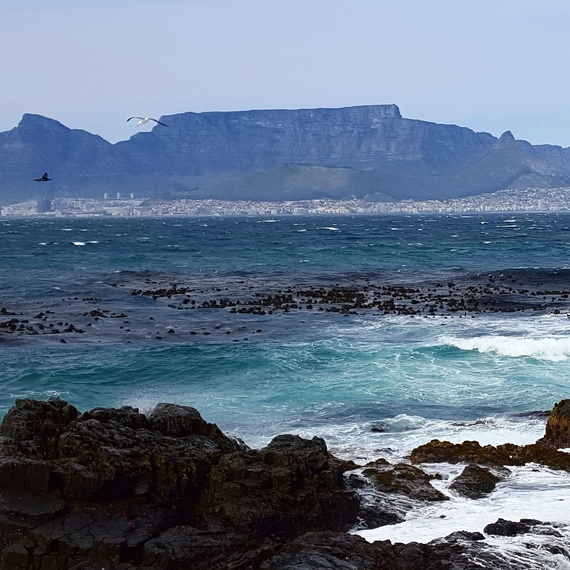 When I finally landed in South Africa (after two days and three flights), I now had physical exhaustion to add to an already-wearied mind. Prior to the trip, an unexpected setback left me teetering. The optimistic joviality that had sustained me all summer was waning. And I found myself anxiously awaiting a second wind.
Thankfully, there was no time for wallowing. We had a robust vacation itinerary and I hit the ground running. First up, a ten-course dinner at Cube Tasting Kitchen. It was one of the best meals I've ever had. The cuisine was deliciously inventive; and the festive atmosphere served us well on our first night in an exciting new city. A large group of friends shared laughs and drinks, and at another table an American couple celebrated a recent engagement.
Somewhere between this dinner, an hour spent with a cheetah, a glass of rosé in Franschhoek, and a cable car ride to the top of a town called Brits, I forgot about everything. And I mean, everything. This was partially due to the ambitious schedule that we had created, but mostly, it was the transformative aura of South Africa itself.
The place possesses a different air (certainly different from the congested concrete jungle that is my home, New York City); but also different from any that I've experienced. With each inhale there was the reminder that the present -- with its panoramic views, food, culture, history, and people -- was more than enough. With each exhale, once pressing concerns were fleeting and forgotten. This was one of my greatest adventures. And for me, it couldn't have come at a better time.
If you're planning a trip to South Africa in the near future, here are a few of my trip highlights:
Cube Tasting Kitchen, 7 4th Avenue, Parktown North, Johannesburg. Reservations are a necessity at this small and intimate tasting room. It is an ideal setting for date night or a special occasion shared with loved ones. Meals require a time commitment. All prix fixe courses (10 total) are served at a relaxed, leisurely pace, with everyone in the restaurant receiving the same course at the same time. Without printed menus, there are plenty of surprises and the knowledgeable staff explains each course with painstaking precision. Flavors are inventive and unconventional pairings cavort along the taste buds for the ultimate dining experience. The restaurant is BYOB so enhance your meal with a bottle of your favorite South African wine.
Neighbourgoods Market, The Old Biscuit Mill, Cape Town. Totally famished after a morning spent touring Robben Island, we arrived at the Neighbourgoods Market with our appetites and curiosity piqued. What we discovered was a veritable smorgasbord. There was a fresh produce market with a rainbow of fruits, vegetables and freshly-cut flowers. And just past that were rows of food vendors, boasting some of the city's finest cuisine: seafood paella, gimbap with kimchi, sashimi salad, flatbread pizzas, omelettes, Belgian waffles, burgers, schwarma, and raw oysters on the half shell. To wash it all down? Beer on tap, sangria, or delicious local wines averaging about $2 a glass. Each of us chose a different cuisine and no one paid more than $5. In addition to the affordable food, the atmosphere and people-watching are top-notch.
The Living Room, 20 Kruger Street, Main Change Building, Maboneng Precinct, Johannesburg. Lost your chill? Spend some time at the Living Room for a laid-back vibe reminiscent of Fort Greene, Brooklyn. We enjoyed sundowners while watching the sunset from this rooftop "jungle oasis," which comes complete with lush greenery and hammocks. You'll hear a selection of soulful background tunes as you mingle with an eclectic, artsy crowd. Their Sunday party, held weekly, sounds like a great way to spend an afternoon.
The Cape Winelands (various). There are so many wonderful vineyards in the area surrounding Cape Town (primarily Franschhoek and Stellenbosch) that it would be impossible to visit them all. We enjoyed a leisurely wine tasting at the Delheim Winery and a modern art museum at Glen Carlou. We lunched at La Petite Ferme where, in addition to wine, we enjoyed baked prosciutto with camembert and figs, and succulent beef fillet topped with tempura onion rings. All three wineries boast incredibly picturesque views.
Kliptown Youth Program, 49 Station Road, Kliptown, Soweto, Johannesburg. In the heart of the impoverished Soweto area (amidst tiny shacks with no electricity and no running water) there is a wonderful program that is providing educational supplies, warm meals and support to kids who desperately need it. Already featured on CNN, KYP's mission is "to provide opportunities that will enable our young people to rise out of poverty." The tutoring, arts and sports programs expose the children of Soweto to incredible learning opportunities. And thanks to generous donations, the students have access to a computer lab and tablet devices that they can take home overnight. Of all that I saw in South Africa, the friendliness and warmth of the KYP children shines brightest in my mind.
Cape 22, 22 Montrose Avenue, Oranjezicht, Cape Town. A good friend recommended Cape 22 for our stay in Cape Town and we couldn't have been more pleased. This guesthouse is so comfortable, warm and impeccably-decorated that we felt as though we'd been invited to someone's home. Breakfast is served daily, made-to-order and included in the room fee. Lively and informative chats with the guesthouse owners, Dom and Allan, had us looking forward to a glass of wine by the fireplace in the evenings. And the Gilchrist & Soames products in our suite were a major bonus.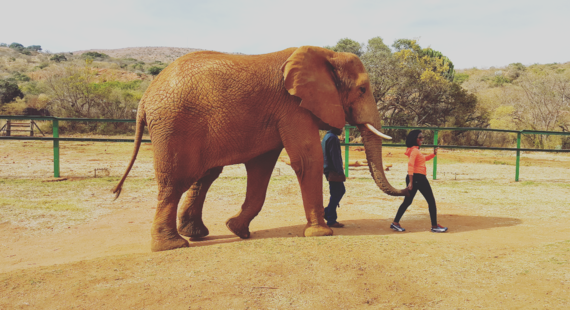 Elephant Sanctuary Hartbeespoortdam, R104, Hartbeespoort. We drove to a sanctuary in Hartbeespoort, a resort town about an hour outside of Johannesburg, for an interactive day with the elephants on-site. Once there, we fed a 45-year old male named Amarula and watched as he lovingly saved the last bite for his human trainer. Later, I approached a teenaged-male named Temba. He handed me a brush with his trunk as if to say, "You'd better get started." And I did, brushing his skin to remove dirt and parasites. As a thank you, Temba gave us all a big, wet smooch that we won't soon forget. Later, the sanctuary gifted us with a DVD -- our entire day had been captured on video! We also toured the adjacent monkey sanctuary for close encounters with lemurs, capuchin and spider monkeys. Finally, a cable car (Harties Cableway is the longest mono cableway in Africa) took us to the top of the Magaliesberg Mountains, where we enjoyed wine at the overlook bar and stunning views of Johannesburg and the surrounding areas.
Related