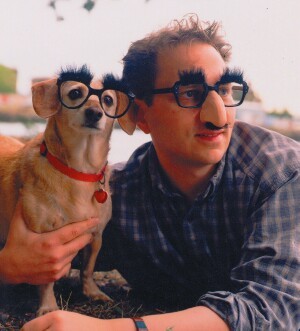 The allure of the Captain Underpants series is lost on some adults. Rife with flatulence jokes, characters with puerile names like Professor Pippy P. Poopypants and starring an unlikely superhero in tighty-whities, the series topped the American Library Association's list of Most Frequently Challenged Books in both 2012 and 2013. The fact that many adults don't approve of Dav Pilkey's writing style only makes it more appealing to kids, as evidenced by the 70 million copies sold to date about the antics of fourth-grade best friends George and Harold. Pilkey says his goal is to capture the interest of children who rarely get excited about picking up a book. "I just want my readers to have a good time," he says. "I'm hoping they'll make a connection in their heads that reading is fun. Hopefully, that connection will get them started down the road to a lifetime of literacy."
Pilkey knows firsthand what it's like to struggle academically. "I was pretty miserable in school," he says. "I went to a very small parochial school that wasn't well equipped to deal with kids like me ... I was diagnosed with extreme hyperactivity (what they now call ADHD). I also have dyslexia, which posed another set of challenges that unfortunately, my teachers didn't quite know how to handle."
Young fans often bring examples of their own stories and comics when they meet Pilkey. "I feel very honored when kids are willing to share their creative works with me," he says. Pilkey feels a special kinship with those who divulge they also have ADHD or dyslexia. "The nice thing is that many of these kids are saying this for the first time with a bit of pride in their voices," says Pilkey. "It's as if they suddenly made the connection that thinking and learning differently than almost everyone else around them is not a bad thing after all. It's good to see that spark of hope."
Pilkey's educational challenges led to poor conduct in the classroom. "I began misbehaving in order to shift the attention away from my academic challenges," he says. "Being the class clown was much better than being the kid who couldn't read very well." So egregious was Pilkey's behavior, his teacher put his desk in the hallway so he wouldn't disturb the class. "I was sent out there for hours every day," he says. "Once I'd finished my schoolwork, I spent most of my time drawing pictures. These drawings ended up becoming stories, and the stories turned into comics."
Ironically, it was during one of those disciplinary exiles from the classroom that Pilkey created the Captain Underpants character. "He started out as a regular superhero, who flew around and did heroic things," he says. "When I started making books about him as an adult, he evolved into the heroic alter-ego of an elementary school principal."

After high school, Pilkey enrolled at Kent State University where he majored in English, intending to become a teacher. Thanks to the attention of a particularly earnest English professor who noticed Pilkey's notebook crammed with cartoons and drawings, he took another path. His professor asked if he'd ever considered writing and illustrating children's books. "I'd never considered it before, but from that moment on, I thought of little else," says Pilkey. "She was the first person to ever take an interest in my writing. I doubt I'd be making books today if it weren't for her."
Shortly thereafter, Pilkey wrote his first children's book, World War Won. He entered it into the 1987 National Written and Illustrated by... Awards Contest for Students and won first prize in his age category, a publishing contract, and a trip to Kansas City. "It was one of the greatest experiences of my life," Pilkey recalls.
However, Pilkey's excitement was short-lived. "Being recognized (and getting published) was definitely a thrill, but it wasn't the 'foot in the door' that I'd hoped it was going to be," he says. "I had imagined that publishers would be lining up to publish my next book, but the reality was quite different. I spent many years afterwards doing author visits and selling books out of the trunk of my car in order to make ends meet." Pilkey's second effort, 'Twas the Night Before Thanksgiving, was rejected by 23 publishers before being accepted by Orchard Books in 1989. Other books followed, including The Dumb Bunnies series and Dog Breath.
In 1996, Pilkey released The Paperboy, which earned him a Caldecott Honor. The Paperboy conveys Pilkey's favorite aspects of his own early mornings spent delivering newspapers. "I liked the independence I felt when it seemed like I was the only person in the whole world who was awake," he says. "I liked the snap of the green rubber bands I'd roll around each folded newspaper. I liked the colors, the pinks and purples and oranges that crept up from the dark horizons as I pedaled my bike."

The first Captain Underpants novel was released in 1997 and 11 more have followed. Pilkey has theories as to the series' popularity. "I think kids respond to the humor, and also to the friendship and loyalty of George and Harold," he says. "George and Harold don't have traditional superpowers. They have to rely on their imaginations and creativity to save the world. Creativity and imagination end up becoming their superpowers. I think young readers can identify with the idea that superpowers are not necessarily elements of fantasy. They can be attainable things."
Pilkey's latest series is Dog Man. "I mentioned Dog Man in the first Captain Underpants book, and by book nine, he was being featured in George and Harold's own comic books," says Pilkey. "The response I received from fans about Dog Man was overwhelming. I was having so much fun with him and his crazy world that it was a natural transition to begin making entire books about him."

Currently, Pilkey is working on book three, Dog Man: A Tale of Two Kitties. "Even though the Dog Man series has a very naïve quality in the writing and art, I'm going to be exploring complicated ideas as the series progresses" he says. "What is the true nature of evil, for example? And are we merely products of our genetics, or does our environment also play a role in the development of our character?" Fans can follow Petey the cat on Instagram at petey_haw_haw.
Next summer, DreamWorks Animation will release the Captain Underpants movie. The release date is set for July 2, 2017 and the timing coincides with the 20-year anniversary of the first Captain Underpants novel. Pilkey says meeting the first generation of Captain Underpants fans, now adults, is typically very rewarding. "Often they tell me that if it weren't for these books, they wouldn't be a reader today, or wouldn't have gone on to graduate from college," he says. Pilkey hopes his books will continue to make a difference in the lives of his fans and inspire them to read more. "It's really all about making that connection that reading is fun," he says. "That simple connection can lead to extraordinary places."