Less than one week after posting a controversial article condemning the "filthy" lifestyle of "homosexuals," Michigan Republican Dave Agema has once again taken to Facebook to voice his opinion on the LGBT community, warning his Republican colleagues that accepting "this lifestyle" in the party's platform will "cause great harm to society."
Responding to a petition posted on Facebook calling for Republican leaders to adopt "a more inclusive tone," Agema -- a Michigan Republican National Committeeman -- refused, writing, "the homosexual community is pushing same sex marriage which will be taught in schools as an alternative lifestyle."

Brad Fingeroot, the Oakland County Young Republican who posted the petition, thanked Agema for engaging in the discussion, but asked that the former state lawmaker "keep the smut on the sidelines."
Agema, in response, accused Fingeroot of "trying to change" the Republican Party's long standing principles.
"I can send you reems [sic] of studies showing the negative health affects [sic] of this lifestyle," Agema wrote. "Instead you would have us accept it, teach it to our kids, include it in our platform and cause great harm to society."
"The people of America have the right to know what lays ahead if the Supreme Court rules the wrong way," Agema continued. "You want to change the landscape of our party in a direction that had not been accepted for over 230 years. I'm trying to maintain or [sic] platform."
Read Agema's entire post, provided to The Huffington Post by Dennis Lennox, a Michigan Republican precinct delegate: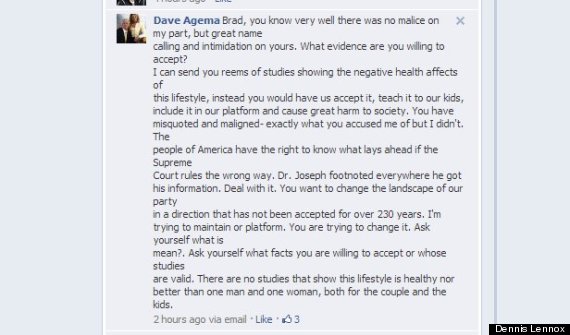 Agema's most recent anti-gay Facebook remarks come just two days after he appeared on Michigan's WWMT Newschannel 3 to distance himself from the article he posted last Wednesday attacking the LGBT community.
"They quoted as what somebody else said and attributed it to me; I didn't say that," Agema told WWMT on Friday. "So, do I agree with everything that that guy said and the way he said it in the article, no. But he gives a lot of statistics on the results of the health -- the mental and physical health -- of the lifestyle and what it causes."
When pressed by WWMT on whether he agreed with the article's claim that gays and lesbians account for a high percentage of murders, suicides and diseases, Agema responded, "I not only believe it, it's substantiated by several different articles and studies. That's just a fact."
Although Agema is refusing to resign from his post as a Michigan Republican National Committeeman -- claiming that calls for his resignation are a "joke" -- members of his party are continuing to press Agema to step down.
Lennox, who has led a growing coalition of Republicans calling for Agema's resignation, says that his most recent behavior proves that "he seeks to promote hate, viciousness and vitriol."
"Dave Agema has finally admitted he seeks to promote hate, viciousness and vitriol instead of the Republican Party's traditional forward-looking message of equal opportunity for all," Lennox wrote in a statement. "Dave Agema's extremism has no place in our Republican Party."
Calling all HuffPost superfans!
Sign up for membership to become a founding member and help shape HuffPost's next chapter
BEFORE YOU GO
PHOTO GALLERY
Outrageous Homophobic Statements