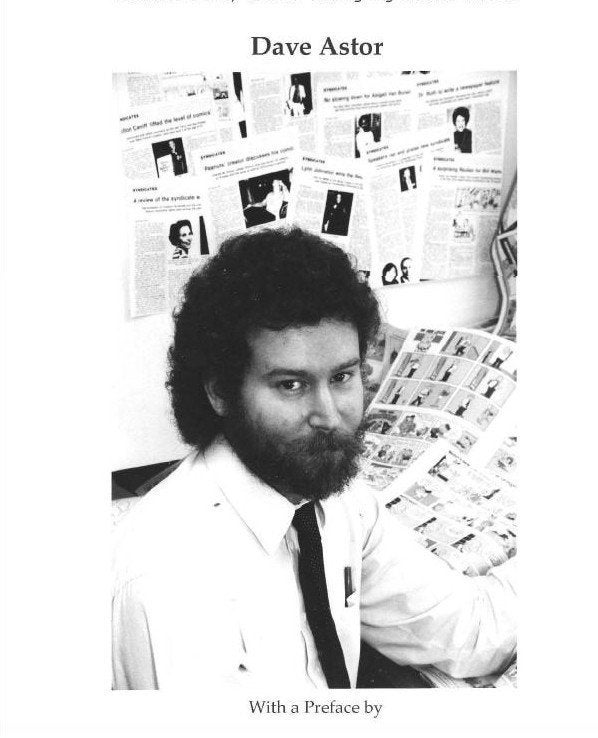 "Now there's some sad things known to man
But ain't too much sadder than
The tears of a clown, when there's no one around"

-Smokey Robinson
I usually start my columns with a song lyric and was tempted with Dave Astor's autobiography to use one from James Brown.
James was the hardest working man in rock and roll and Astor was one of the hardest working journalists I've ever seen.
On the other hand, a book titled, Comic (and Column) Confessional, seems to cry out for "Tears of a Clown."
There have been a lot of clowns and a lot of tears come through Astor's life.
I've known Dave for several years, in several different capacities. I first met him in the role he had for 25 years: covering syndicated columnists and cartoonists for Editor and Publisher Magazine. He notes my coverage of the 2008 financial crisis in his new book, but he came on my radar with his nonstop coverage of National Society of Newspaper Columnists conventions, when I was on the board of directors and later served as the group's treasurer.
Like me, Dave is currently a Huffington Post contributor.
Along with admiring each other's work, we became friends. He's the super quiet kind of guy you see hustling around at conferences, taking notes nonstop.
In other words, Dave is a journalist's journalist. Editor and Publisher was the ultimate "inside read" for people in the media business. There aren't a lot of people who devote full attention to comic strip writers and syndicated columnists. Dave was the man.
For someone like me, struggling to get syndicated and pick up an audience, a nod from Dave could make or break a career.
Thus, Dave touched a lot of people. A lot of extremely famous people. And he writes about those people and experiences in Comic (and Column) Confessional.
I was struck by the remarkable candor that went into the book. He talks about the horrible experience of the death of his infant child and years seeking justice for the medical negligence that caused it. He is open about the breakup of his first marriage and finding true love on the second try.
But his candor serves well when talking about the media.
Dave's beat allowed him to have close interactions with columnists like Ann Landers, Dear Abby, Arianna Huffington, Heloise and Walter Cronkite and just about every cartoonist who has ever walked the planet.
Dave doesn't drop sensational gossip. He's a journalist's journalist.
He gives a full and complete picture of people who are household names, but who we actually know little about.
His book is also an excellent history of how the media has changed. Comic strips, columnists and newspapers in general have all declined in number over the 25 years that Astor was at Editor and Publisher. Dave has many insights into why that happened.
For true students of the media, Comic (and Column) Confessional is a must read. It comes from a man who knows everyone and has seen everything in an important part of his history.
He tells the story in the role he has always had: a journalist for other journalists.
This week marks Don McNay's 30th anniversary of when he entered the financial services industry.
McNay, CLU, ChFC, MSFS, CSSC has Masters Degrees from Vanderbilt University and the American College and was inducted in the Eastern Kentucky University Hall of Distinguished Alumni in 1998. He has four major professional designations and is a lifetime member of the Million Dollar Round Table.
He has served on the Board of Directors for the National Structured Settlement Trade Association and as Treasurer for the National Society of Newspaper Columnists.
REAL LIFE. REAL NEWS. REAL VOICES.
Help us tell more of the stories that matter from voices that too often remain unheard.