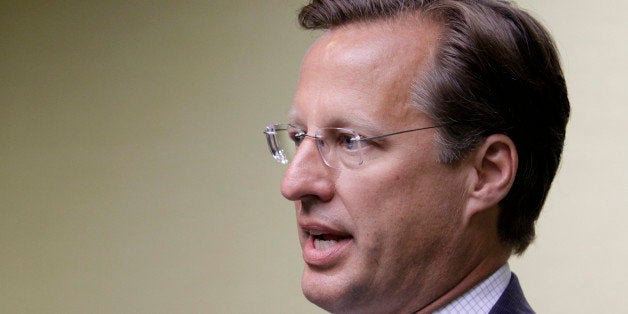 WASHINGTON -- Rep. Dave Brat (R-Va.), the immigration hardliner who unseated former House Majority Leader Eric Cantor (R-Va.), dismissed arguments from his colleagues that young undocumented immigrants who want to enlist in the military are showing their patriotism.
"I wanted to stand up and shout, I mean, ISIS is willing to serve in our military as well," Brat said on The John Fredericks Show on Friday.
The House voted last Thursday to strip the National Defense Authorization Act of a measure from Rep. Ruben Gallego (D-Ariz.) that would ask the Defense Department to consider allowing the young undocumented immigrants often called Dreamers to enlist. Brat co-sponsored an amendment from Rep. Mo Brooks (R-Ala.) that took out the language, approved in a 221 to 202 vote.
The fact that the measure made it to the NDAA in the first place -- it was approved as an amendment in the Armed Services Committee -- bodes poorly for the U.S.'s future, Brat said. He compared the situation to ancient Rome allowing non-Romans, referred to as barbarians, to join its military.
"What's going on is the decline of Western civilization at the highest level," Brat said on the radio show. "I think everybody knows their old Roman history -- part of the reason Rome fell is because they started hiring the barbarians, otherwise known as the Germans at the time, to be troops in their own army. And that led to their eventual downfall."
Brat and other critics of the measure have argued that allowing Dreamers to enlist would take spots from Americans and legal permanent residents, particularly at a time when the military is downsizing.
Gallego's measure wouldn't require the military to allow more Dreamers to join, and only recommends considering enlistment for those already granted work authorization. Anyone with that authorization under the Deferred Action for Childhood Arrivals program, or DACA, must have entered the U.S. before they turned 16 and pass a criminal background check, among other requirements.
Twenty Republicans voted against Brooks' amendment to take the Dreamer-related language out of the NDAA. Ahead of the vote, Rep. Jaime Herrera Beutler (R-Wash.) praised the Dreamers with "the courage and conviction" to want to join the military.
Brat noted that the Republican members who voted against the amendment mostly came from districts with growing Latino populations, and implied they just wanted cheap labor out of "regional self-interest." Or maybe they were just making "an intellectual error," he said.
Listen to the full interview:
Calling all HuffPost superfans!
Sign up for membership to become a founding member and help shape HuffPost's next chapter
BEFORE YOU GO
PHOTO GALLERY
Scenes From 114th Congress And Capitol Hill