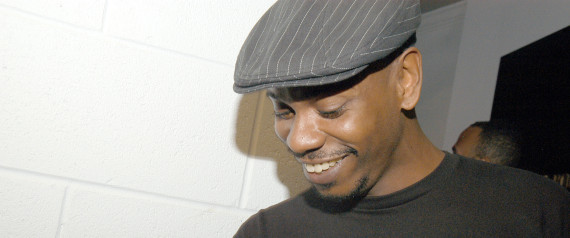 Audiences must learn how to respect Dave Chappelle, or we might lose him for good.
Last night in Hartford, Chappelle performed the fourth show of the Oddball Comedy & Curiosity Festival, one of the biggest outdoor comedy tours ever staged. Nearly as soon as the show was over, word spread across the Internet that Chappelle had, well, pulled a Chappelle. Accounts of the performance vary, but the consensus seems to be that he walked offstage in a huff after about half an hour, having performed very little material. The reasons he did this exist solely within the brain of Dave Chappelle.
Of course, that didn't stop folks from assuming that Chappelle suffered some sort of nervous breakdown onstage. The word "meltdown" was tossed around, despite the fact that by all accounts, he upset the audience by not being terribly emotional onstage.
This should be no surprise to those following Chappelle's career. Jason Zinoman, the comedy critic for The New York Times, just released an ebook that attempts to answer the question "What makes Dave Chappelle tick?" The best conclusion Zinoman draws is that the only consistent pattern throughout his career is that Chappelle craves one thing above all else: Control.
And it sounds like the crowd was simply uncontrollable. According to an email I received from an audience member, several in attendance couldn't contain themselves when witnessing the star of a show that's 10 years old. The fan writes that after people in the front kept interjecting:
He got irked at somebody sitting in the front couple of rows who was filming his performance on his phone saying, "This ain't no YouTube special, man." I'm not sure if security got the fan out, but that seemed to set off a snowballing effect on the show.
Sean McCarthy of the rigorous comedy blog The Comic's Comic was also there, and also reports that Chappelle seemed to have reached his wit's end. He quoted Chappelle chastising the audience for booing him:
"You're booing yourself! You are booing yourself. I want you to go home, go home and look in the mirror and say, 'Boo!' And remember, that's how I feel about you."
Most likely, only a handful of audience members out of the 9,000 in the crowd were disruptive to the point that Chappelle felt the need to end the show early. But that's not really the point. Whether he's addicted to self-sabotage (a "habitual line crosser," as he might say) or a champion for principles, Chappelle has long shown that he will not hesitate to call it quits when he feels like it. Chappelle's Show was actually the second time he walked away from a TV show -- as Zinoman chronicles in his book, he quit a network pilot in the '90s over difference of opinions on the show's racial makeup.
And audiences should know that. This is the Dave Chappelle we deserve, which isn't always the Dave Chappelle we want. Lesli-Ann Miller of Ebony took it a step further, saying she wouldn't be surprised if Chappelle quits stand-up for real this time.
Chappelle wasn't having a meltdown. This was a Black artist shrugging the weight of White consumption, deciding when enough was enough. This isn't the first time Chappelle has done so and it isn't the first time his behavior has been characterized as a meltdown.
Since leaving Chappelle's Show, he's lived a quiet existence with his family in Ohio, so it's not unthinkable that he would leave show business altogether. Outside of Chappelle's Show, his best projects have been small and intimate (if you haven't seen Dave Chappelle's Block Party, stop what you're doing and rent it on iTunes now). I've seen him perform several times at the Comedy Cellar in New York City, and while the quality of the stand-up is dependent on his mood, the close quarters of the Cellar is, I imagine, much more befitting for his confessional stand-up than an outdoors festival in front of 9,000 people.
Chappelle's next show is in Pennsylvania tonight. As with most turns in Chappelle's unpredictable career, we'll have to wait and see what happens.
Popular in the Community