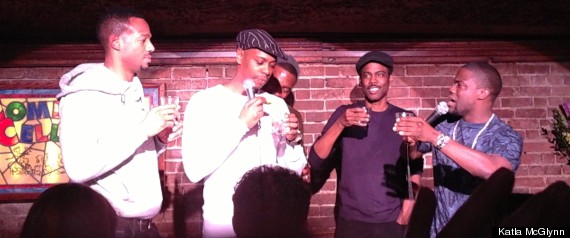 Could Dave Chappelle be preparing for a return to the spotlight?
Since his infamous 2006 departure from the mega-hit Comedy Central sketch series, "Chappelle's Show," the stand-up comedian and actor has only made a handful of TV appearances. Occasionally he has performed stand-up comedy on the road, to varying results.
But signs seem to point to Chappelle's interest in reclaiming his throne as one of comedy's most innovative minds. In late February he performed a string of drop-in performances at New York's The Comedy Cellar, most notably with Chris Rock, where he seemed open to the idea of returning to comedy and perhaps even going on tour with Rock.
Audiences have sometimes sighted Chappelle at the Cellar over the last year or so working on material that was often hit or miss. But audiences in attendance to these recent shows can attest that he appeared to be comedically rejuvenated.
The first night, as reported by The Comic's Comic, included Chappelle and Rock riffing about touring together as soon as November.
"After next Tuesday, I'm free for like 11 years," Chappelle said.
Over the next two nights, Chappelle dropped into the Comedy Cellar with more comedian friends, including Rock, Kevin Hart, Marlon Wayans, Bill Bellamy and Paul Mooney. Chappelle again teased the idea of going on tour -- while joking that he had "no material," he performed roughly 45 minutes of new comedy, including bits about the Pope and Oscar Pistorius. (Some HuffPost Comedy editors were in attendance one of those nights, and can confirm that Chappelle was indeed performing to the top of his talent.)
Of course, Chappelle has had an uneasy relationship with fame and may be reluctant to return to the public eye. He unceremoniously quit "Chappelle's Show" after just two-and-a-half seasons against the stern and public warnings of Comedy Central, and lives a life of relative obscurity with his family in Ohio. Even an official Twitter account was abandoned after just a few days.
Related
Popular in the Community