Earlier this week, LGBTQ advocates condemned his transphobic and homophobic jokes and misconceptions in his new comedy special, "The Closer," which premiered on Netflix Tuesday. The National Black Justice Coalition, a civil rights advocacy group, even issued a statement on Wednesday urging the streaming service to pull the special.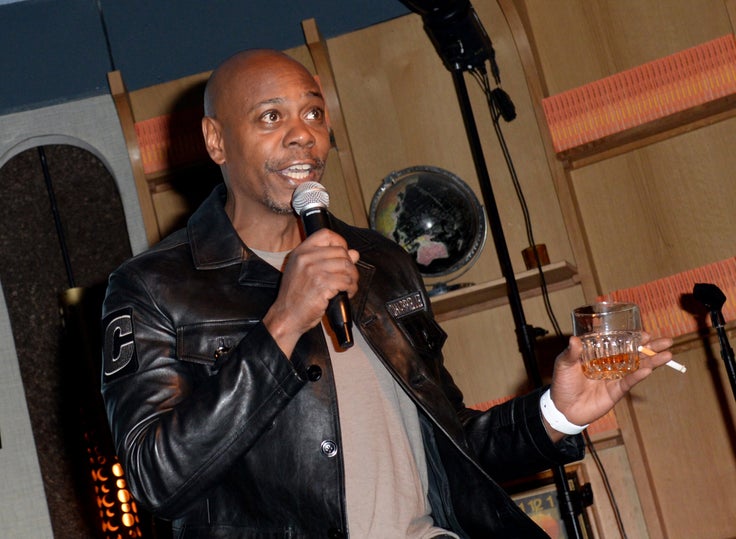 The "Chappelle Show" star reportedly responded to the controversy surrounding his Netflix special during a sold-out event at the Hollywood Bowl in Los Angeles on Thursday, The Hollywood Reporter and Deadline report.
After a screening of his new film "Untitled: Dave Chappelle Documentary," which follows the comic summer camp Chappelle put on last year in his Ohio hometown, the 48-year-old comedian took the stage and received a standing ovation, according to THR.
"If this is what being canceled is like, I love it," the performer said, according to the entertainment outlet. The line about being canceled received "rapturous applause" from the audience, which included celebrities like Brad Pitt, Tiffany Haddish, Donnell Rawlings and others, THR reported.
"I don't know what to tell you, except I'm a bad motherfucker," Chappelle added, receiving laughs from the crowd of 18,000, per Deadline.
At another point, the comedian reportedly criticized social media users and the press for asking him to comment on the backlash.
"Fuck Twitter. Fuck NBC News, ABC News, all these stupid-ass networks. I'm not talking to them. I'm talking to you. This is real life," Chappelle said, according to THR.
Yet the real-life consequences of Chappelle's jokes in his latest comedy special are precisely what concern many LGBTQ advocates and trans women.
Chappelle defended offensive comments made by "Harry Potter" author J.K. Rowling during his special.
"Effectually she said gender was a fact, the trans community got mad as shit, they started calling her a TERF," Chappelle said, referring to the acronym for "trans-exclusionary radical feminists," whose views about gender are seen as anti-trans.
"I'm team TERF," he added.
"Gender is a fact. Every human being in this room, every human being on Earth, had to pass through the legs of a woman to be on Earth. That is a fact," Chappelle said before comparing trans womens' bodies to plant-based burger products.
Yet, Chappelle's joke conflates gender and sex. Gender is "your own, internal, personal sense of being a man or a woman (or as someone outside of that gender binary)," according to GLAAD, while sex typically refers to a person's biological characteristics.
Aside from the National Black Justice Coalition, GLAAD also issued a statement saying the comedian's "brand has become synonymous with ridiculing trans people and other marginalized communities."
Jaclyn Moore, executive producer of Netflix's "Dear White People," also announced on Twitter that she would no longer work for the streaming service. (Though, after speaking out, she is now experiencing a backlash of her own.)
Other trans advocates, trans women and Netflix employees also spoke out against Chappelle's jokes on social media.
But according to Deadline, Chappelle said during his Thursday screening at the Hollywood Bowl that he has no interest in fighting with his critics.