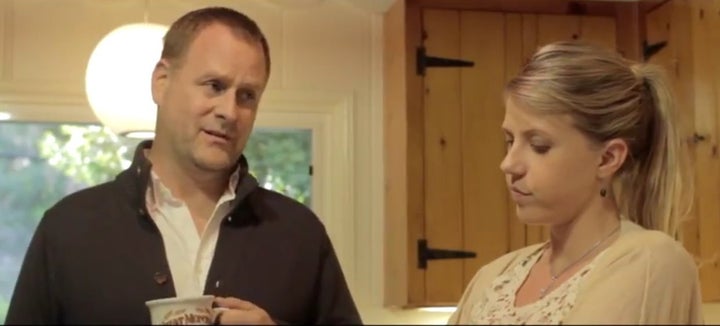 Dave Coulier, the actor and comedian who played Joey Gladstone on the now-classic sitcom "Full House," would like everyone to know that he is not Canadian. His mother is Canadian, but he was born and raised in Detroit, Mich., and got his start in stand-up there at a young age.
He's not sure why that untruth has seeped into the public consciousness, but it seems to fit with a few other rumors about the Detroit-born Coulier: that he inspired ex-girlfriend Alanis Morrissette's quintessential angry-rock-song, "You Oughta Know," that he wanted to play professional hockey, that he's dead. (The Huffington Post can confirm that he's very much alive.)
Though Coulier's still best known for his "Full House" connection, he's also worked consistently as a voice actor over the years on "The Jetsons," "Scooby and Scrappy Doo," and "Muppet Babies," among others, and he's continued to tour all over the country as a stand-up comedian. In 2003, he appeared on the VH1 reality show, "The Surreal Life," and a few years later, he figure skated with Nancy Kerrigan for Fox's "Skating With Celebrities."
His newest project is a comedic webseries called "Can't Get Arrested," which he co-created. It features himself and Jodie Sweetin -- another "Full House" alum -- doing everything they can to stay "attractive" to the paparazzi. It's tongue-in-cheek, to be sure, but actually a lot of fun, especially when other sitcom alums show up, like Dennis Haskins (Mr. Belding from "Saved By The Bell"), for instance, and other members of the "Full House" family.
Coulier spoke to The Huffington Post from his home in Los Angeles.
Can you talk about the genesis of "Can't Get Arrested"? Was it your idea, originally?
Yeah, it's an idea I had that I pitched to Jodie [Sweetin] and she said, "I think that's hysterical, I'd love to do that." Honestly all the "Full House" [cast members] remain really close, we've all retained our friendships, and become this kind of dysfunctional family off-camera, as well. But Jodie was on board, she loved the idea, and I'd met this young producer named Jordan Rozansky. He loved the idea, so we started collaborating and within two weeks we had five episodes written.
How did Dennis Haskins get involved? Were you guys friends before this?
I had met Dennis at a party, and at the same party, Kato Kaelin, [OJ Simpson's former houseguest] was there. And this light bulb went off that I really wanted to see Dennis and Kato wrestling each other in a restaurant. I couldn't get that image out of my head.
That was really the first scene you thought of?
Yeah, and it pretty much wrote itself. I knew I wanted to put it in the show. Everybody thought, "Okay, that's a funny idea, but how does it fit in?" I said, "I don't know, but I'm going to make this fit in." That was really the whole start of it.
Did you like the freedom of working on a webseries, as supposed to a TV show?
I think it's great. You just get to decide what stories you want to tell, what the arc is. In this case it's only five shows, but there's that freedom you don't get anywhere else. No notes from an executive or from somebody at the studio. It's just: We think this is funny, let's put it up.
I'm sure people come up to you and recognize you every day from "Full House." It's kind of become a cultural touchstone for people who grew up with it, in a way.
Yeah, there was really something in the Kool-Aid with that show. None of us know what it is. It's very cross-generational, people who grew up watching the show have kids now, and they say, "It's so crazy, I'm watching this show all over again with my 3-year-old." I think it's more of a guilty pleasure now, but it's also become nostalgic, which is cool, you know?
At the time the show premiered, it took a while for people to come around to it.
When it first came out in 1987, we got panned by everybody. Tom Shales from the Washington Post -- he was one of those people. But then years later when the show was already in syndication, he kind of retracted what he'd said eight or nine years earlier. He said he was wrong about the show. So after being ripped apart, to have someone come back and take their foot out of their mouth was kind of a nice feeling.
Is stand-up comedy still your number one focus? You've been doing it for almost 30 years now.
It's just about working out, keeping your brain moving. It's great I'm still able to draw big audiences because of "Full House," but performing like that is a feeling you can't get with anything else. I love going out there and playing for the fans, talking to people.
You've toured with a program called the "Clean Guys Of Comedy," along with other like-minded comedians. Can you talk about that a bit?
It's something I've been working on for a while, done a few shows in some theaters. I've always worked clean, but I'm not a prude. I grew up on Pryor, Lenny Bruce, I love the Chris Rocks of the world, but for me...I would rather listen to that style because I could never do that style myself.
You don't think you could perform like that?
When I was starting out as a teenager, I was doing a [stand-up] show, and my mom and grandmother were in the front row, and it scared the crap out of me. I was just like, "Thank God I didn't throw F bombs." I remember afterwards I said to her, like, "How could you sit in the front row with grandma? It's so distracting!" She didn't understand that, but I guess it's scared the living crap out of me for the rest of my career. Then again, [Adult Swim] just asked me to play filthy Ronald Reagan on this new show called "China, IL," and I said absolutely. [Laughs]
You always looked a bit out of place on "The Surreal Life." Was that something you enjoyed doing?
I guess I took it more as a personal challenge. When they first came to me with it I said there's no way, no way I'm doing this. But I thought about it a lot, and the thing is, it's not a mean-spirited show. It's not. So I said, I'm going to do this because it's a challenge for me. But then once I got there it was awful. I couldn't stand it. I was trapped in a house with insane people for 13 days. But I did become friends with Flavor Flav. I keep in touch with him. I get a real kick out of that guy, he's a real sweetheart and makes me laugh.
Wow, really? That's kind of amazing.
Yeah, we always wanted to do a show together. It'd be called, "Dave and Flav," about the whitest midwestern guy living with the guy from Public Enemy. We meet each other on a park bench and then we hear this baby crying, and we look back and it's a baby in a stroller, and we're like, "What are we gonna do? We gotta take care of the baby." So we befriend each other and raise this baby.
That sounds like it might be the greatest show ever.
A new episode of "Can't Get Arrested" premieres on Monday, with "Full House" star Candace Cameron Bure guest-starring. Watch the first episoide of "Can't Get Arrested" below:
Popular in the Community