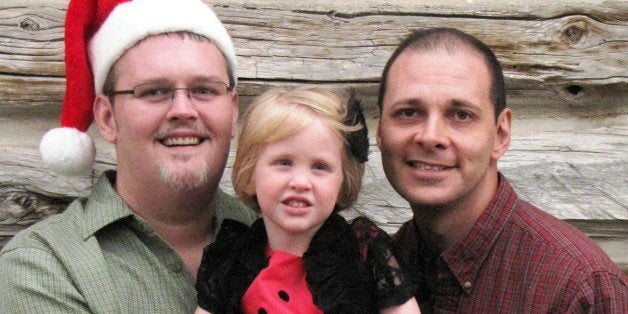 This week's installment of the Huffington Post Gay Voices RaiseAChild.US "Let Love Define Family" series features the family story of Dave Taylor-Bocanegra and David Bocanegra who are residents of Salt Lake City, UT.

Some LGBT parents are sensitive about being outed in the communities in which their families reside. Fathers Dave and David Bocanegra, however, have grown accustomed to being outed on a regular basis. Their 4-year-old daughter Dahlia very proudly tells everyone she meets, "I have two daddies!"
"Despite living in Utah," said Dave, "we have actually been treated very well in our community. My husband volunteers at our daughter's school every week and her teacher even added same-sex parents to the classroom discussion about families."
David Taylor-Bocanegra, 38, works as the office manager of a Salt Lake City hospital. His husband, David Bocanegra, 39, is a registered nurse. To mark their 15th anniversary, the couple flew to California to be legally married. Their path to parenthood together, however, was a roller coaster ride of emotions.
Dave and David used to have many long talks about whether or not they would have children.
"One day," said Dave, "David and I were talking about where we were in our lives and whether or not children would be possible. I remember crying because I had come to the conclusion that having a child might never happen for us. God must have heard me, because we got a call the very next day that completely changed our lives."
Dave's life-long friend had called them to tell them she just learned that she was pregnant. After years of being told she could no longer have children, she was totally surprised by this pregnancy. As a single mom with two teenage boys, she felt unprepared to raise the child herself and asked Dave and David if they would adopt the baby.
"That's the 100 percent truth," exclaimed Dave, "but the adoption was rocky, because even though the mother knew it would be hard to raise another kid on her own, the decision was a difficult one to live with. It was especially hard when she found out the sex of the baby, because she had always wanted a girl."
Dave and David promised the mother they would keep her involved in her daughter's life. "We knew at any moment that she could change her mind, but we kept the faith."
The couple was living in Pennsylvania at the time of their daughter's birth and the mother was in Virginia, but Dave and David were both there for the labor and delivery. Dave cut the umbilical chord and held baby Dahlia for the first time. The baby was discharged after two days and the new family drove home from Virginia to Pennsylvania at a snail's pace. David adopted her first in accordance with Pennsylvania law. When the baby was a year old Dave petitioned the court for a second-parent adoption.
"The move was risky," admitted Dave, "because the judge was conservative and the ruling could have gone either way. But the judge was really wonderful. She asked me what my relationship was to the child. I told her that I had had her since birth. I lost sleep in middle of the night like any other parent when the baby was crying and or needing to be fed, and that I was her primary caregiver. The judge agreed and I, too, became her father legally."
When asked whether having a child has changed their relationship with their own families, Dave replied, "Both of our families were great. We had a few who were hesitant about us as a couple. My family is pretty easy-going. David's grandmother had always been a little uneasy with me, but the moment she found out we had a child it was a complete 180. I think, that as parents and grandparents, you watch your kids grow and you have hopes and dreams for them and envision them having a family of their own one day. So I think that many times when they hear their children say 'I'm gay,' they assume many of the stereotypes about gay men and think that hope is lost for them to ever achieve that dream."
"When Grandma realized that we were together over ten years and now had a child that was legally ours," Dave continued, "she realized that those dreams she had once had weren't lost. Her attitude changed dramatically after that!"
Keeping a relationship between their daughter and the biological mother has been important to Dahlia's dads.
"To this day our daughter is in touch with her mother," said Dave. "Last summer my friend and her new fiancé flew from Virginia to our house for a week. Our daughter knows she is her mother. She knows her siblings and her family. We will continue to allow them to pursue a relationship as long as they want."
Parenting has delivered great joy to Dave and David. They are proud of each step she takes.
"The best thing about being a parent is undoubtedly watching this once fragile little thing grow and learn," said David. "She's so amazing!"
Utah has been welcoming in many ways to the Bocanegra family, but there are still obstacles for LGBT parents.
"We want to adopt another kid," adds Dave. "But we are going to have to move back to Pennsylvania because, unfortunately, Utah's laws won't allow it here."
Rich Valenza is Founder and CEO of RaiseAChild.US, a national organization headquartered in Hollywood, California that encourages the LGBT community to build families through fostering and adopting to serve the needs of the 400,000 children in the U.S. foster care system. RaiseAChild.US works with foster and adoption agencies that have received training in LGBT cultural competence through the Human Rights Campaign Foundation's "All Children-All Families" initiative. Since 2011, RaiseAChild.US has produced media campaigns and events to educate prospective parents and the public about the benefits of fostering and adopting. Its free Parent Advocate program has offered personalized guidance to more than 2,000 prospective parents. Learn how you can become a foster or fost/adopt parent, visit www.RaiseAChild.US and click on "Next Step to Parenthood."
Before You Go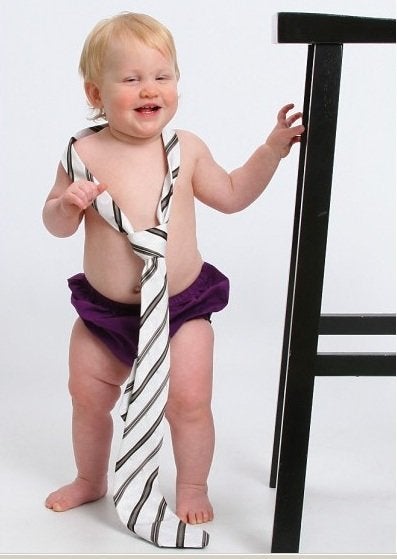 Dave & David
Popular in the Community