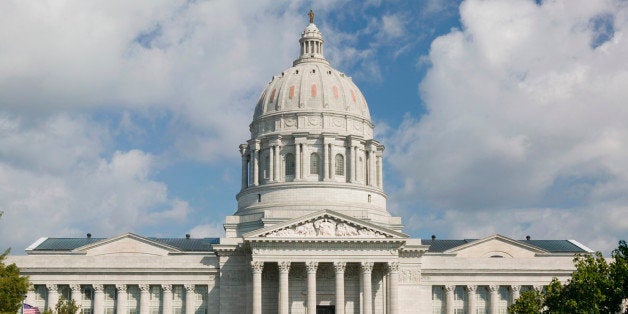 A staff member for the speaker of the Missouri House of Representatives reportedly left a loaded gun in a men's bathroom in the state capitol building last week.
A Kahr CM9 9 mm gun belonging to Dave Evans, House Speaker Tim Jones's (R-Eureka) legislative assistant, was found on top of a toilet paper dispenser in a bathroom stall last Friday, the St. Louis Post-Dispatch reported Monday. A police report obtained by the Post-Dispatch noted that the gun had one hollow point bullet in its chamber and six bullets in its magazine. The gun was found in a stall by another state legislative staffer and was secured by capitol police.
The police report noted that a different staffer for Jones had contacted capitol police to say that Evans had misplaced the gun and could not find it in the bathroom. After confirming that Evans was the gun's owner, police returned the weapon to him.
State lawmakers and legislative staffers are allowed to carry concealed weapons into the statehouse.
A receptionist in Jones's office said Evans was not available on Tuesday. His chief of staff, Tom Smith, released a statement Tuesday afternoon saying Evans had apologized for the incident and pledged to take a gun safety class.
"We have met with Dave to discuss this incident and he has offered his sincere apologies to me, to Speaker Jones, and to his fellow staff members. He is extremely remorseful about this unfortunate incident and willing to take full accountability for his mistake," Smith said. "I have instructed Dave to take an additional gun safety course, which he has agreed to complete in the next few weeks. I know that Dave is a responsible, law-abiding gun owner and that he will never allow a mistake such as this to happen again."
State Rep. Stacey Newman (D-St. Louis), who is an advocate of stricter gun control, told The Huffington Post that she wants to revisit the rules that allow concealed-carry guns in the capitol. She noted that Evans's gun could have been found by one of the many students who visit the building on school tours. She also questioned why Evans was carrying a gun in the first place.
"The only people regularly in the capitol this time of year are legislative staffers," Newman told HuffPost. "You feel that much fear of your coworkers that you need to carry a loaded weapon with you?"
Missouri is one of at least 11 states that allow for some form of concealed carry in the state capitol. Most states with such laws have had few incidents. Last year, however, New Hampshire state Rep. Kyle Tasker (R-Nottingham) dropped one of the two guns he was carrying in a shoulder holster to the floor during a committee meeting. By way of explanation, Tasker said he was "feeling loopy" after giving blood.
Newman plans to offer legislation addressing guns in the Missouri statehouse, but admitted such a bill would face long odds in the tea party-dominated legislature. She said lawmakers on both sides of the aisle regularly carry guns, and she fears a bigger accident might happen.
"Late night on the House and Senate floors, we have people coming back from a dinner break that included alcohol," Newman told HuffPost. "We have inebriated legislators arguing and we know there are weapons on the floor. It is a disaster waiting to happen. I've seen it and I've been scared."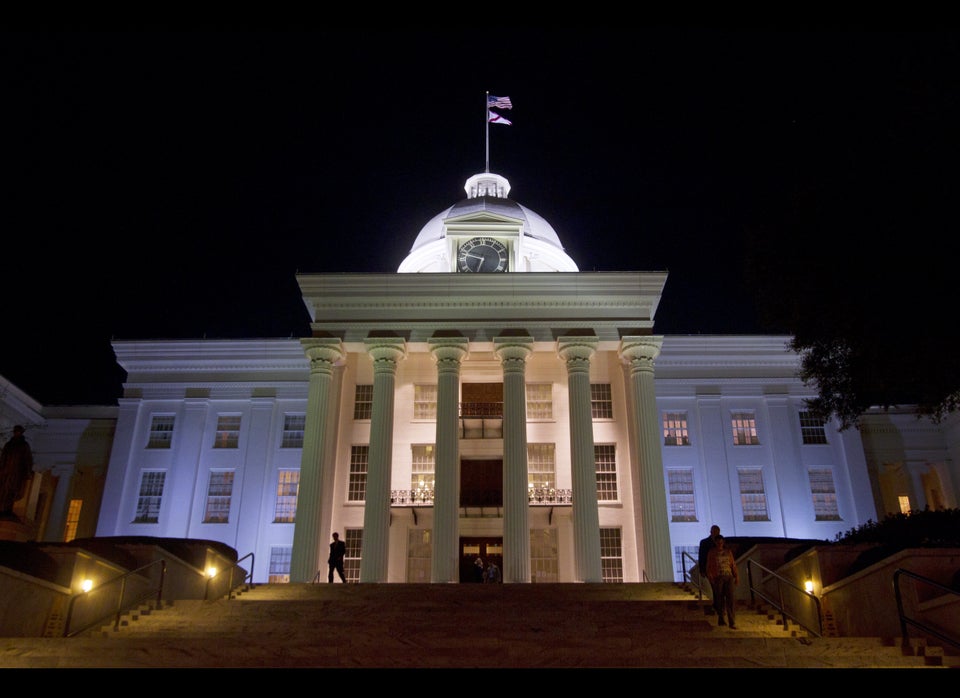 U.S. State Capitol Buildings
Popular in the Community