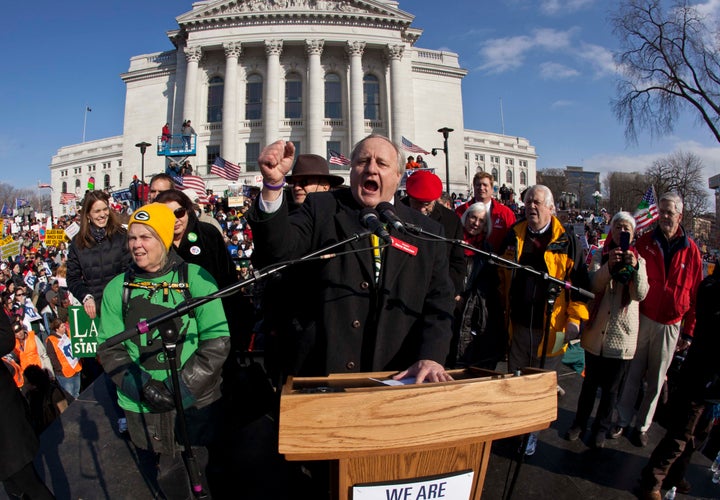 WASHINGTON -- Wisconsin state Sen. Dave Hansen (D-Green Bay) handily won Tuesday's recall election, giving Democrats a victory in the first of nine contests being held this summer.
With 65 percent of the vote in, the Associated Press called the race for Hansen, who had more than double the votes of his Republican challenger, David VanderLeest.
Democrats quickly put out statements declaring the race a referendum on Gov. Scott Walker's (R) agenda.
"Scott Walker and his cronies pulled out all the stops trying to defeat Dave Hansen, and the people of the 30th Senate District said loudly and clearly Tuesday, 'Enough,'" said the Wisconsin Democratic Party.
"Sen. Hansen's victory is a validation of the lengths he and the rest of the 'Wisconsin 14' went to in their efforts to stall the Wisconsin GOP's extreme right-wing, anti-working family agenda," said Democratic Legislative Campaign Committee Executive Director Michael Sargeant. "His constituents understand that he fights for them, not for extreme ideologues."
Former Democratic Wisconsin Sen. Russ Feingold also tweeted, "Congratulations to WI Senator Hansen on his victory. We are one step closer to stopping Gov. Walker's agenda. Forward."
Throughout the campaign, VanderLeest was dogged by questions about his legal and personal troubles. He has $25,000 in unpaid property taxes and a history of domestic abuse.
On Monday, he announced he was planning to file a "slander lawsuit" against Hansen and several left-leaning groups.
Six Republican and three Democratic state senators are facing recall elections this summer, with most of the elections taking place in August. The efforts to change the make-up of the state Senate came after Republicans passed Walker's controversial measure stripping public employees of their collective bargaining rights. Senate Democrats left the state for 21 days in order to delay their colleagues from pushing through the bill.
Democrats need to pick up three seats to win control of the upper chamber, which would give them the power to block many of Walker's proposals. Sen. Dan Kapanke (R-La Crosse), whose district has a strong Democratic presence, is widely considered the member most vulnerable to recall. Sens. Randy Hopper (R-Fond du Lac) and Jim Holperin (D-Conover) are also top targets.
VanderLeest, who organized the recall petition drive against Hansen, was never the Republican Party's first choice as a candidate. Rep. John Nygren (R-Marinette), who was expected to challenge Hansen, did not receive enough valid petition signatures to quality for the ballot.
This story was updated with the Wisconsin Democratic Party's response.
Calling all HuffPost superfans!
Sign up for membership to become a founding member and help shape HuffPost's next chapter