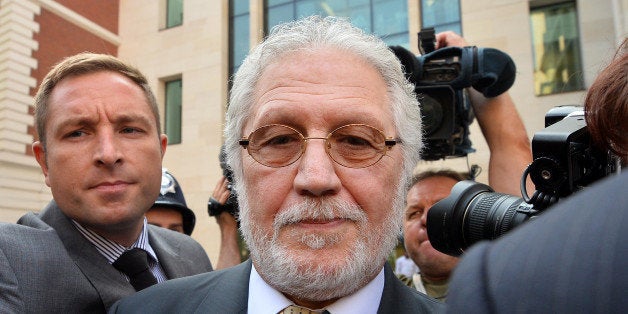 LONDON, Aug 23 (Reuters) - One of Britain's best-known radio presenters from the 1970s and 1980s, who counted Myanmar's Aung San Suu Kyi among his fans, appeared in court on Friday accused of sex offences over a 30-year period.
Former BBC Radio 1 DJ Dave Lee Travis, 68, is accused of 11 counts of indecent assault and one sexual assault. The incidents are alleged to have occurred between 1977 and 2007 and involved women and girls, with the youngest aged 15.
After a short hearing at London's Westminster Magistrates' Court, Travis, who has repeatedly denied any wrongdoing, told reporters: "I'd like to speak for three hours to everybody to tell you the story.
"I either talk for a long time or I don't, and at the moment I'm not talking."
Accused under his real name David Patrick Griffin, he was released on bail and will appear for another hearing at London's Southwark Crown Court on Sept. 6, Britain's Press Association news agency reported.
Travis, who also hosted editions of a popular BBC TV music show, is the latest celebrity to be accused of sex offences since detectives launched a massive inquiry into the late BBC TV host Jimmy Savile.
Savile was one of Britain's biggest stars in the 1970s and 1980s but since his 2011 death, police have discovered he committed sex crimes on an unprecedented scale.
The inquiry has led to the arrests of a number of household British TV and radio names from that time, although most, like Travis, were not said to have any direct link to Savile's offences which spanned six decades from 1955.
Nicknamed the "Hairy Cornflake" for his bushy beard, Travis said last year he was astonished to learn that Suu Kyi had been a big fan of his weekly show on the BBC World Service during her 15 years under house arrest between 1989 and 2010.
She singled out his music request programme "A Jolly Good Show" for making her world "much more complete". (Reporting by Michael Holden; Editing by Pravin Char)
BEFORE YOU GO
PHOTO GALLERY
Jimmy Savile Abuse Timeline