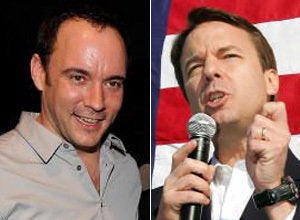 News first broke last September that John Edwards had once talked with his mistress Rielle Hunter about someday having a rooftop New York wedding with a Dave Matthews Band performance, and now Matthews has responded.
And if he had, it would have cost him:
"I would make a fair bet that I would have said no to such an offer," Dave smiled.

"Or, I would have charged him some incredible amount of money," Dave added with a chuckle.
According to Andrew Young, Rielle and John's favorite song was DMB's "Steady As We Go" (scroll to watch Matthews perform it). Sample lyrics include "I walk half way around the world just to sit down by your side" and, "Any place you wanna go, know I'll be next to you."
Edwards has admitted paternity of Rielle's daughter Quinn and is legally separated from wife Elizabeth, the first step towards divorce. But he probably has has bigger things to worry about than Matthews, as Rielle is now trying to get back a sex tape she made with the disgraced former Senator from former aide-turned-author Young.
WATCH MATTHEWS "STEADY AS WE GO":
REAL LIFE. REAL NEWS. REAL VOICES.
Help us tell more of the stories that matter from voices that too often remain unheard.