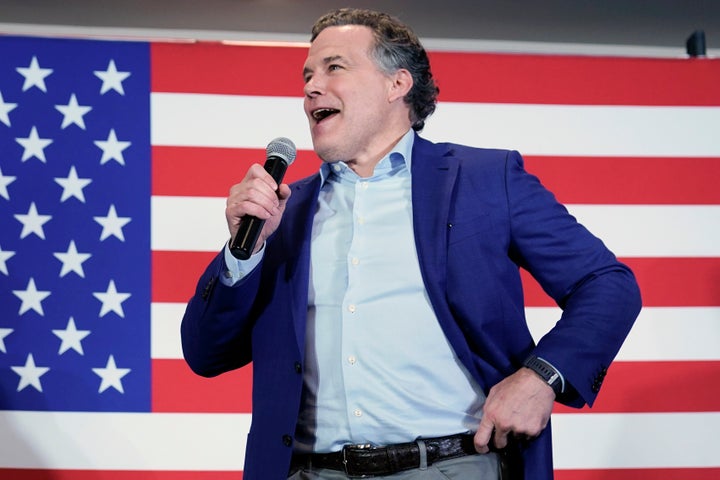 Republican Dave McCormick, a former hedge fund manager and Gulf War veteran, launched his campaign for U.S. Senate in Pennsylvania on Thursday, setting the stage for a high-stakes showdown against Sen. Bob Casey (D) in 2024.
McCormick, a native of Washington, Pennsylvania, held his first rally Thursday evening at the Heinz History Center in Pittsburgh, suggesting that he sees Western Pennsylvania as key to defeating Casey, who hails from Scranton in the state's northeast corner.
In a cycle where several incumbent Democrats are defending seats in states that are more conservative than Pennsylvania, Casey's reelection fight is a must-win if Democrats are to maintain their narrow majority in the Senate. Poll watchers see Casey as the favorite against McCormick, whose first bid for Senate in 2022 ended in a narrow Republican primary loss.
State and national Republican Party officials had nonetheless been urging him to take on Casey, a three-term incumbent whose father was a popular governor of the Keystone State. A multi-millionaire, McCormick stands to benefit from the ability to self-fund and from having established some name recognition during his first run.
McCormick is the first Republican candidate in the field and widely seen as a shoo-in for his party's nomination. Under pressure from party officials, right-wing state Sen. Doug Mastriano (R), who lost his race for governor in 2022 by 15 percentage points and had been considering a Senate run, announced in May that he would not run for Casey's Senate seat.
"We're looking at a person that is ready for leadership not only at the state level, but I think at a national and international level because he is experienced across the board," said Joseph DiSarro, chair of the political science department at Washington & Jefferson College in Washington, Pennsylvania, and a supporter of McCormick's. "He combines intellectual experience with practical experience."
McCormick has the decorated profile of a traditional Republican candidate for statewide office. In addition to his success in the business world, he graduated from the West Point military academy, obtained a doctorate in international relations from Princeton and served in the administration of former President George W. Bush.
But under the influence of former President Donald Trump, much of today's Republican Party is apathetic about, if not downright skeptical of, elite credentials. And it's unclear if McCormick will be able to win back enough of the college-educated suburbanites disdainful of Trump without alienating the more populist, blue-collar voters who are now a core part of the GOP coalition.
"Dave McCormick has to figure out how to pick up people who hate Trump and people who only want to vote for Trump," said Abigail Gardner, a Pittsburgh-based Democratic strategist. "It's going to be very hard for him to thread that needle."
That's not least because McCormick and Trump clashed during the 2022 Republican primary. Trump endorsed Dr. Mehmet Oz over McCormick, propelling Oz to the general election, where he lost to Sen. John Fetterman (D-Pa.).
While campaigning for Oz, Trump dubbed McCormick "Beijing Dave" for his past statements touting the benefits of U.S. trade with China, his hedge fund's work investing the Chinese state funds and his leadership of a company that advised U.S. firms on how to outsource jobs to foreign countries.
In "Superpower in Peril: A Battle Plan to Renew America," a book by McCormick that came out in March, McCormick said that Trump made his Senate endorsement contingent upon McCormick claiming that the 2020 election had been stolen. "I made it clear to him I couldn't do that," McCormick wrote.
"Dave McCormick has to figure out how to pick up people who hate Trump and people who only want to vote for Trump. It's going to be very hard for him to thread that needle."
McCormick's conduct during that interaction speaks to the "ethical content of his character" and is likely to resonate with many voters, argued DiSarro.
"He's more in line with Pennsylvania politicians over the years," he said. "Most of our political leaders, who happen to be Republican, were moderates."
But Trump's broadsides against McCormick in 2022 brought to the fore some of McCormick's core vulnerabilities in a state with a sizable manufacturing sector. It's something that even his supporters acknowledge he must grapple with.
"He has to talk about [his work in China] and he has to talk about it in a very straightforward way," DiSarro said.
McCormick, who was born and raised in Pennsylvania, has also faced questions about his current residency in the state. He bought a home in Pittsburgh during his 2022 Senate run and has owned a farmhouse in the northeastern Pennsylvania town of Bloomsburg, where he attended high school, for a decade.
But he also raised his family on Connecticut's super-rich "Gold Coast," where Bridgewater Associates, the hedge fund that employed him, is located. McCormick continues to rent a mansion in that area; his daughters attend high school there. It is unclear how much time McCormick spends in the Connecticut house, but The Associated Press reported in August that he does not claim the homestead tax exemption for his Pittsburgh house. That exemption is only available for someone's primary residence.
Democrats have wasted no time attacking McCormick on those grounds. "The real David McCormick is a Wall Street mega-millionaire who is lying about living in Pennsylvania," the Pennsylvania Democratic Party said in a press release on Wednesday.
In addition, Democrats hope to make an issue out of McCormick's vacillations on abortion policy. McCormick said in a May 2022 debate with Oz that he supports banning abortion with an exception only when the pregnant person's life is in danger, and not in cases of rape or incest. But his campaign has recently referred reporters to other comments from that cycle in which he said he supported exceptions for incest and rape, and it has scrubbed a video of McCormick welcoming the overturning of Roe v. Wade from his social media accounts.
McCormick is "lying in an attempt to cover up his long track record of supporting an abortion ban with no exceptions for rape or incest," Pennsylvania Democratic Party spokesperson Maddy McDaniel told Pittsburg NPR station WESA.
Support HuffPost
The Stakes Have Never Been Higher
Popular in the Community