What do a popular heavy metal band and the suit store Men's Wearhouse have in common? Not much, save one unsavory Facebook post that links the two in a fit of unsatisfied Christmas rage.
The Facebook post in question belongs to Megadeth frontman (and one-time Metallica guitarist) Dave Mustaine, who purchased his manager a gift certificate at Men's Wearhouse for Christmas.
When the card failed to show more than a week after a Men's Wearhouse salesman "Guaranteed it," Mustaine contacted customer service, and, failing there, turned to Facebook:
"I know that not all of you have the kind of job that requires a suit," he begins, "or wear a suit when you (if you) go to any kind of faith-based service, court date, wedding or funeral, but if you do…you are going to want to read this. You know me, I don't complain much in writing, but I gotta get this off my chest."
Mustaine proceeded to detail every failed "Guarantee" he was promised, stopping to point out the Men's Wearhouse spokesman has a voice that sounds "like he has chain-smoked since he was a fetus."
I really think that it sucks when people make false claims, that they don't care to make good on a problem that is clearly their fault, and with all of the "ABSOLUTELY GUARANTEE IT" crap I just had to say something... I for one, will never set foot in a Men's Warehouse, even for shelter from a blizzard.

I absolutely GUARANTEE it.
While a Men's Wearhouse-themed thrashing may not qualify as hardcore to most of Megadeth's fan base (though nearly 9,000 fans have "liked" the post so far), the company's customer service heard the message loud and clear. They sent a damage-control tweet several days later, and presumably smoothed things over in private.
Mustaine isn't one to keep confrontations a private affair. In August, the frontman drew ridicule after speculating President Obama had "staged" shootings at the movie theater in Aurora, Colo., and a Sikh temple in Wisconsin in order to "pass a gun ban."
CORRECTION: An earlier version of this story mistakenly referred a shooting at a Sikh temple as having occurred in Minnesota. The temple is located in Wisconsin.
Before You Go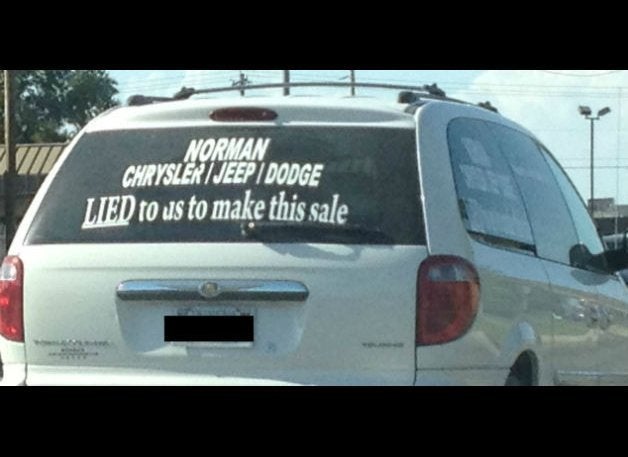 10 Ways To Retaliate Against Bad Customer Service
Popular in the Community