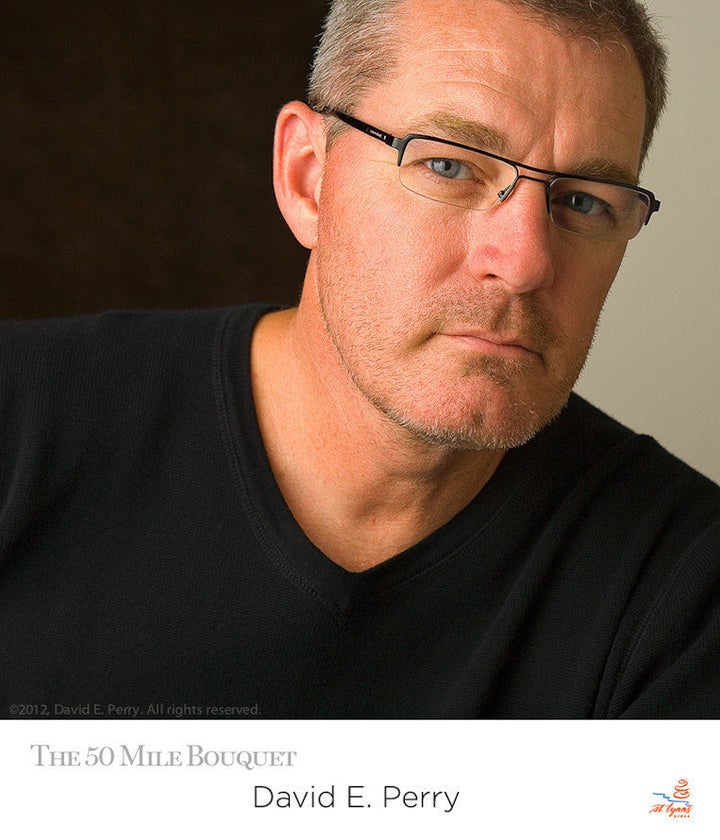 "I'm tough. I'm straight. And I do flowers constantly," quipped David Perry in an email. Perry is the co-author of the new book "The 50 Mile Bouquet: Seasonal, Local and Sustainable Flowers," which looks at the trend among farmers and florists to bring local, seasonal blooms to markets within 50 miles of where they were harvested.
Perry's world was turned upside down by tragedy in his early 20s. The book is the result of a commitment to tilling his personal soil that took on new meaning when he turned 50. The son of a zoologist, Perry grew up with his father studying specimens for museums and other natural curiosities. But it was the world of gardening and flowers that always gave Perry an exalted sense of purpose and repose, particularly as life got complicated. "The garden was where I could go and work out problems. Having my bare hands and feet touching the soil was a lifesaver for me."

This is Perry's story in his own words:
Ever since I was a kid, I've gardened and grown food and flowers. I had my own business cards printed up and a lawn-mowing and flower-bed-weeding business when I was in seventh grade in Tennessee. As I grew up, life became ever more complicated.
I became a father at 22 years old, just five months after my mother was killed in a drunken car crash that almost killed my sister and another girl. She left the world in a rage and left us with an angry, incredible mess. As the oldest child not lying in a hospital bed fighting for life, I had to step up and do my best to hold all of our fractured worlds together.
Over the years, after the mother of my kids left me for another guy, after being bankrupted half a dozen years later fighting for joint custody of my daughters, I found myself on my hands and knees in the garden quite a bit. The garden was where I went to work out problems, where I could get lost while being fully at home.
For a couple of decades, the term "normal" year meant shooting assignments all over the country and in foreign countries. It meant hanging with very wealthy and powerful people, sleeping in very nice hotels, and eating in very nice restaurants, all of which can go to your head.
But nothing brings you back to planet Earth faster than coming home and heading out to the garden to spend a few hours on your hands and knees, pulling dandelions and mowing your own grass. It was strangely comforting that the worms were not impressed by where I'd just been or who might have been sitting at the next table in that amazing restaurant in New York City. Neither did the weeds surrender their tenacious footholds in my garden out of deference to the cool points I'd just earned from my clients.
So I clung to my time in the garden as one might cling to glimpses of the North Star, sensing how very essential they were in keeping me kind and real, in helping me evolve into the man and artist I'd longed to become.
After a couple of very lucrative years in a row, which sometimes required working with some selfish, sometimes dishonest and exasperating people, I decided that for my sanity I needed to walk away for a while -- to grant myself something I ached for but didn't know how to achieve: a sabbatical.
I had some money tucked away and figured I could afford to close my doors for three or four months. Once I started (my first adventure was a solo camping adventure in New Zealand), I cut my monthly expenses to the bone and lived as frugally as possible. Somehow, I was able to make my sabbatical last for nearly a year.
When I finally did go back to work, I threw away all but a few of my former clients and started over. And with each job that presented itself, I began to ask: "Would my hero do this? Does something in me respond to this story and will I be allowed to tell it well? " As "woo-woo" as that might sound, those questions became my new litmus test.
Finally, at 50, with my two daughters fully fledged from the nest, I decided it was time to pay tribute to that part of my soul that found respite and peacefulness in the soil. I started blogging partially as a way to shift my energies away from the brutality of shooting heavy corporate assignments for companies like Rockwell who built the space shuttles and the B1-Bombers of the world and toward a place where my quieter heart lived more comfortably. I was starving for an opportunity to tell stories in ways where the story itself was everything, where its truths were the boss rather than a client's desired slant or product placement. Blogging was a chance to change that dynamic, a blank page that no one else had claim to. Thus, A Photographer's Garden Blog was born.
Within six months of starting the blog, I was recommended to speak as an expert at the national symposium of the Garden Writers Association. Facing a room of hundreds of far, far better credentialed writers, I began by saying that I had just turned 50 that year and had actually started blogging in response to this guy who kept looking back at me from the mirror, his unflinching eyes asking: "If not now, when?" You could have heard a pin drop in that room. The woman who officially invited me to speak that first year in Oklahoma City, Debra Prinzing, became my book partner on "The 50 Mile Bouquet."
And so the book literally proceeds from that fork in the road that I chose when I turned 50, and it's a road that has lead me ever closer to living a life that is consistent with my loves and my values. What I know now at Post 50 is that the real key to success is far more about an aching passion than about proper financing. I also know that forgiveness is a salve that heals both the giver and the receiver, and should be considered a first resort rather than a last resort.