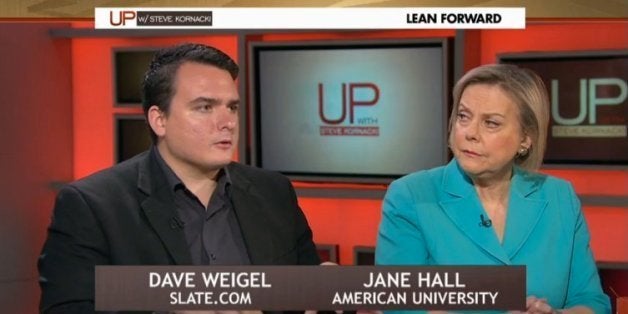 NEW YORK -– Bloomberg has hired Dave Weigel, a senior political reporter at Slate, for its new politics venture, which is being helmed by Mark Halperin and John Heilemann.
The forthcoming Bloomberg Politics brand, which will feature political coverage on the Web, mobile, TV, radio and in print, is slated to launch on Oct. 6.
In a Tuesday memo to staff, Josh Tyrangiel, who oversees all editorial content at Bloomberg Media, said Weigel has "become the very model of the modern political journalist" during his four years at Slate.
"Driven by his own curiosity, he eschews the pack to write and report some of the smartest pieces about how real people perceive their politicians," Tyrangiel said.
"He loves the far right and the far left--in part for their commitment to their beliefs and in part because there are such great stories there," Tyrangiel continued. "Dave also radiates a passion for writing that manifests itself in more than just a freakishly intimidating number of bylines. The man knows how to twirl a word and turn a phrase. (Oh, he podcasts, too. His WeigelCast at Slate is a must-listen and we'll be exploring ways he may pick that up for Bloomberg Politics.)"
Weigel, who also serves as an MSNBC political analyst, has emerged in recent years as one of the foremost political writers online. He maintains a large following on Twitter, where he can often be found poking fun at the political circus in addition to reporting on it.
Prior to Slate, Weigel covered the conservative movement for The Washington Post. He resigned in 2010 amid controversy over emails he sent to JournoList, a now-defunct listserv popular with political reporters, liberal bloggers and academics. Weigel previously worked at The Washington Independent, libertarian magazine Reason and USA Today. He's written for numerous other publications, including GQ, Esquire and The Guardian, and he has guest-blogged for Andrew Sullivan's "Daily Dish."
He will start at Bloomberg on Sept. 22, after finishing a draft of his forthcoming book on the history of progressive rock. In his staff memo, Tyrangiel joked that Bloomberg plans to next hire music writers Robert Christgau, Ann Powers and Greil Marcus.
Weigel's hiring comes amid a major expansion in politics for Bloomberg that began with the poaching of Halperin and Heilemann, the authors of two books on the most recent presidential campaigns, "Game Change" and "Double Down." They were hired for a reported $1 million each annually through the 2016 election.
John Homans, a long-serving and highly respected executive editor at New York magazine, Heilemann's former home, joined Bloomberg Politics in July. Esquire's Mike Nizza came aboard last month as executive editor for the website.
On the TV side of the new operation, ABC News' Tom Johnson and The Daily Show's Pat King have joined as executive producer and senior producer, respectively, of a new daily political program hosted by Halperin and Heilemann.
Bloomberg Politics will be the first brand to launch as part of a broader, consumer-facing strategy for Bloomberg Media Group, a global organization that had historically focused on reaching paid subscribers seeking financial news through its terminal system.
Popular in the Community