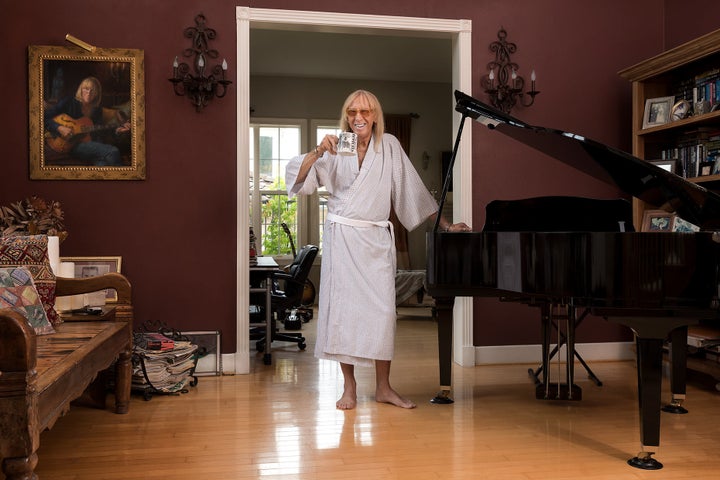 "I'm just a normal person; for me, the music's the important thing," Davey Johnstone says. "Not the fame or the shit that goes with it — that's what gets you into trouble."
The music has, indeed, always been the most important thing. Growing up in Edinburgh, Scotland, Johnstone first fell in love with the emotive style of Irish folk he describes as the kind "heard in Titanic, but much better." A band called The Dubliners was his favorite, and by the time he was 11 he was in the front row at their concerts, admiring in particular the sound and technique of a banjo picker named Barney McKenna. Johnstone was inspired to master the instrument.
One day a few years later, serendipity: Johnstone found himself in the Sandy Bells, an Edinburgh pub, accompanying McKenna himself. Two chairs, a man and a teen, a rapt audience, "…two banjos and tons of draught Guinness," he recalls. He held his own, receiving the affirmation he'd sought from a personal hero.
In 1967, just 15 years old and with the equivalent of $20 in his pocket, Johnstone left Scotland's capital for England's, alighting in London to pursue his musical dreams. His first port of call was an acquaintance named Noel Murphy, with whom he soon formed a duo and began landing paying gigs. "If you take that leap of faith," says Johnstone, now 66, "if you believe enough in yourself, you're gonna do it, whatever it is you do."
By 1969, when he was 18, he was getting regular work as a session musician. The next year he joined the folk group Magna Carta, for which he added mandolin, dulcimer and sitar (it was 1969, after all) to his capabilities. Through Magna Carta he caught the attention of producer Gus Dudgeon, who signed him to play on a solo album by Bernie Taupin, better known as Elton John's songwriting partner. Johnstone soon joined the band backing John on the seminal 1971 LP Madman Across the Water.
That record's success prompted John to offer Johnstone a spot in his touring band. Johnstone had a hard time envisioning himself as a pop star, but sensing opportunity, he set down his banjo and strapped on an electric guitar. "It was terrifying," he remembers, "but it all worked out."
Did it ever: The next half-dozen years were a period of astonishing creativity and tremendous success both critical and commercial: Honky Château, Goodbye Yellow Brick Road, Caribou, Captain Fantastic and more.
By the mid-1980s, that pace had necessarily slowed, and Johnstone fell naturally into the role of John's musical director — one of whose largest responsibilities was keeping the superstar from having to practice any more than he wanted to. He ended up hiring a surrogate to sit in on piano so the rest of the band could properly rehearse. "And all Elton had to do," Johnstone says with a laugh, "was remember his shit."
The guitarist's life over the years has been that of the peripatetic musician: recording a solo album, Smiling Face, in 1973. Guesting on tracks and records by Stevie Nicks, Meat Loaf and Alice Cooper. And — lest anyone forget — playing more than 2,000 shows with Elton John.
A father of seven, Johnstone has been able to make these tours something of a family affair, bringing his wife and kids on the road from time to time — including, whenever possible, back to Edinburgh to revisit where it all began.
These days, Johnstone cuts a compelling figure with his dark glasses, blond hair to his shoulders and a sartorial sensibility that's the very essence of rock n' roll. He stands out in just about any crowd, but he's a resolutely normal, humble guy, seeing no need to employ a staffer to do his shopping, for example. "I'm not a believer in sending someone up to the market," he says. "If I don't want to be seen, nobody will see me." ("I do walk pretty fast," he adds.)
The modern music business, he admits, is almost unrecognizable from the one in which he cut his six-string teeth: "I don't get it. I'm of the school of live music — even in the studio we prefer to play in and play live. That's where you feel the most heart." He shakes his head. "Today's music — and I love a lot of it — is very precise and Auto-Tuned. I like mistakes, accidents in the studio. That's what makes life interesting."
His favorite Elton John song? "I Guess That's Why They Call It the Blues." ("Unless you're dead or stupid, you'll get the brilliance of the passion, the feeling.") Equally dear to his heart is the Beatles' oddball 12-bar blues, "Why Don't We Do It in the Road?" It was, strangely, the first song he ever jammed to with his children. Years ago, his kids were listening to Eminem's "Lose Yourself." Spying a teachable moment, Johnstone observed that the tempo was exactly the same as that of Paul McCartney's shrieking ode to quick sex on the macadam. He and his kids picked up instruments, and duly rocked out. Davey Johnstone might have played the world's top venues with one of its biggest stars — but this gig, he's happy to say, might have been a true performance for the ages.
Related
Popular in the Community