 David Adjaye's design was selected from a list of 70 projects, led by some of the world's most renowned names in architecture. The building will be the final piece to bring the historical Washington National Mall to completion. In our interview with him, Adjaye conveyed the privilege he feels in designing a museum that will both educate American citizens about the story of their nation and act as a symbol of the progress that has been made. As violent and uncomfortable as these historical truths may be, Adjaye argues that the struggle of the African-American community mark some of the most important moments in world history. "As America grew its wealth off the backs of slavery, the struggle and blood spilled demanded action; an action-setting stone for universal civil rights movements, ultimately making the world a better place," he explains.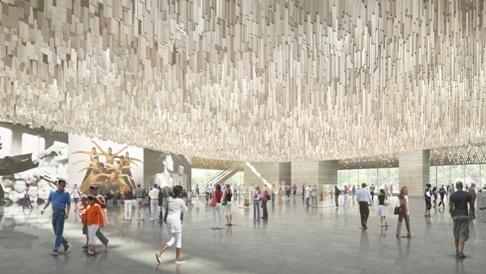 Plans for the NMAAHC
Purpose and symbolism are equally weighted in the museum's design; a bronze mesh-coated ziggurat reminiscent of the metal work by African-American casters in Louisiana and the South rises into the sky creating the sense of upward mobility in the building -- an uplifting structure inviting visitors to gaze into the light and perhaps a new era for humanity.
This year David Adjaye was also named as one of Britain's Most Influential Black People, an award that he argued was, "sort of like a double-edged sword. It's tragic, it reminds you that we are still in a world where we have to negotiate these issues. But at the same time there are contexts and conditions where young kids don't feel like they are part of mainstream communities and it's important to have role models at that point."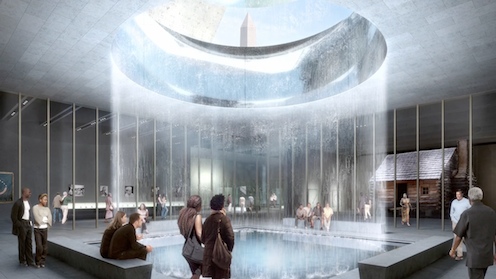 Plans for the NMAAHC
Some would argue that we haven't yet reached equality within our society. Adjaye himself was relieved that we did not ask yet another question identifying him as a 'black architect' explaining, "as an architect, I'm not aiming to just elevate African culture within the world, I'm interested in adding to the creative consciousness of the world."
Construction of the NMAAHC building will begin on the Mall in 2012 and will be completed in 2015.
Text by Seyna Van Der Linden for Crane.tv
Crane.tv App now available for Nokia devices from the OVI Store
Related
Popular in the Community