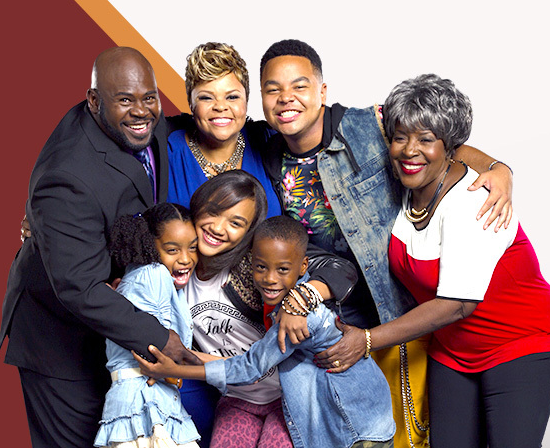 It seems that wherever David and Tamela Mann go, their massive fan-base follows. Like George and Weezy, Ricky and Lucy and Cliff and Clair, we all love to watch the love and laughs that the husband and wife duo bring to the screen. In an industry where entertainers seem to be more disposable than paper cups, the Manns have managed to maintain unequivocal relevancy and popularity. Since their first break as vocalists for Kirk Franklin and the Family, the Grammy-nominated gospel powerhouse with the anointed voice and her comedic husband continue to flourish on television, the silver screen, and in music. The Manns now have everyone checking their cable listing for Bounce TV; home of their highly rated show, Mann & Wife. There is something so purely genuine and endearing about the Manns that you almost can't help but follow their every TV move.
David and Tamela Mann became household names starring in Tyler Perry's House of Payne, Meet the Browns, and the Madea films and stage plays. David played the hilarious Mr. Brown and Tamela played his daughter, Cora. The Manns have built a loyal Beyhive kind of fan base and an unbreakable solid empire spanning from their work with Perry. They are now breaking ratings records on their Bounce TV hit series, Mann and Wife. The family comedy is co-Executive-produced with TV-hitmaker- Director, Roger Bobb (The Rickey Smiley Show, House of Payne ) and collectively created with the Manns. This half-hour situation comedy follows the newlyweds and second-chance sweethearts as they laugh and love their way through the ups and downs of life as a blended family.
"Mann and Wife is a show where we play different characters," begins David Mann. "Everybody is used to seeing me playing her (Tamela's) father in Meet the Browns but this time we get to play an actual couple. The synopsis is that she lives in Texas and I am an undercover detective in Atlanta. We meet through an internet dating site and fall in love so I move her and her two girls to Atlanta with me and my two boys but fail to tell her that my mother lives with us. So you can expect the unexpected. There lots of laughs and there is never ever a dull moment on the show," said David.
The golden touch that the Manns have had with previous projects is a recurring theme as their show has become Bounce TV's most watched original series. More than 800,000 people tuned in to last year's season premiere. The Texas natives say that they are grateful to be working with Bounce TV because they were able to create a show with Bobb that was organic and true to who they were. Tamela says their journey to blossom through remarkable people such as Kirk Franklin and Tyler Perry embodies the definition of 'true blessings.' David and Tamela attribute their success to God, unconditional love and the connection they have with their fans.
"We touch homes and people feel like they know us. We remind people of their own family members and friends. Even when we meet our fans in person there is an instant connection. They relate to us. It's like we're their cousins" explained Tamela. "We never met a stranger no matter where we go," adds David. "When we see our fans we talk to them and have full conversations. We're as excited to meet and talk to people as they are to meet us so they really support us." The Manns share that making God the center of all that they do has been the anchor of their personal and professional success.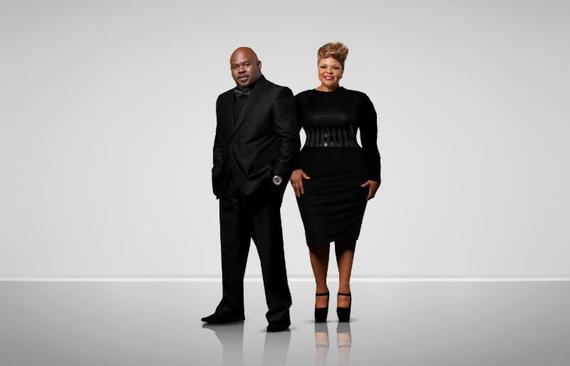 "Faith has been everything in our lives, it hasn't been just a minor role but THE role. We've been faithful to God and he's been faithful to us. Without him we wouldn't be where we are." said David.
The Manns confess that along with faith, it is their undying commitment to one another that has kept their marriage strong. "Divorce was never an option," Tamela shared. "We just threw that off the table from the beginning. They key to our union is that we really just love each other and I don't just love him I like him. We like being together. I prayed for someone like him who did the same things I did.... from music, being in the church and... some of the things I like to do. The Lord actually heard my prayer and I got what I asked for. It's really been a blessing because we've been together since our teens, twenties, thirties, forties and now going into our fifties. We've been married longer than we were single," said Tamela.
You can catch all the dynamic chemistry and comedy that the Manns share Tuesdays on Bounce TV at 9/8c. In addition to the show's popular stars, Mann & Wife features a slew of popular guest stars and a vibrant supporting cast: Vivica A. Fox, as Daniel's ex-wife; Tony Rock, plays Daniel's new partner on the police force and JoMarie Payton as Lorraine, Daniel's overbearing mother. The new album from Tamela Mann entitled "One Way" will be released on September 9th. The album features music produced by Timbaland and includes Kirk Franklin, Eric Dawkins and Myron Butler. Tamela's single "One Way" is now available on I-tunes and other outlets. For all the die-hard fans and foodies such as myself, the Manns also have a upcoming cookbook in the works. You can keep up with the Manns on twitter. The Mann & Wife finale will air on June 7th.
Calling all HuffPost superfans!
Sign up for membership to become a founding member and help shape HuffPost's next chapter