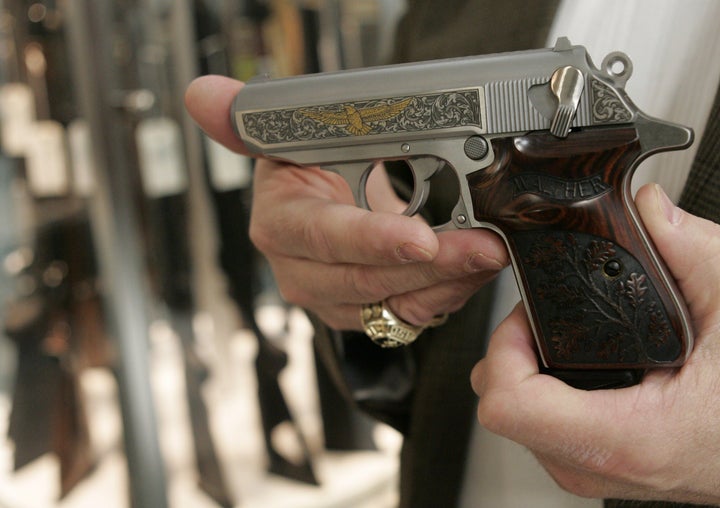 WASHINGTON -- Although President Obama avoided talking about the contentious issue of gun control in Tuesday's State of the Union address, his top advisers say he will soon be jumping into the debate.
In a discussion with a small group of bloggers and reporters on Wednesday at the White House, Senior Advisor David Axelrod said there was "no doubt" the President will address the gun issue at a later date.
"I don't know exactly how we're going to approach it," he said when asked by The Huffington Post whether Obama would be giving a speech on it, "but obviously these issues are out there and have been extenuated by the tragedy in Tucson. And so we will -- he will engage in that ... debate."
Axelrod added that the reason the president omitted gun control from his State of the Union address was that he wanted it to be "focused as much as possible on the economy."
"It wasn't the typical State of the Union speech, which is generally like 70 one-off issues connected by some weak connective tissue," he said. "This was an argument and it was an argument about a specific challenge facing the country. And so that's why it wasn't there. But obviously this is an important issue and he'll speak to it."
In a briefing with reporters aboard Air Force One on Wednesday, White House Press Secretary Robert Gibbs also said, "I wouldn't rule out that at some point the president talks about the issues surrounding gun violence. I don't have a timetable or, obviously, what he would say."
New York City Mayor Michael Bloomberg, who runs the group Mayors Against Illegal Guns, said he was disappointed that Obama didn't take on gun control in his address.
"In discussing the terrible tragedy in Tucson, he missed an opportunity to bring the country together on an issue that has support among the vast majority of Americans: fixing the nation's broken background check system that is designed to keep guns out of the hands of dangerous people," he said in a statement. "Its absence was disappointing, but it will not slow the momentum we are building around the country, and in both parties, for common sense measures to strengthen law enforcement and improve public safety."
Another notable absence in Obama's State of the Union speech was any mention of housing or the foreclosure crisis. Axelrod said that in the address on Tuesday, Obama "wanted to talk about the discrete areas of growth and job creation and the elements that go into it that are just absolutely essential to a long-term strategy." He and National Economic Council Deputy Director Brian Deese, who was also at the meeting, said the administration would be talking more about housing in the coming weeks.
Popular in the Community