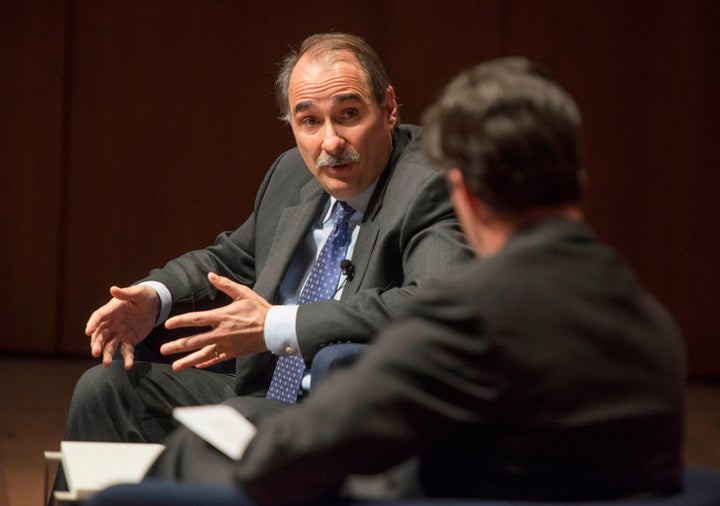 BOSTON -- When David Axelrod and Stuart Stevens sat down at a table across from each other last week at Harvard University's quadrennial "Campaign Managers Conference," the most interesting thing to watch was the body language of the two top campaign advisors for President Obama and Mitt Romney.
Axelrod and Stevens were joined by other aides from the opposing 2012 presidential campaigns for a 2.5-hour session on Nov. 29, moderated by journalists Ron Brownstein, of the National Journal, and Gloria Borger, of CNN.
As would be expected, there was some tension between the two camps early on. Axelrod and company had to avoid the appearance of gloating in the wake of Obama's impressive reelection win on Nov. 6, and Stevens and the crew for former GOP nominee Romney were there to answer questions about why they lost.
But if crow was on the menu, Stevens indicated he had no plans of taking part in the meal. When he and Romney campaign manager Matt Rhoades were asked –- during a panel earlier that Thursday on the GOP primary -- whether they regretted going hard right on immigration to beat former Republican candidate and Texas Gov. Rick Perry, Stevens shook his head. Rhoades replied that he did regret it.
Stevens, who is blamed by many inside and outside the campaign for steering Romney toward a more substance-free, Obama-focused message, rather than a more robust vision of conservative governance, was defiant throughout the session, though he reclined in his chair and spoke in soft, languid tones most of the time.
Any hostility was mostly under the surface, but came into view a few times with thinly-veiled barbs between Stevens and Axelrod. At one point, Rhoades began to talk, but his microphone wasn't working, and someone alerted the Obama team that they had too many microphones on, which didn't allow others to speak.
"Sorry guys, it wasn't intentional," Axelrod joked, smiling.
Stevens looked coolly across the desks and said, with a wan smile, "We're happy for you guys."
A few minutes later, Stevens was making the point that one of Obama's biggest advantages over Romney was not having to run in a primary.
"It cost us $135 million to win nomination," Stevens said, arguing the president, "got it for free."
Axelrod shot back: "It cost more than you think."
The retort was a clear reference to Obama's 2008 election victory, in which he did have to gut out a long primary fight, and a subtle reminder to Stevens that Axelrod and crew have twice won the prize that has eluded Stevens.
Axelrod sat in the middle of the row of Obama advisers. Ad man Jim Margolis, pollster David Simas, deputy campaign manager Stephanie Cutter and campaign manager Jim Messina sat to his left. To his right were digital director Teddy Goff and national field director Jeremy Bird.
Stevens was on the far right hand side of the row of Romney advisers. To his left were Rhoades, campaign strategist Russ Schrieffer, pollster Neil Newhouse, political director Rich Beeson, digital director Zac Moffat, adviser Dan Senor, senior adviser Beth Myers and communications director Gail Gitcho.
The session was scheduled to last three hours, but was cut short by a power outage, which forced the political operatives to conduct the last portion in a darkened room that grew almost completely black as the sun set.
Preceding the exchanges between Axelrod and Stevens, there was an extended discussion of the Romney campaign's decision to have Hollywood actor Clint Eastwood speak at the Republican convention in August, just minutes before Romney's speech. It was a comment by Stevens during that portion of the conversation that seemed to put a charge into Axelrod.
In an earlier panel involving only the Obama campaign, Messina and Goff had described the way that the Eastwood speech galvanized and energized their supporters.
"I remember Teddy running into my office saying this thing was exploding online. You could see immediately what a disaster it was for him, both with our people, swing voters," Messina said. "No one thought it was a good move."
Goff said that Eastwood's play-acting mockery of Obama, where he spoke for several minutes to an empty chair that he said represented the president, angered the Obama base.
"Our people found it offensive in a really visceral way," Goff said. "Such a personal show of disrespect for the president was very, you know, sort of helpful to us."
When Borger asked the Romney camp about Eastwood, there were at first a number of wry smirks. Even Stevens appeared to express some exasperation with what had happened.
"Um, I don't know," he said, prompting chuckles from the room, including Axelrod. But upon hearing Stevens' next remark, Axelrod's face hardened.
"Clint Eastwood, to his credit, described completely accurately what happened," Stevens said. "Personally I don't think it was a big deal."
Brownstein pressed the issue, asking what Eastwood's speech was supposed to have achieved. Schriefer, who was responsible for overseeing the convention program, tried to explain.
"You have one of the biggest, most iconic Hollywood stars, who has rarely made an appearance, never made an appearance at a political convention, and is willing to come in and say something on behalf of your candidates, for five minutes. That's a pretty good opportunity," he said.
Schriefer recounted that Eastwood had confirmed to him that he would give a brief speech similar to what he had said at two prior fundraisers for Romney with a "'Yup.'"
As those in the room laughed, Schriefer exclaimed, "It's Clint Eastwood! You argue with him."
Myers, one of Romney's longest-serving and most loyal aides, was seated a few seats to Schriefer's left. She was not laughing.
A bit later, Rhoades alluded to the Eastwood fiasco.
"We obviously had some distractions at our convention that we talked about, whether it was the weather or what not," he said.
Rhoades added that as he watched the Democratic convention unfold, he grew hopeful that the flap over Democratic party platform might embarrass his opponents the way that Eastwood had caused problems for the GOP. Democrats had initially left the word "God," as well as a reference to Jerusalem as the capital of Israel, out of their platform, and when they tried to add them back in by voice vote on the floor, they were shouted down by those who opposed the move.
"There was a brief moment where we thought, 'Hey, these guys are going to have to endure a little bit of what we endured,'" Rhoades said.
But he continued that the skillful prime time speeches by former President Bill Clinton on the second night, and by Obama the next night, overshadowed everything.
"I was laying in bed, about to go to sleep, and I watched their prime time lineup of President Clinton and President Obama – it just made up for any distraction that occurred," Rhoades said.
Axelrod said that the Obama campaign was feeling some heat over the platform incident.
"It's fair to say there was a little bit of dyspepsia at that moment," he said. "I mean, the truth is the prime time lineup is pretty much everything, and this other stuff is kind of the passion of all of us who live with this moment to moment. So we were comfortable that we could overcome that, but we thought we had a pretty good convention going and it was kind of aggravating."
The tone between the Romney and Obama campaigns was largely collegial, especially after the first 30 minutes. And Axelrod did not escape his own grilling, facing numerous questions about Obama's lackluster performance in the first of three debates with Romney.
Obama had "sort of a, 'Why do I have to do this?' attitude," Axelrod said. But he also took responsibility for advising the president to avoid getting into harsh exchanges, even to the point of going into the Denver, Colo., debate with no intention of raising Romney's infamous 47 percent comments.
"We had a strategy of low engagement that we took to an illogical extreme," Axelrod said.
By that time, however, the lights were out, and the former combatants could barely see each other's faces across the conference table. As the light seeped out of the room completely, Axelrod and Stevens debated whether Hurricane Sandy had played a decisive role in the last week of the campaign.
"We saw ourselves positioned where we could win," Stevens said. "The impact of the storm was we lost control of the race … We went from large sweeping rallies to sitting in our hotel room watching TV."
Axelrod responded that their internal numbers didn't show much movement in the race between before and after the storm, and that the Obama campaign had "banked a lot of the early vote" before the storm even hit.
"I don't think the storm was determinative but it was certainly helpful in that it froze the race," he said.
Moments later, the session was ended early because of the unexplained power outage, and the participants tried to find their way out of the darkness.
Calling all HuffPost superfans!
Sign up for membership to become a founding member and help shape HuffPost's next chapter
BEFORE YOU GO
PHOTO GALLERY
100 Years Of Election Night Winners