 WASHINGTON -- The Obama campaign is, not surprisingly, unwilling to accept Mitt Romney's condemnation of Rep. Todd Akin's controversial remarks and move on.
"When you look at who Akin's partner was on all the anti-choice legislation, it was Paul Ryan," said Axelrod. "When you look at the legislation that would limit a women's right to choose, even for victims of rape and incest, that is the Akin-Ryan position. And frankly, by endorsing personhood amendments ... Romney has gone there too. This is the prevailing position of the Republican Party."
"I think they find Todd Akin's comment terribly inconvenient," Axelrod said. "It is very inopportune. But they are certainly not inconsistent, when Ryan joined with him and tried to limit the definition of rape to forcible rape. What does that mean? They are trying to run away from what has been their own position and yet, while Akin's proposition was particularly egregious and outrageous, on the underlining principle of whether you are going to limit a woman's right to choose, and how rape victims are dealt with and how they would approach this issue, they are very much in line with him."
Romney's campaign said he and Ryan addressed the issue during an interview with WNUR in New Hampshire on Monday. (This post will be updated with their comments once they become available.) Romney briefly drew fire for seemingly endorsing a fetal personhood amendment in Mississippi, which would have classified a fertilized egg as a person under the law. But both he and his campaign have insisted that he never backed the measure and was simply stating his belief that life began at the point of conception.
While some Republican strategists have suggested that Akin should bow out of the Senate race, CNN reported Monday that Romney would not call for him to do so, though he did tell National Review Online that he found Akin's comments "insulting, inexcusable, and, frankly, wrong." RNC Communications Director Sean Spicer, likewise, told MSNBC that a decision on withdrawal would be left to Akin alone.
As for Ryan's co-sponsorship of the "No Taxpayer Funding for Abortion Act" -- which stated that only in instances of "forcible rape" would a woman be eligible to have her abortion covered by insurance -- Spicer argued that such positions were irrelevant to the presidential ticket.
"The top of the ticket leads," he said. "Mitt Romney didn't look for a 'yes' man, he looked for a serious running mate who has bold solutions to getting this country's debt under control."
In an email sent out by the Democratic Senatorial Campaign Committee on Monday, Chair Patty Murray kept the politics to the Senate campaign, calling the comments "revolting" and not worthy of a senator:
Missouri Republican Senate candidate Todd Akin just said pregnancy from rape is "really rare" because, "if it's a legitimate rape, the female body has ways to try to shut that whole thing down."

We must keep Akin out of the US Senate. His repulsive views are only a preview of the dangerous policies we'd see from him in the Senate—and right now polls show him in the lead.
UPDATE: 1:30 p.m. -- Obama for America spokeswoman Lis Smith released the following statement:
"While Mitt Romney and Paul Ryan are working overtime to distance themselves from Rep. Todd Akin's comments on rape, they are contradicting their own records. Mr. Romney supports the Human Life Amendment, which would ban abortion in all instances, even in the case of rape and incest. In fact, that amendment is a central part of the Republican Party's platform that is being voted on tomorrow. And, as a Republican leader in the House, Mr. Ryan worked with Mr. Akin to try to pass laws that would ban abortion in all cases, and even narrow the definition of 'rape.' Every day, women across America grapple with difficult and intensely personal health decisions—decisions that should ultimately be between a woman and her doctor. These decisions are not made any easier when Mr. Romney and Mr. Ryan treat women's health as a matter of partisan politics."
UPDATE: 2:15 p.m. -- According to tweets from Josh McElveen, WMUR's Political Director, Romney urged Akin to "spend 24 hours considering what will best help the country at this critical time." He also reiterated that he "can't defend what [Akin] said."
Before You Go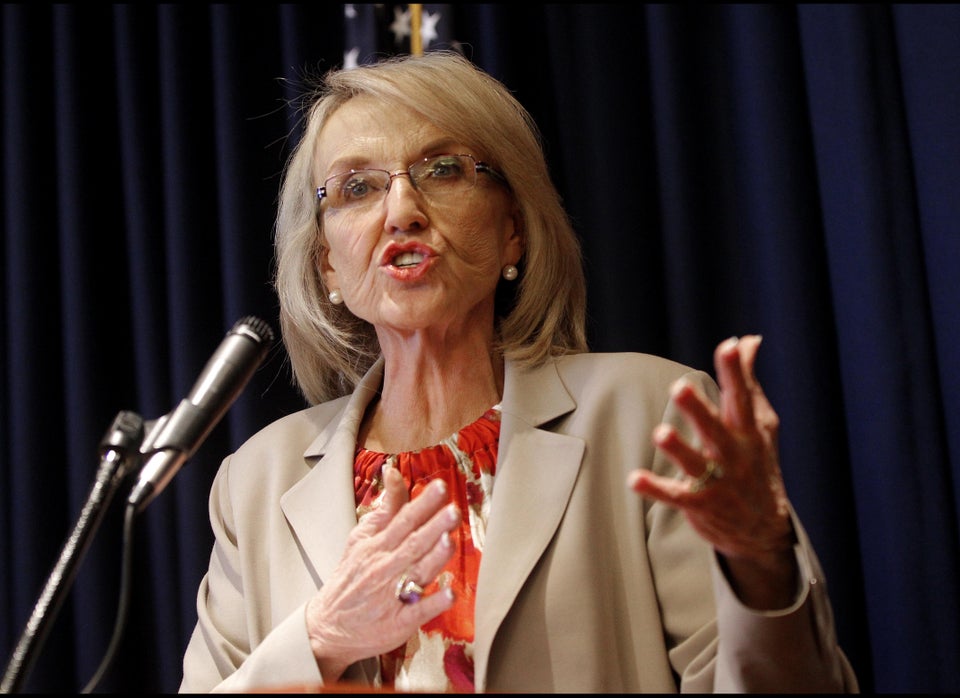 Political Reaction To Akin 'Rape' Comments
Popular in the Community