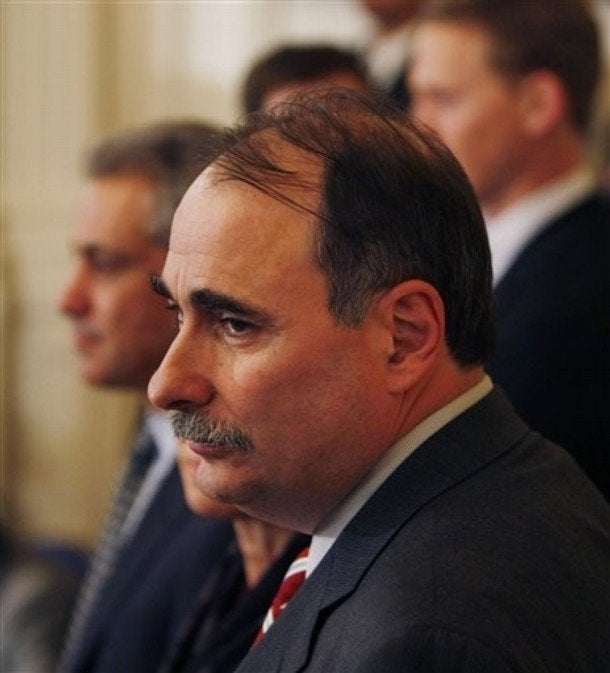 UPDATE 5/15: David Axelrod appeared on NPR's "Wait Wait, Don't Tell Me!" on Thursday. He was quizzed on failed historical Utopian movements ("No We Can't") by host Peter Sagal and also questioned on life in the White House by comics Mo Rocca and Paula Poundstone and Washington Post gossip columnist Roxanne Roberts.
Asked about his role in President Obama's puppy selection, the senior adviser joked, "I only got called in for the final three."
"Who were the other two?" asked Rocca.
"One was Miss California," Axelrod responded.
Obama adviser David Axelrod is scheduled to tape a segment for NPR's "Wait Wait, Don't Tell Me!" on Thursday at George Washington University in D.C.
Axelrod will be a contestant on "Not My Job," a news quiz show where famous people are asked questions on subjects that they know little to nothing about. President Obama played a round of the game in 2005, and was asked about baseball player Wade Boggs. The then-senator got all three questions correct.
"Many people compare Mr. Axelrod to Karl Rove, but we think that Rove was smarter, as evidenced by the fact that Rove never agreed to come on our show," said "Wait Wait, Don't Tell Me!" host Peter Sagal. "We've got lots of questions for Axelrod, but all of them involve finding out how and where the President is sneaking his cigarettes."
Others who have played the game include Supreme Court Justice Stephen Breyer, asked about the habits of rock stars; U.S. Attorney Patrick Fitzgerald, quizzed on various types of scooters; and Star Trek alumnus Leonard Nimoy, who answered questions about child-rearing expert Dr. Spock.
REAL LIFE. REAL NEWS. REAL VOICES.
Help us tell more of the stories that matter from voices that too often remain unheard.