Released on Beckham's Facebook page, the second round of black-and-white ads show the soccer star flaunting his beer belly in a lumpy pair of plaid boxers. Just kidding. He's wearing tighty-whities, boxer briefs and even a long-sleeve shirt (thankfully, there's just the one) and showing off his ripped abs, muscular arms and acres of tattoos.
While we could have guessed what the new ads would look like, H&M kindly sent dozens of fashion editors a little teaser present yesterday: metal David Beckham statues, miniatures of the ones that were erected today all over New York City, San Francisco and Los Angeles.
The retailer is using them to drum up excitement and launch a contest, wherein fans can Instagram pics of themselves with the statues and upload them for a chance to win a $1,000 H&M shopping spree, a signed pair of David Beckham for H&M underwear or one of the mini statues gifted to the editors.
We've already got our statue and aren't so keen on hanging signed undies on our wall, so we're hoping for the shopping spree. But even if we don't win, the new Beckham ads are a pretty sweet consolation prize all by themselves. Check 'em out below.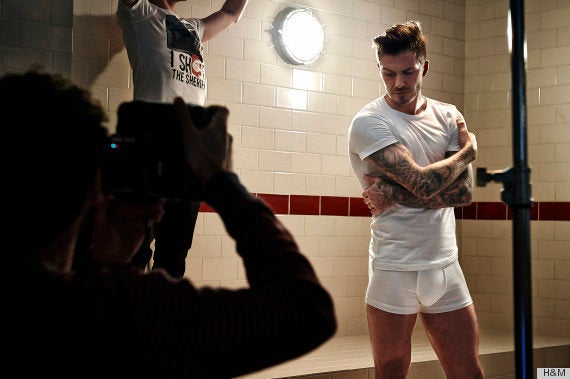 David Beckham for H&M
Related