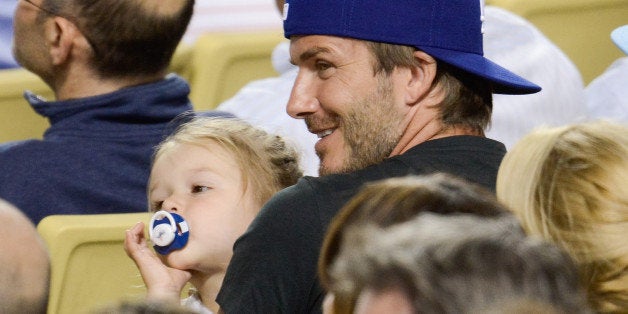 Parents are the absolute worst.
They're always in public with their children, walking around, flaunting their terrible decisions. Let their child stand up in the grocery cart? Monster. Allow their child to yell in the ice cream store because he wanted the multi-colored sprinkles, and not the brown sprinkles? Vulgarian. Let the baby scatter sugar packets on the floor of the restaurant, because that's the only activity that keeps her from trying to stab dad with a fork? Miscreant.
In a twisted game of scrutinizing parents, the Internet just got one of its best chances to take a jab at the rich and famous. Recently, the Daily Mail published pictures of David and Victoria Beckham's 4-year-old daughter, Harper, with a pacifier in her mouth. In the article, a number of childcare experts and self-appointed parenting pundits weighed in. Although most babies usually don't need a pacifier after three months of age, as former midwife Clare Byam-Cook told the paper, the Beckhams have allowed their child to keep the comforting device.
But then came the online outcry from Twitter users.
It's the Internet's own way of saying "you should know better" to the Beckhams. Despite all the fuss, papa David defended his actions, noting in an Instagram post, "Why do people feel they have the right to criticize a parent about their own children without having any facts?" Beckham says his child wasn't feeling well that day, and he allowed the pacifier in this instance to comfort her.
Even if experts agree that a 4-year-old shouldn't be using a pacifier, that doesn't preclude the general public from minding its own business. That the Beckhams attracted such perverse curiosity about a pacifier speaks volumes about the nature of parental shaming--a mode of criticism that makes being a parent feel like a permanent state of failure.
In many ways, Beckham's response resonates deeply with me. I, too, am a parent. The day I left the hospital, my husband and I drove our tiny, 2-day-old infant down a frozen Chicago highway. We flinched each time another car came within 10 feet of ours, which was once every five seconds for the entire, horrific 30-minute drive. As we made our way home, we wondered out loud why the hospital let two people who know nothing about babies leave with one. "We're idiots," we thought, and there must have been some kind of mistake.
When we safely arrived, my husband took the baby upstairs and I followed with some bags. After pausing on our tiny gray door mat, I unloaded my cargo, unzipped my coat, and took off my boots--readying to bathe myself and my newborn baby. I knew I'd need to do a load of laundry and wash the dishes after, but I couldn't help but feel overwhelmed with the reality of being a new parent. I'd also need to figure out how to breastfeed, teach my son how to be a decent human being, keep him safe from danger, eventually find a good preschool, and somehow gather the courage to leave the house again. It was all so much. I stood there, I did not move, and I wept.
My son is now 20 months old, but the feeling of overwhelming insecurity just hasn't faded with time. Parents, all parents, have no idea what we're doing--but we're all proceeding in the best way we can. Now that I've had some experience, I can tell you precisely how to handle my kid at all previous ages. But my child now--who brightly answers "no" to every question I ask, runs fast when I call upon him, and does little destructive experiments on a daily basis--is a complete mystery. In two months I'll have this age mastered, but by then he'll have moved on to completely new and terrifying territory.
Parenting is a constant exercise in insecurity, because it's impossible to get completely right. It's even tougher when your life is lived completely in the public eye.
Whether it's a power couple like the Beckhams, or a single dad in small town America, so many parents try to act above reproach while accompanying their children in public. We parents want to be seen as the most patient, kind, and generous caregivers ever. It's why we speak to our children in soft, cooing tones even as they're throwing items from our grocery cart onto the floor and screaming "Poop!"
And so, like any insecure human, we turn to the Internet in the hopes of comfort. There are no shortage of parental self-help guides online, or print magazines catered to our interests. We ask, Is my kid normal? Am I normal? Are we doing this right? And the Internet responds, "Yes, yes, sure," or "No, you are the worst," depending, of course, on which website you land on. According to the New York Times' Well blog, if your 4-year-old's pacifier falls to the ground, you should lick it clean with your own mouth. But the experts at Cafe Mom also want you to understand that doing so will spread illnesses to everyone you love.
We love to offer advice to and judge parents because they're such easy targets. They're always doing it wrong.
Those who judge parents in their spare time often take the most issue with their children being coddled. Pacifier use, public breastfeeding, and co-sleeping past a certain age all are the source of ire from online commenters. We attack these small aspects of parenting, yet conveniently ignore much more tangible hazards to the well being of children at large.
For starters, there's the 15.8 million U.S. children living with food insecurity, and the 1,600 American children who die in auto accidents every year--troubling situations that proceed without nearly as much outcry as a 4-year-old sucking on a pacifier. And a picture of Harper Beckham, in a car surrounded by paparazzi (whose camera flashes are blinding the driver's face) doesn't prompt in a single tweet about her endangerment.
We don't take up these issues because they're difficult and they don't have easy solutions. There's usually no one person to judge or advise. But just as the glare from a paparazzo's camera obscures a safe journey home for celebrities and their families, the obsession with shaming parents like the Beckhams disconnects many observers from a human reality: They may very well be normal, self-conscious parents, just trying to figure it all out.
This story was originally published on the Daily Dot.
Support HuffPost
The Stakes Have Never Been Higher
Before You Go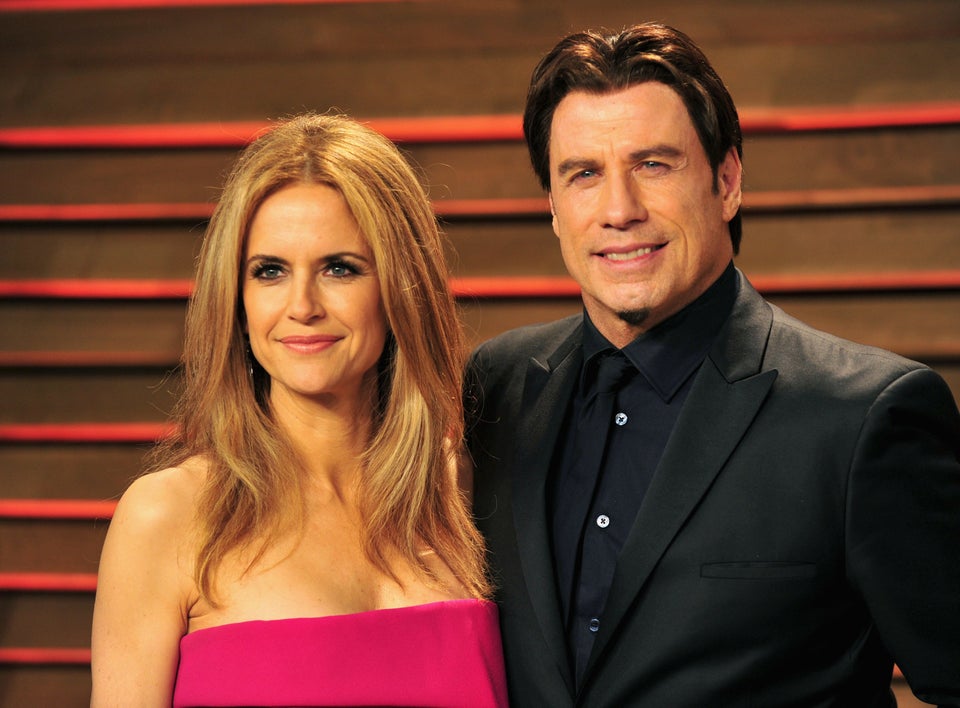 Celebrity Dads Over 50
Popular in the Community