David Beckham is gunning for a prime piece of Miami real estate on which to build a soccer stadium for his MLS expansion team -- and to help smooth the way, his architects have released master plan renderings that make the location look pretty darn glamorous.
In fact, it is pretty darn glamorous, with jaw-dropping views of downtown from the island that makes up PortMiami and a central, urban location. Miami firm Arquitectonica's renderings also show a hotel, retail space, tiered plaza, and a new public park built on an unused drawbridge.
"When people think of Miami, they immediately think about being near or on the water," Beckham said in a statement. "I asked my team to develop ideas for a stadium that embraces the best of the destination. Even though we are in the early stages of building the franchise, I believe we have a vision that not only Miami would be proud of, but one that will resonate around the world."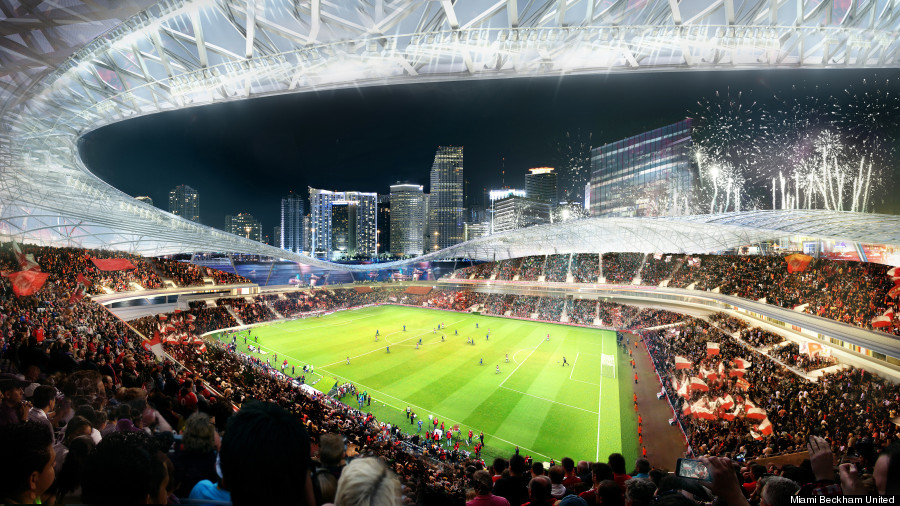 Fans looking west will see a postcard view of Downtown Miami. Stadium design by Kansas City's 360 Architecture.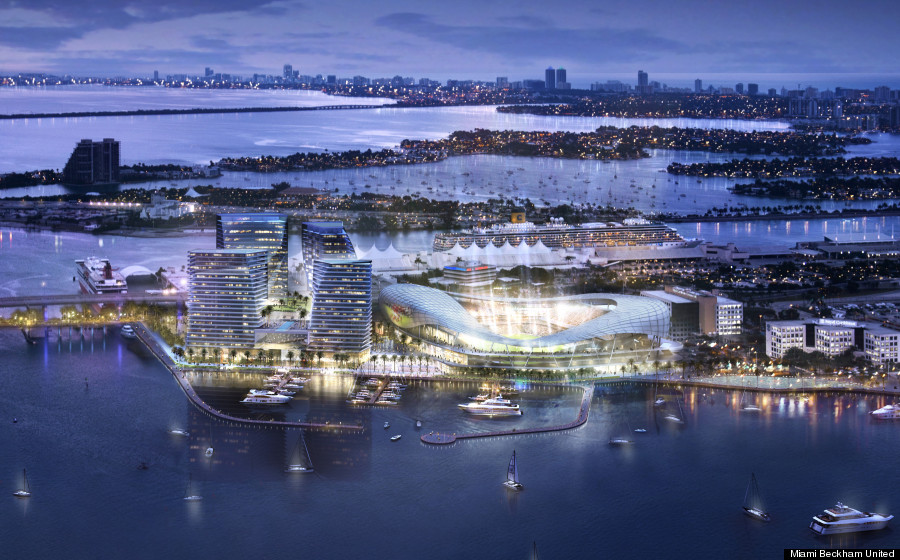 Wanna skip traffic? Come by boat.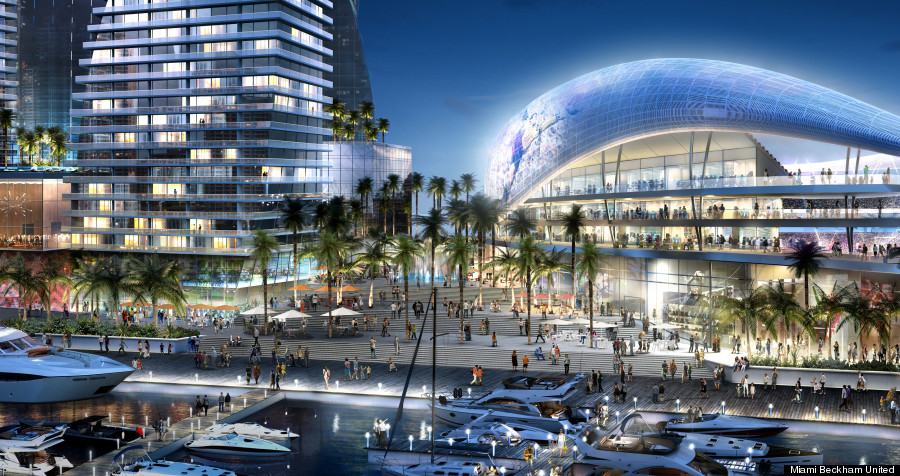 The plaza would host events like concerts and World Cup viewings.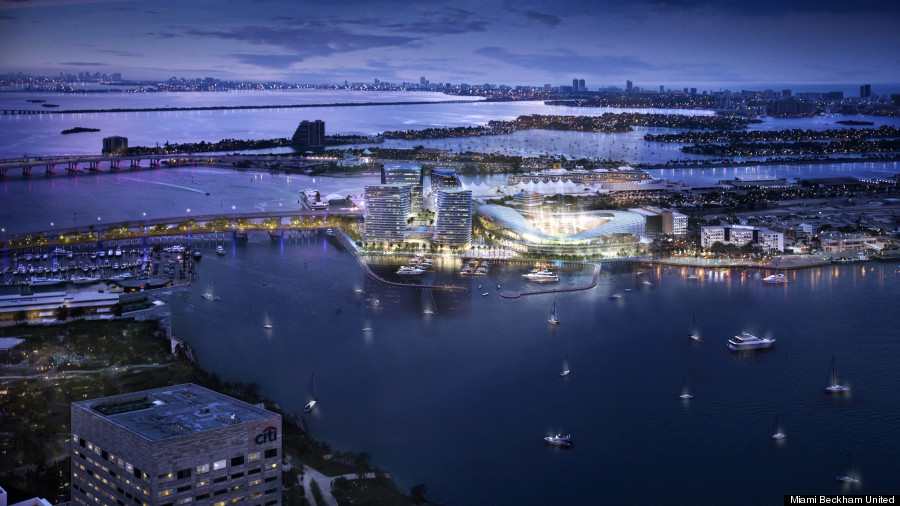 A linear park built over an old drawbridge would allow some fans to walk to games from existing parking in Downtown Miami.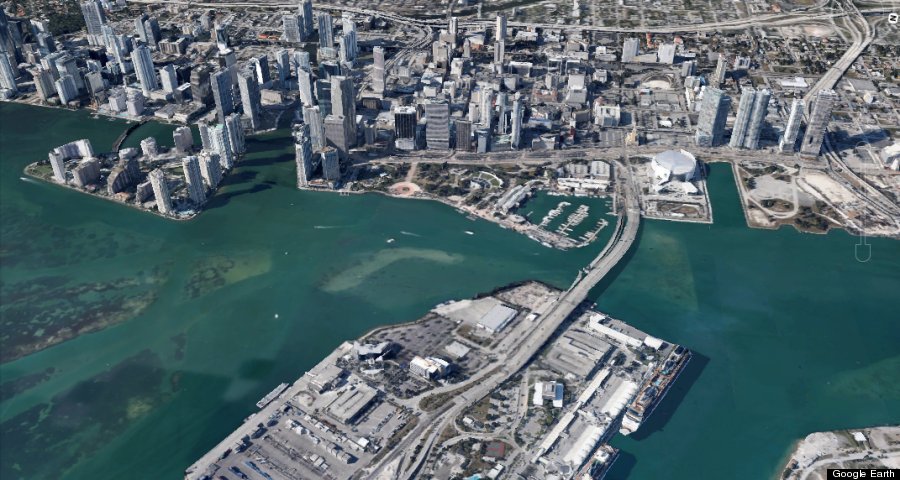 The property sits across from Bayfront Park and AmericanAirlines Arena, where the Miami Heat play.
The overall site plan... envisions connecting the stadium and plaza to downtown Miami via an unused drawbridge that would be converted into a linear park for pedestrians. The plaza, ringed by dining and retail establishments, would be programmed by the team with outdoor film screenings, concerts, World Cup broadcasts and other events throughout the year. The stadium would face the plaza with shops, maybe a Beckham museum, and open terraces. It would also have a nightclub open year-round to the public.

"We have a chance to do something special," Alschuler said. "It can be one of the great stadiums."

...He says traffic and scheduling studies conducted by his team show that games, held mostly at night, would not overlap with cruise ship arrivals or boardings, which take place during the day. And he said a study of parking shows thousands of available spaces within a short walk of the stadium in downtown Miami, with one caveat: the team would pledge not to schedule games at times when the Miami Heat plays at nearby AmericanAirlines Arena.
If they can't secure land at PortMiami, Beckham and his investors -- who have pledge to pay for the stadium themselves -- will look to other sites around Miami, including land near Marlins Park that was originally slated for a soccer stadium.
Miami New Times reports that wherever the group currently called "Beckham Miami United" will build, it will likely be on county-owned land and therefore come with a request for a tax break. But the stadium may also come with a new home for the city's beloved Hurricanes: the University of Miami is reportedly in talks to see if the stadium might be expanded to accomodate college football, too.
REAL LIFE. REAL NEWS. REAL VOICES.
Help us tell more of the stories that matter from voices that too often remain unheard.