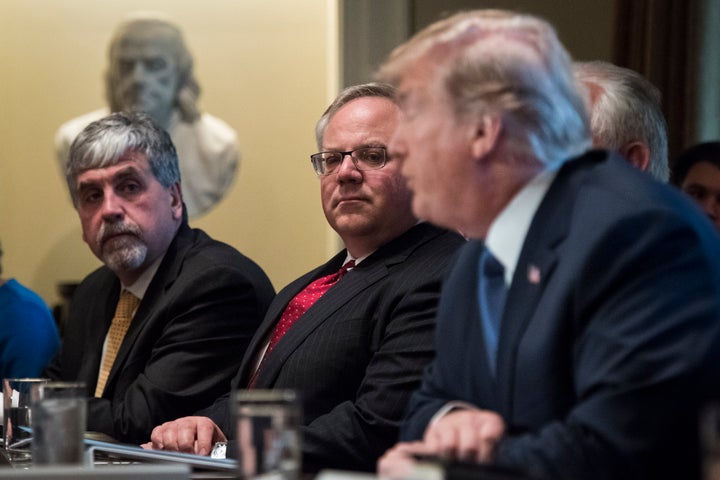 WASHINGTON — David Bernhardt, the deputy secretary of the Interior Department, met late last year with a trio of lobbyists for MGM Resorts International, the casino-resort giant that his longtime former employer also represents.
Joining Ballard at the meeting were Sylvester Lukis and Dan McFaul, who are both partners in the lobbying firm. All three are registered to represent MGM, which paid the firm $350,000 for its services over the last year, according to lobbying disclosure reports.
The calendar does not say what their meeting with Bernhardt was about.
The meeting with Ballard Partners came two months after Bernhardt met with Gale Norton, another lobbyist for MGM, as HuffPost first reported. The casino hired Norton, the interior secretary under George W. Bush, to lobby the department specifically on MGM's opposition to a proposed casino partnership between two Connecticut tribes, the Mashantucket Pequot and the Mohegan. MGM, which is prepared to open a casino in nearby Springfield, Massachusetts, views the tribes' casino as competition. Because the tribes' proposed casino would not be on Indian land, federal approval is required.
Larry Jensen, a lawyer at Brownstein Hyatt and former Bernhardt colleague on the firm's energy, environment and natural resources team, also met and held several phone calls in December 2017 and January 2018 with Bernhardt's right-hand man, James Cason, the associate deputy secretary. Cason, Jensen, Bernhardt and Norton all worked in the Interior Department in the mid-2000s.
McFaul denies he and his colleagues talked with Bernhardt about MGM. "We're aware that he's recused from this matter, and we respect that," McFaul told HuffPost.
According to McFaul, the meeting was about a different tribal casino that his firm represents, SkyBoat Gaming. Ballard, Lukis and McFaul are each listed as a lobbyist for SkyBoat.
Lobbyists from Ballard Partners met with Bernhardt on two previous occasions, in September and October. The deputy secretary's calendar specified the meeting topics ― Everglades Agricultural Area and Skyboat Gaming, respectively ― while the December meeting did not state a specific purpose.
Craig Holman, a government affairs lobbyist for the progressive watchdog group Public Citizen, told HuffPost that Bernhardt's meeting with Ballard lends further evidence to the suspicion that Bernhardt is not complying with his ethics agreements.
"Bernhardt's frequent meetings with lobbyists who are deeply entangled in the turf war between MGM and the tribal casinos, especially the meeting with the MGM lobbyist, gives every appearance that Bernhardt is personally involved in negotiating public policies that directly impact MGM and his former lobby firm," Holman said.
Had Bernhardt met only with Ballard Partners, which lobbies the federal government for numerous clients other than MGM, the Interior Department could put up a credible denial that the parties discussed the casino, Holman said. But his previous meeting with Norton, who solely represents MGM in its fight against the proposed tribal casino, would cast doubt on that argument.
"This 'drain the swamp' was nothing but campaign rhetoric," Holman said.
Meanwhile, MGM's lobbying blitz seems to have been successful. In September, the Interior Department refused to make a decision on the Mashantucket Pequot and Mohegan casino within the required 45 days, a deadline that expired just two weeks after Zinke hosted Ballard and several other lobbyists for a social gathering on his office balcony overlooking the National Mall, Politico reported.
The tribes have filed suit against the Interior Department seeking a firm yes or no on the project.
The Interior Department did not respond to HuffPost's requests for comment Wednesday.
Popular in the Community