David Bowd has brought his New York an Los Angeles sensibilities to Asbury Park, N.J. and with The Asbury Hotel, is bringing this vibrant city to a whole new demographic. The glossy and shiny building opens to a cozy lobby, with it's own social scene, and every corner of the hotel has something going on, from movies on the roof to cocktails in the lobby. David chatted with me about his love for Asbury Park, being "complimentary and not competitive", and what separates the Asbury Park from his other accomplishments.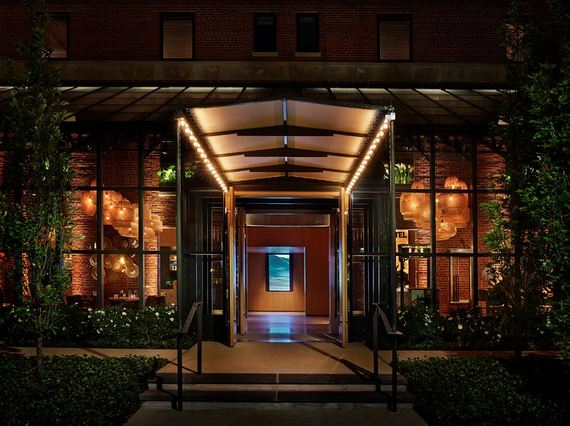 You have done everything from the Chateau Marmont and the Mercer Hotel, as well as worked all over the world; why Asbury Park now?
I came to Asbury Park seven years ago and went to an event at the Stone Pony. We had a fantastic time with the group I was with, and after the event, we decided to stay since we had never been here before. There was really no where for us to stay and the hotels were all full; that is always a good sign. You know, Asbury Park just kept kind of coming back up. I had been back multiple times, and I was approached a couple of years ago by I-Star and Anda Andrei to be a part of this project.
What is it about Asbury Park that is so attractive to you?
Asbury Park has something that really grabs you, you know? It has some authenticity, it's gritty, it's real. I'm a huge music fan, so there's also that. It's also such a great melting pot; you have a great gay culture here, you have a great straight culture, you have a great family culture, the music, the art, the retail, the restaurants, everything. I mean, the changes in Asbury Park from when I came here seven years ago to now and how much everything has changed, particularly the down town area and the restaurant opportunities here, are astounding. It just felt right, and like all of our projects, it has to feel right. We were super excited to come in and be part of the project and run the hotel.
Is this project different from others you have done in recent memory?
It is. Asbury Park just has "something" that gets you, you know? We have done multiple projects and this one has really been such a personal and emotional connection to Asbury Park. We had the Salt School for our employees that started as an incredible connection to the city and to the people of this city. It's great to be able to give back; over 90% of our employees are from Asbury Park. They are a great mix also, of ages, sexes, sexualities, the whole thing. We have been able to literally carry the melting pot under the roof of the Asbury.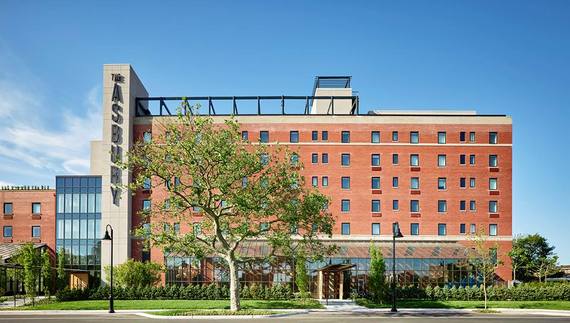 For example, I was at the hotel and I just needed to get away for ten minutes. I stopped into the Wonder Bar and had a drink and I met Debbie DeLisa. We have been emailing for months, but had never met, so I finally got to say hello. It was such a warm reception and such a warm hug! During our first weekend this summer, so many people were thanking us and saying how much they appreciated us being here. It really means a lot when you are trying to bring something new and very big into a community that everyone has been so happy to see succeed. That's very special, it does not happen in every town.

To see big businesses like Paradise, Watermark, and now The Asbury come into this area and bring such a high profile clientele to Asbury Park means a lot, as this town has gone through some trying times in the past.
Absolutely. Something we really want to achieve is for everything we do to be complimentary to Asbury Park and not competitive. The reason we didn't put a restaurant into the hotel is because right now, there are so many great restaurants in town. We want it to be a case of our success is their success and their success is our success. If we are able to recommend and send our guests to some restaurants and into the local community, than everyone gains, which was always our plan.
What do you think are some of your favorite amenities at The Asbury Hotel?
You know, that's a great question because it changes all the time, especially when you see things evolving all the time. I love The Baronet, the movies on the roof is just great. I got to watch "Mean Girls" on the roof and it was just great; everyone snuggled under blankets, the picture quality is great, and it's just something very "American" watching a movie outdoors. Salvation is such a beautiful spot and has such an incredible view. It's funny, since we opened, the areas like the lobby, Soundbooth, the grab and go areas, I have realized that it's a real fun social meeting place. It's funny because I was all about the outside spaces, but now I am seeing that this lobby is really social.
I have worked with Andre Balazs and Ian Schrager, and I have worked on a lot of boutique hotels. One of my beliefs is that boutique hotels started to go down a route that was more about what people looked like, than how people looked after people. We are a hotel company; it has to be first and foremost about the guest experience. That's been our primary focus and we have such a mix of people that are so proud to be working in the hotel.
For everything you have done throughout your career, what do you think makes a true positive experience for a guest at one of your hotels?
I think it's about the employees really making that extra effort. I believe when a guest comes into a hotel, they want to literally immerse themselves into the local culture. It's that concierge service. To be able to judge someone and say this person wants a fancy dinner, or a Korean taco, it's about having those conversations. This is where you go for a Bloody Mary, or you go for cocktails and a view at Watermark, or you want to go and play and dance at Paradise. It's about the hotel team and facilitating and being the link between the hotel and the guest and directing them. Every guest wants something different; that's based on age, wealth, experience, whatever that might be.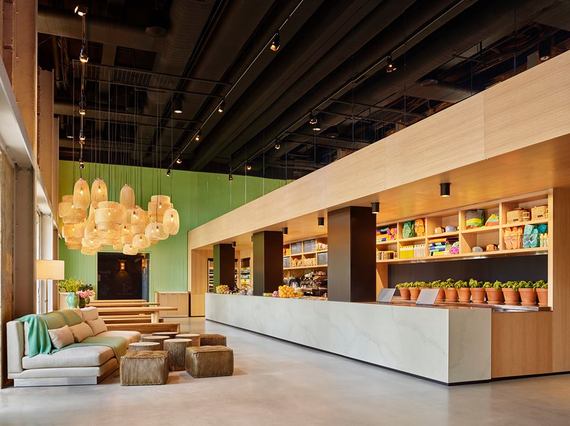 As part of that, we employ Brian Holland, who is our Experience Manager. With that position, the experience is all about the guest experience as well as the guest experience; they fit side by side. Brian is an Asbury Park native and is incredible. He is really helping us train everyone, get everyone to a place where they are comfortable recommending different bars and restaurants and really taking that time with each guests.
We had some positions we did not need, like a doorman for example. We realized we did not need somebody standing at the front door of the hotel. Let's add that position behind the desk so you never have to wait at the front desk. Like room service; let's add another person to the grab and go area. We never eliminated a position so much as we moved them to enhance the guest experience.

If you had to choose one idea or phrase that customers could take from The Asbury Hotel after their stay there, what would you want it to be?
I want them to feel so connected to the hotel and to Asbury Park that they cannot wait to come back.