Last night I sat with six thousand friends, many of them complete strangers, and celebrated the life and music of David Bowie. The event was the annual tribute concert series put on by the remarkable Michael Dorf of City Winery. And as he pointed out in his emotional introduction, when the night was planned - the idea was that Bowie would be in the audience. It wasn't meant to be a retrospective on his life - but rather a celebration of his work. He passed away, shocking the world, the very day the concert was announced.
And - instantly - I knew I had to be there for a myriad of reasons. I wanted to hear the music. I wanted to celebrate a remarkably talented artist who's music has, in many ways, been the soundtrack to my life. But perhaps most importantly, I wanted to be there with others who felt as I did. Both the loss, and that enormous respect for his life and his work.
I wanted to be THERE. I didn't want to watch it streamed live. I didn't want to listen to it rebroadcast later. I wanted to experience it, in real time, with real people.
Highlights included - Blondie's Debbie Harry, performed a rendition of "Starman", Jane's Addiction frontman Perry Farrell sang "Rebel Rebel", Amanda Palmer, Jherek Bischoff, Anna Calvi and the Kronos Quartet performed"Blackstar," and Flaming Lips frontman Wayne Coyne on the shoulders of Chewbacca - performing "Life on Mars" as his LED-bedazzled cape lit the stage. It was a remarkable evening - full of moments of joy and remembrance.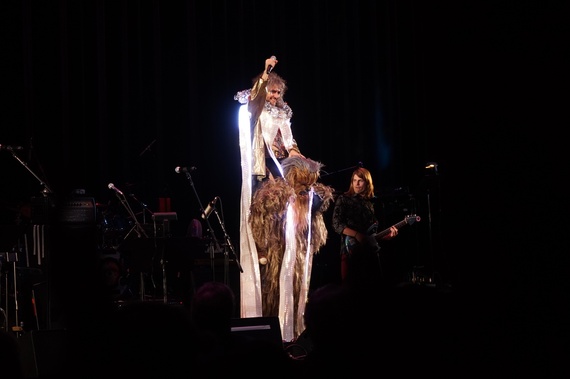 Wayne Coyne of The Flaming Lips at David Bowie Tribute / Photo: Steven Rosenbaum
In fact, as I look at my calendar and my frequent flyer miles - it's clear to me that I'm finding myself more and more wanting to experience things in the real world. Musical performances, immersive theatre, industry events, intellectual experiences.
The rapid digitization of the world is driving me out of my digital domain, and into the extraordinary real world to hear, touch, see, taste, smell, and experience the powerful impact of tactile experience.
Oh, and one more thing - to share. At Radio City Music Hall - the room was gently lit with the glow of digital screens. People were taking pictures, gathering memories, sharing with their social network. It wasn't overwhelming - it wasn't a sea of screens. Everyone was respectful, careful not to let the digital screens overwhelm the music taking place on the stage.
Now, just to be clear - watching on the web the live stream would have been free. And buying tickets to an event requires a commitment. Not just of dollars, but of time. You need to travel, arrive, get settled - and prepare to spend an evening immersed in a single experience. I've come to value this commitment - and to enjoy it - to be tuned into one thing, and tuned out of the often overwhelming digital world.
This isn't an experience that we were projecting - back when the internet began to emerge as a central source of content. There was talk of a real-world apocalypse - with digital experiences replacing travel, trade shows, hotel room stays, musical performances, and live theatre. Happily, that's simply not the case. The more digital becomes accessible, the more the power of in-person experiences rises to the top of the stack.
There's something powerful about experiencing things with others. So when the entire audience was invited to sing along to "Space Oddity" with New York City Children's Chorus - the feeling of connection couldn't have been any more real.
I'm certainly glad the performance was shared on the internet. And I was glad to share my pictures and video with my friends. But being there - that's something I'll never forget.
Popular in the Community