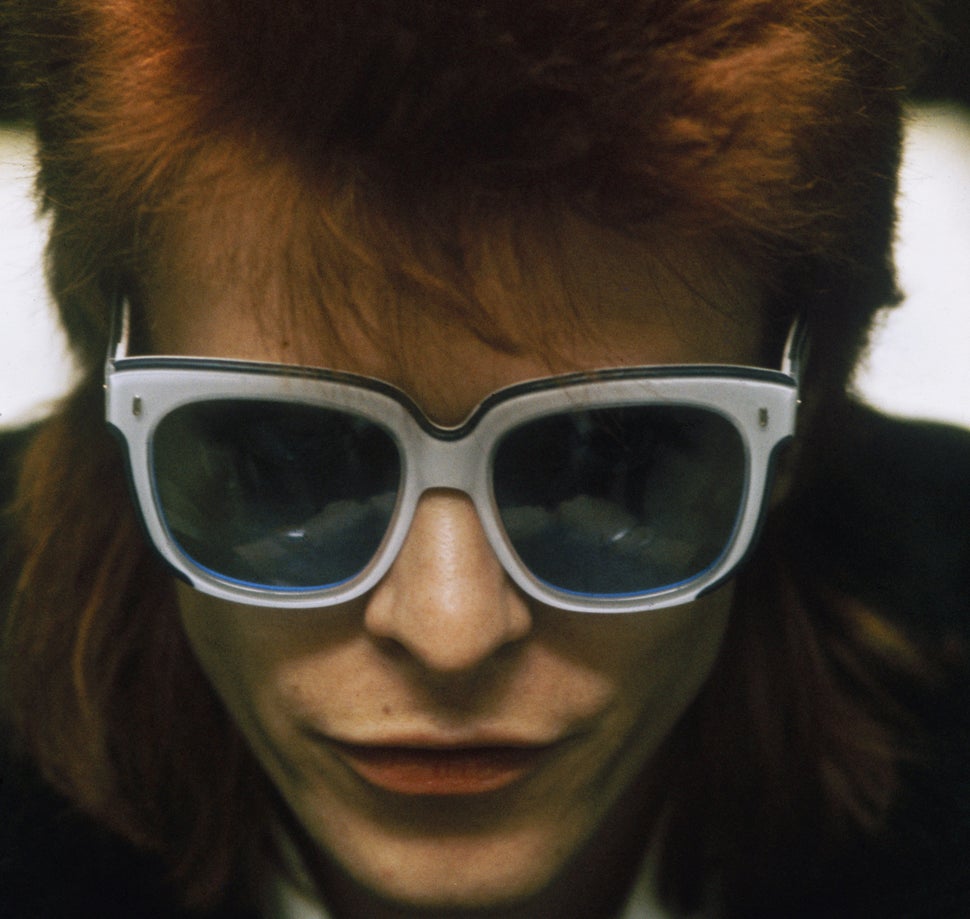 David Bowie was not just a musician.
The man -- known at various points in time as Davy Jones, Major Tom, Ziggy Stardust, Thomas Jerome Newton, the Thin White Duke, Aladdin Sane and Jareth the Goblin King -- turned his entire life into an ongoing work of performance. He changed personas as quickly as he changed hairstyles, adapting new ways of talking, moving, looking and feeling that impacted far more than his music.
An artist in almost every capacity, Bowie once proclaimed that "squishing paint on a senseless canvas" was his favorite occupation.
In the wake of Bowie's death this week, fellow artists, writers, composers and actors have taken to social media to express their love for the late David Robert Jones. While the music community has been quick to pay tribute to its lost icon -- everyone from Kanye West to Madonna has posted homages on social media -- the art world has stood at attention too, reminding the world that Bowie's influence stretches far and wide. 
Artists of all stripes certainly drew inspiration from Bowie's knack for shapeshifting and flexing the constricts of gender. "He was a megastar," English artist Grayson Perry wrote for The Guardian shortly after Bowie's death was announced. "But his power came from the fact he was the champion of the outcast in the bedroom. The loner, the misfit." 
On stage, in front of a camera, and out-and-about in his daily life, Bowie split the concept of identity into an infinitely sided prism. Maturing amid the bohemian scene of London's Soho area, his background in mime culture (yes, Bowie mimed) never faded. His ability to not only appear in different personas with chameleon-like skill, but to holistically experiment with various ways of performing his "self," inspired the amateurs and professionals operating on the fringes of mainstream.
Cindy Sherman's self-portraits (shown above), which gained attention in the late 1970s, particularly mirrored Bowie's ability to adopt, if only briefly, a new self-identity. Sherman would reinvent herself before the camera, taking on the role of the femme fatale, the girl next door, the housewife, and everything in between. "Although most of the characters are invented, we sense right away that we already know them," the Museum of Modern Art wrote of Sherman's "The Complete Untitled Film Stills." 
Sherman became famous for shapeshifting, like Bowie, all the while maintaining a cohesive body of work. "That twinge of instant recognition is what makes the series tick, and it arises from Cindy Sherman's uncanny poise," MoMA continued. "There is no wink at the viewer, no open irony, no camp." 
Following Sherman's ascent in the art world, contemporary starlets like Wu Tsang, Ryan Trecartin and Juliana Huxtable have garnered well-deserved attention for their own shifting of shapes. Often operating between genres and media, these young makers based their practice on the idea that artists don't necessarily need canvases. Their bodies, their selves and their identities can operate as the tools for art. 
"David Bowie Is," a past exhibition at the Museum of Contemporary Art in Chicago, explored Bowie's role as a defier of labels. The show included costumes, storyboards for stage shows, music videos and a slew of contextual media like World War II news clippings, the famous 1972 "Blue Marble" photograph of Earth from space, and posters from the film "A Clockwork Orange," all of which were said to have inspired Bowie's creative process.
"The show is so much about process ... It's about how you make things," MCA Chief Curator Michael Darling explained in a press statement. "You can consistently see how [Bowie] was reinventing himself over and over."
Bowie, who wrote songs about Andy Warhol (and actually played the silver-haired printmaker in a movie about Jean-Michel Basquiat), may have been an icon of outsiders, but he was never on the outside of art. The outpouring of love this week, coming from all corners of the art world, is further proof that Bowie was hardly just a musician. His songs will live on, but so will his legacy for pushing the limits of pop culture in a much bigger way.
PHOTO GALLERY
Iman And David Bowie Through The Years
Calling all HuffPost superfans!
Sign up for membership to become a founding member and help shape HuffPost's next chapter