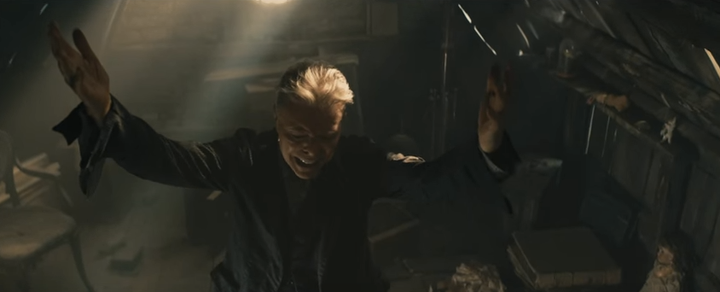 In The New Yorker on Saturday, Ben Greenman declared David Bowie's newest album, "Blackstar," "prime Bowie is in its willingness to embrace nonsense."
But after the singer died at age 69 on the next day following a secret 18-month struggle with cancer, it doesn't seem like nonsense anymore. His death came just two days after the release of the album, and "Blackstar" has quickly started to feel like Bowie's own way of saying goodbye to the world, sprinkled with hints and farewells throughout. 
Look up here, I'm in Heaven!

David Bowie on "Lazarus"
Bowie's collaborator and "Blackstar" producer Tony Visconti confirmed on Monday the legendary singer created the album as a "parting gift."
"He made 'Blackstar' for us, his parting gift. I knew for a year this was the way it would be," Visconti wrote on his Facebook page. "His death was no different from his life -- a work of Art."
Two of the album's accompanying music videos underscore the themes of the seven-track album, which runs for a short 40 minutes. A skull motif weaves through each of the videos, both set against a bleak palate of grays and blues.
On "Lazarus," we see Bowie constrained to a hospital bed, gauze ominously wrapped around his head and a button sewn over each eye. In the song, named for a man raised from the dead in the Bible, he sings, "Look up here, I'm in Heaven!" and later, "Oh, I'll be free / Just like that bluebird," before backing into a dark closet.
Another video, this one for the track "Blackstar," functions as a short film, telling a story over 10 minutes of Bowie as a blind prophet to a group of convulsing followers. "Something happened on the day he died / Spirit rose a metre and stepped aside," Bowie sings.
Throughout the album, other lyrics take on new meaning based on Sunday's news: "I know something is very wrong / The pulse returns the prodigal sons / The blackout hearts, the flowered news / With skull designs upon my shoes," Bowie sings in "I Can't Give Everything Away."
The album got its start in mid-2014, when Bowie and Visconti first met. By December, Bowie was ready to record, Visconti told Rolling Stone in an interview where he also proclaimed the singer to be "in fine health."  
Recording sessions, Visconti explained, would frequently last seven hours per day. Mark Guiliana, who plays drums on the album, remarked on Bowie's stamina when it came to his music.
"He'd just go from zero to 60 once we walked out of the control room and into the studio," Guiliana told Rolling Stone. 
More coverage of David Bowie:
PHOTO GALLERY
15 Duets That Prove David Bowie Was A Genre-Bending Genius
Calling all HuffPost superfans!
Sign up for membership to become a founding member and help shape HuffPost's next chapter