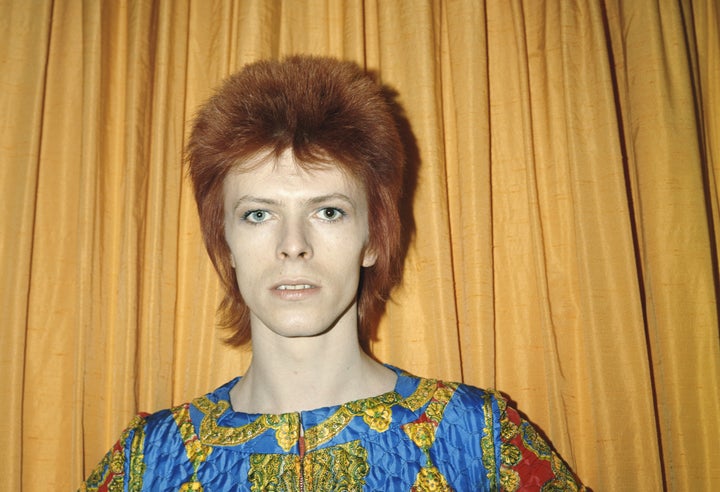 On a summer night in 1972, during what would become a life-changing performance on BBC's influential "Top of the Pops," David Bowie casually draped an arm over his guitarist's shoulders.
No one would think twice about such a gesture now, but at the time in England, it was rather dangerously queer thing to do. Bowie was already on a wildly popular television series showing off his glam-rock alter ego Ziggy Stardust, dressed in a multicolored jumpsuit with a red mullet and electric blue guitar, and backed by only marginally less eye-catching bandmates, The Spiders from Mars.
But when he draped an arm over Mick Ronson's shoulders for part of "Starman," Bowie established himself as a rebel.
His style, labeled "camp as a row of tents" by one reviewer, was regarded as much worse by some viewers that night. Ian McCulloch of the group Echo and the Bunnymen told the BBC he remembered his classmates calling Bowie a "faggot."
"And I remember thinking, 'You pillocks,'" he said. "It made me feel cooler."
For people like McCulloch, the televised moment was eye-opening. With an arm and a costume, Bowie had helped some people begin to rethink what they knew about gender and sexuality.
"It may not sound like much now, but in 1972 it was a revolution," Smith said.
(The performance changed the band's life, too. "Starman" quickly rocketed up the charts. And decades later, bandmate Trevor Bolder told NME magazine the group experienced near "overnight success" after the appearance.)
With his air of flamboyancy, Bowie was a weirdo, but a confident one. His onstage persona told others that it was okay to embrace unconventional sides of themselves.
"A light bulb went off -- I wasn't into drag, I didn't want to dress like a woman, but I wanted to express my gender and artistic identity differently than the mainstream," Lambert wrote.
The band had finessed its image just a few months before the "Top of the Pops" appearance -- Bowie's red mullet an added touch by a hairdresser acquaintance of Bowie's wife at the time, Angie.
Soon, their strange act would turn heads all over the world -- their image so provocative that the group wasn't even allowed to appear in public in Russia.
Six months after "Top of the Pops," Bowie and his bandmates stopped over in Moscow on their way to Japan, Mick "Woody" Woodmansey told NME.
"They'd never seen anything like us," Woodmansey recalled. "We weren't even in our gear on the flights, but Mick had bleached blonde hair with red, yellow and green strips in it and we wore silver bangles." (Eventually, the group arranged a tour in a blacked-out limousine.)
Over his decades in the spotlight, however, Bowie's gender fluidity and ambiguous sexual orientation prompted questions and confusion -- especially in the U.S., as the singer once told Blender magazine.
"America is a very puritanical place," Bowie explained.
Just a few months before "Top of the Pops," Bowie told a journalist that he was gay and always had been. In 1976, he told Playboy that he was, in fact, bisexual -- and so was his wife, whom he divorced in 1980. Then, in 1983, he told Rolling Stone that he'd always been "a closet heterosexual."
In the end, none of it really mattered. Bowie's legacy after his death at 69 lies in his fearless self-expression and eagerness to question gender and sexuality conventions, living his life as a cultural experimentation. His changing public persona is credited with influencing an array of artists including Lady Gaga and Madonna.
"It was a pudding, you know? It really was a pudding," he told NPR of his Ziggy Stardust years. "It was a pudding of new ideas, and we were terribly excited, and I think we took it on our shoulders that we were creating the 21st century in 1971. That was the idea. And we wanted to just blast everything in the past."
David Bowie Style Remembered
Popular in the Community