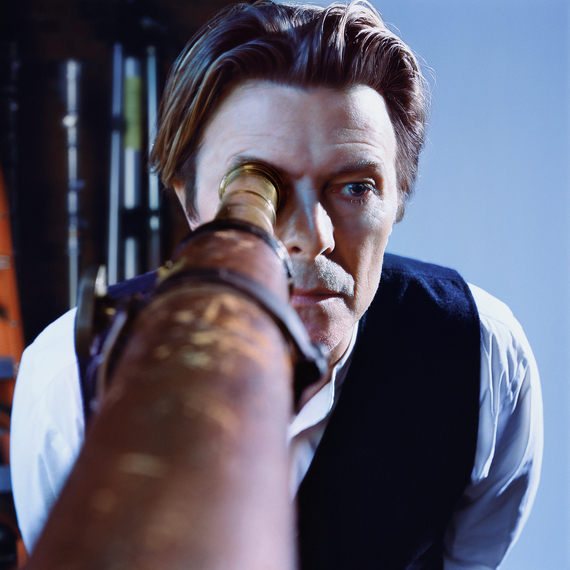 Leave it to David Bowie to find new and delightful ways to enliven Pop Culture -- even after death.
Everybody knows about how The Thin White Duke ducked out in an explosion of shimmering dust from Blackstar, the album which alit on his last birthday, just 48 hours before his deathday, and most presciently, poignantly soundtracked his End of Days.
Everybody also knows Blackstar went #1 in over two dozen countries and became Bowie's most globally-acclaimed LP ever.
Known too are the tributes -- Lady Gaga at the 58th Grammys; David Byrne, Kimbra and The Roots at The 31st Rock 'n' Roll Hall of Fame; Debbie Harry, Laurie Anderson, Robyn Hitchcock, The Mountain Goats et al at Carnegie Hall; Mumford and Sons, Amanda Palmer, The Polyphonic Spree et al at Radio City; The Flaming Lips, Pixies, Rickie Lee Jones, Cat Power et al at both. It hallmarks a collection of artists who never let a pop chart get in the way of their artfulness, and serves as a testament to Bowie's continued influence upon those who continue to influence Pop Culture.
Less know perhaps is that the New York tributes were the result of plans set in motion long before anyone had an inkling that Bowie wouldn't be around to be lauded. Not that the famously discreet songman would've wanted such a public display of appreciation. When not making a new racket of his own, Bowie seemed more the type to join in with new breed racketmakers such as TV on the Radio and Arcade Fire, rather than revisit all the what was.
But this tribute was different; a 12th annual affair put together by Knitting Factory founder Michael Dorf which directed 100% of the proceeds towards music education. Previous "Music of" appreciations include David Byrne and Talking Heads, Paul Simon, The Rolling Stones, Robert Johnson and The Who. (The second night was added only after Bowie's demise.)
Also preceding Bowie's exit was the Victoria & Albert Museum's "David Bowie is". Opened in March 2013 and running through mid-August before embarking on a world tour, the exhibition culls 300+ objects de Bowie from "unprecedented" access to the then apparently restricted archives. It's an astounding display of charm and hubris, and one in which is likely to circle the globe for as long as there's a globe to be encircled.
And also currently making the rounds is famed photographer Markus Klinko's "Bowie Unseen". Comprised of -- yes! -- previously unseen images, these which came about from sessions for 2002's Heathen, as well as a subsequent set of wolf shots for British GQ, this exhibit is akin to having a distilled section of the V&A road show. Picture one facet of an incalculably multi-faceted career and being permitted an opportunity to get up close and personal not just with the art, but with the artist. It's that kinda thing.
And, like "David Bowie is", "Bowie Unseen" is making its way around the whole wild world. The show, which benefits Gabrielle's Angel Foundation for Cancer Research and is sponsored by FUJIFILM, kicked off on February 19th at Markowicz Fine Art, in Miami's Design District. In March, the exhibition hit Licht Feld Gallery, in Basel, Switzerland, and followed, in an abbreviated capacity, with the arthouse's May appearance at Art New York. And on May 19 settles in at MusicHead Gallery in Hollywood. From LA, the tour will travel to Paris (Art Cube Galerie, May 26th) and Tokyo (Gallery Speak For, July 8th). Hong Kong, London and other cities are to be announced shortly.
We got with Markus Klinko in advance of the next stops; here's what he had to say:
When Bowie came to your studio with Iman and joined you both in selecting the cover shot for I Am Iman, did you in any way feel as if you were being scouted or screened?
Oh no. I did not feel like I was being vetted or anything like that. It was a natural process that came about. When Bowie came over, he was well aware of the body of my work, but we were very focused on getting Iman's book cover selected - a process in which he participated.
Bowie was very enthusiastic about the photos of Iman. I think one thing led to the other.
Though your British GQ piece about those infamous wolf photos says that once Bowie did casually mention maybe working together, you considered the prospect a little "too good to be true" (which to me means "too spectacularly dreamy to really be real"), you must've got some jolt even then, no?
That's an understatement! It was definitely one of the most exciting job prospects imaginable.
How many quadruple backflips did you do when Bowie did followup a few weeks later?
If I could do backflips - I would have done them! I will never forget the moment when my assistant, Jaz, said, "David Bowie on line one." At first I thought it was a prank!
That British GQ piece also mentions Bowie bringing to your studio some early Man Ray for source material --- were the works from one specific series or period?
We mainly looked at Man Ray's portraits, but also some objects - flowers for example. They were all black and white. Bowie was very fascinated with the black outlines in much of Ray's work. The idea was not to copy any of it, but rather to reference the mood in a certain way.
How did the Man Ray images correspond to what you pictured upon hearing rough mixes of Heathen?
Well, this was just a few weeks after 9/11. Already the mood in NYC during this time was very somber. I met Bowie at a small, dark Broadway studio; close to my own photo studio in SOHO.
He sat by a window and smoked cigarettes while Tony Visconti played various tracks from the album. The atmosphere in the studio was very intense and the music was dripping with melancholic and bittersweet emotion, with a lot of angst too.
In a way Man Ray's work visually mirrors these feelings, and these feelings most certainly served as a prism. But right then I didn't picture black-and-white, Man Ray-like or otherwise. Remember, up until Bowie all my work had been in color, and we didn't discuss anything different until later.
I'm incredibly grateful the project evolved in that direction though. You might say Bowie truly opened my eyes to the spectrum of colors to be found in black-and-white.
Is it often that an artist engages to such a deep degree before stepping in front of your lens?
No, the degree that David interacted on this project was unusual compared to most other artists and celebrities I have worked with.
He brought so much to it because of his deep knowledge of art, photography, post-production, and design. It was an exceptional and unforgettable collaboration on many levels.
How surprised were you to receive another summons a full decade later for The Next Day?
I certainly did not expect his call in 2013. For me, it was completely out of the blue.
He was full of vibrant energy and evidently thrilled about the enormous success of his surprise come back.
It was a very happy occasion for me to reconnect with him.
Were you told that you'd be joining Tony Oursler and Floria Sigismondi as the trio chosen to visualize Bowie's returning from extended hiatus?
No, but the other two videos had already been released at that point. Bowie always teams up with creative collaborators based on a very specific vision for what he wants to create at that point in time. He's someone who knows what he wants.
What kind of pre-shoot preparations did you and Bowie make for "Valentine's Day" (and why)?
With the great simplicity of this project in mind, all the elements had to be perfect. So it was mainly a matter of finding and deciding on wardrobe, location, the type of guitar and so on. He actually brought the guitar in the video but we had sent photos back and forth about color and shape. The song is about a mall shooter, and I had the idea to make a subtle reference by using a very brief sequence of a flying bullet, for example, and fleeting moment of a machine gun shadow.
Bowie's later "Lazarus" clip seems to revisit many of the themes you two employed in the Heathen shoot, no?
Yes, the blind eyes and writing scene by the desk with the pen for example. These are reoccurring themes that Bowie explored in his artistry.
Do you feel Bowie was already working out his endgame even back then?
That would be pure speculation on my part. I can't say one way or the other, but he was a very intuitive person.
Had you seen Bowie said "Heathen" is "about knowing you're dying"?
This is the first time I'm reading about it, but it pretty much sums up how he had described the concept of Heathen back in 2001 before our shoot.
Were you able to catch any of the Heathen shows? And? What did the show do to you?
What kinda affect do you get when viewing the Berlin 2002 live clip of "Heathen" now?
It is a beautiful piece. David was such a great musician, a great singer. I love this song. He looked so fabulous and impeccable all at the time.
The "Bowie Unseen" World Tour, which benefits Gabrielle's Angel Foundation for Cancer Research and is sponsored by FUJIFILM, opens May 19th, 7-10pm at Mr MusicHead Gallery 7420 W Sunset Blvd, Hollywood. For more information log on here.
Note: Since 1995, Klinko has teamed with acclaimed multi-dimensionalist Indrani, whose accomplishments are far too numerous to list here and infinitely too astounding to attempt describing in a mere footnote. Hence we recommend going to the source herself. We're sure you'll be delighted to take it from there.
Calling all HuffPost superfans!
Sign up for membership to become a founding member and help shape HuffPost's next chapter