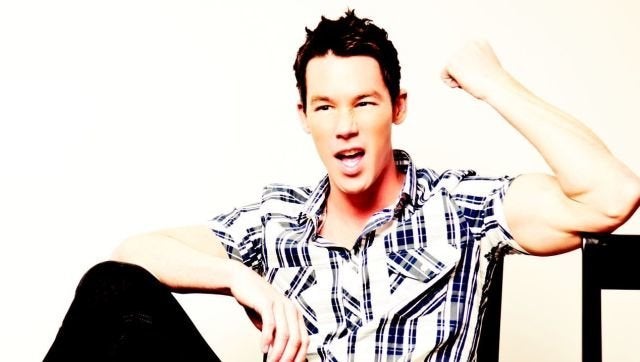 Designer, artist, TV personality...did we miss anything? We're talking about David Bromstad, the multi-talented wonder who made it big as the first winner of HGTV's "Design Star," then got his own show, "Color Splash," showcasing his knack for using exciting color palettes and incorporating personalized artwork into spaces.
But what you didn't know is that Bromstad started out as a Disney illustrator. (This definitely explains his color obsession.) For more fun facts -- and of course, very useful decor advice -- check out our Q&A with the design master himself, below. And, be sure to check out the slideshow of his best work.
The Huffington Post: Which trends are you tired of seeing?
David Bromstad: The color combination of blue and brown is classic, but let's move on from the '90s, people! "Chrome" is getting overused as well, to the point where it's starting to look cheap. I recommend a variety of finishes in gold, brushed, shiny, aged and mirrored! Delicious. Finally, another trend that that I'm tired of seeing is the overuse of the ikat pattern. I feel this pattern should be modified in a unique way. It's everywhere but I'm not seeing anything special come down the line.
HP: What do you anticipate will be the hot trends in the coming months?
DB: I think trends in general are shifting. As opposed to something that will come in and out of style quickly, we are going to see timeless trends that will last for years. Bringing back the classics. Gold has been a hot trend and will continue to move forward. Giant islands in kitchens are becoming more and more popular. People are leaving their dining rooms for their kitchens. And don't underestimate the outdoor living spaces. Outdoor kitchens and outdoor living rooms are here to stay. Chevron and Houndstooth prints will also continue to push through the year.
HP: What's a common mistake that the average homeowner makes in or to their home?
DB: I know one of the biggest mistakes people make in their home designs is going to a furniture store and just picking out furniture without proper measuring. Then they find that either the couch is too small or too big and as a result, space can become too cluttered or too sparse. Measuring and laying out the room in advance can save you a lot headaches.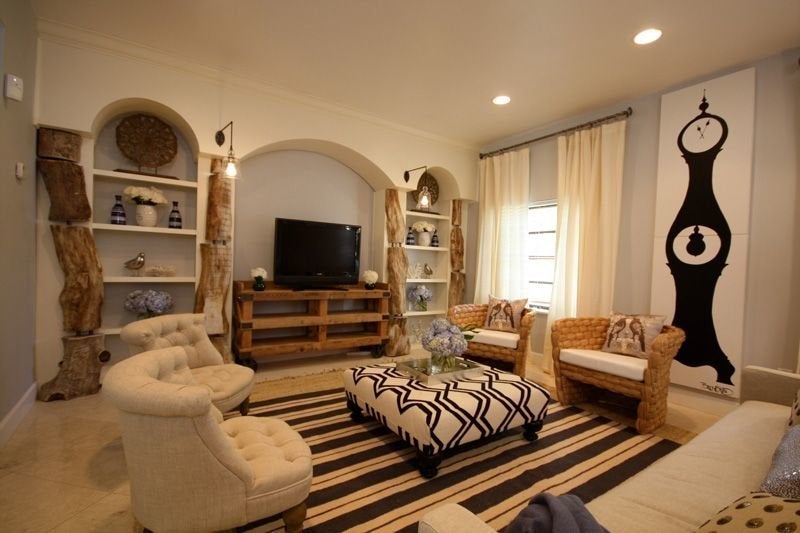 David Bromstad
HP: What's the one furniture item/accessory/etc., that no one should have in their home?
DB: Vases and pots filled with fake flowers and plants. One of the things I despise. Real flowers and plants bring life into a space and for very little investment.
HP: What's your own home like? (And if you live with someone, how do they feel about it?)
DB: I would describe my home design as eclectic with a dash of whimsical with a bit of fierce sprinkled throughout. I live with my partner and he loves our place. Then again, he has no choice.
HP: Are your friends or family scared to have you over to their homes?
DB: My family? Definitely not, especially my sister. She has a wonderful eye for design and her house is really spectacular. When I go over to some of my friends houses, they always say that they are nervous to have me over. It makes me laugh a little. I don't judge. At least I don't vocalize it. LOL
HP: Why should people care about design?
DB: Why shouldn't they? We have to live in our spaces for life. I think that we should make the best of where we live and we all should be able to come back home to a place that is welcoming and represents who we are. We are very concerned with how we look on a day to day basis, why shouldn't we be surrounded by things that inspire us?
Do you have a home story idea or tip? Email us at homesubmissions@huffingtonpost.com. (PR pitches sent to this address will be ignored.)
Popular in the Community