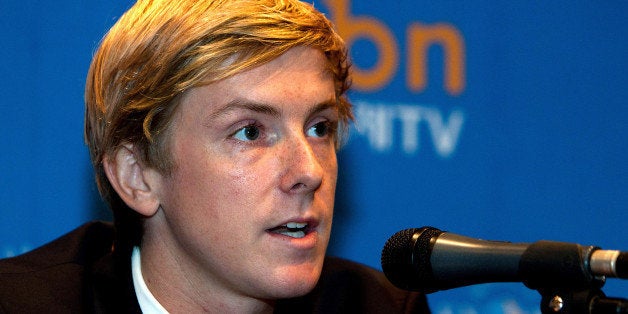 David Brooks has joined the ranks of media figures unhappy with the new leadership at The New Republic.
On Friday, in a column that appeared in The New York Times, Brooks charged that New Republic owner Chris Hughes has ruined the magazine. Hughes, a co-founder of Facebook, has been the subject of much ire following his decision to oust top editor Franklin Foer.
"The country suffered a great loss this year with the destruction of The New Republic at the hands of its callow and incompetent owner, Chris Hughes," Brooks wrote. "Before it was obliterated a few weeks ago, it churned out the usual stream of outstanding essays."
Following Hughes' decision to replace Foer with former Gawker editor Gabriel Snyder, dozens of New Republic editors and writers resigned in protest. Additionally, several contributing editors, like New York magazine's Jonathan Chait and The New Yorker's Ryan Lizza, demanded that their names be removed from the masthead. The departing journalists claimed Hughes and CEO Guy Vidra have turned their backs on the groundbreaking work that the magazine was known for.
"The New Republic is a kind of public trust," the editors wrote in an open letter. "That is something all its previous owners and publishers understood and respected. The legacy has now been trashed, the trust violated."
Even New York Times executive editor Dean Baquet has piled on.
In addition to pushing out Foer, Hughes and Vidra also cut the magazine's annual issues from 20 to 10.
Hughes responded to the backlash earlier this month in an essay for The Washington Post.
"If you really care about an institution and want to make it strong for the ages, you don't walk out," Hughes wrote.
Calling all HuffPost superfans!
Sign up for membership to become a founding member and help shape HuffPost's next chapter