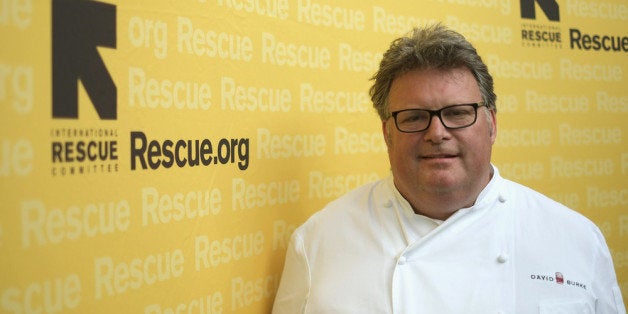 We've been thinking a lot lately about the chefs, musicians, comedians, actors and others whose careers frequently take them out on the road, into more airplanes, restaurants and hotel bars than they can count. When they finally settle back in at home, what do they want to cook for themselves? We asked, and they just started telling us! Find out their answers in our series, Homecoming Meals.
David Burke is one of those chefs who's known just as much for his food as his personality. Let's just say, he's been known to light up a room or two. Burke made his name at restaurants like David Burke Townhouse, Fishtail by David Burke and David Burke Prime, by making serious food fun. He's known for his whimsy, his inventiveness and his seemingly limitless ability to surprise diners ("Angry Lobster on a Bed Of Nails," anyone?). So, let's just say, we weren't really expecting his Homecoming Meal to be a simple salad with a fried egg on top. Another surprise!
When I get home, I like to make myself a Market Salad with a fried egg on top. This is my type of comfort food and is a quick and easy dish. After traveling I like to eat something that is simple but always tastes great.
Market Salad
Mixed greens (I like to use baby greens, arugula, red leaves, beets and/or celery hearts) Good quality extra-virgin olive oil Red-wine vinegar Salt (preferably sea salt flakes) Freshly ground black pepper Place clean greens into a large salad bowl. Drizzle a bit of olive oil and vinegar over top and season with salt and pepper. Toss gently to coat. Taste and add more oil, vinegar, salt, or pepper if needed.
Basic Fried Eggs
1 fresh large egg Salt and freshly-ground black pepper
Heat a non-stick skillet (or a regular skillet greased with a small amount of butter, margarine, or cooking oil) at medium heat until just hot enough to sizzle a drop of water.
Break egg and gently slip into the skillet.
Immediately reduce heat to low.
Cook slowly until white is completely set and yolk begins to thicken but is not hard (You can use a frying pan with a lid and cover the egg. The lid traps heat and steam so that the egg cooks from above as well. The egg should take about 5 minutes to cook depending on how well done you like it.).
Season with salt and pepper as desired.