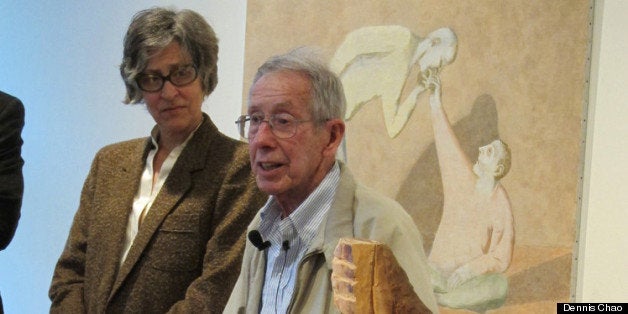 Imagine being 87 years old and getting your first exhibition at a gallery across the country. Such is the case for David Byrd, an artist based in upstate New York who has quietly painted for decades. The artist's trajectory is an interesting one; he grew up in various foster homes, then joined the Merchant Marines, and finally ended up as an orderly at the Veteran's Administration Medical Hospital in a small town in New York after attending art school on the G.I. Bill.
Greg Kucera, the owner of an eponymous gallery in Seattle, first found out about Byrd through the artist's next door neighbor, Jody Isaacson, who Kucera represents at his gallery. But the good news of this discovery was followed by a distressing experience: Four days before the opening, Byrd was diagnosed with lung cancer. In a phone interview with the artist, he said, "I'm a loner, so work is important. I try to make art all the time, before I'm gone."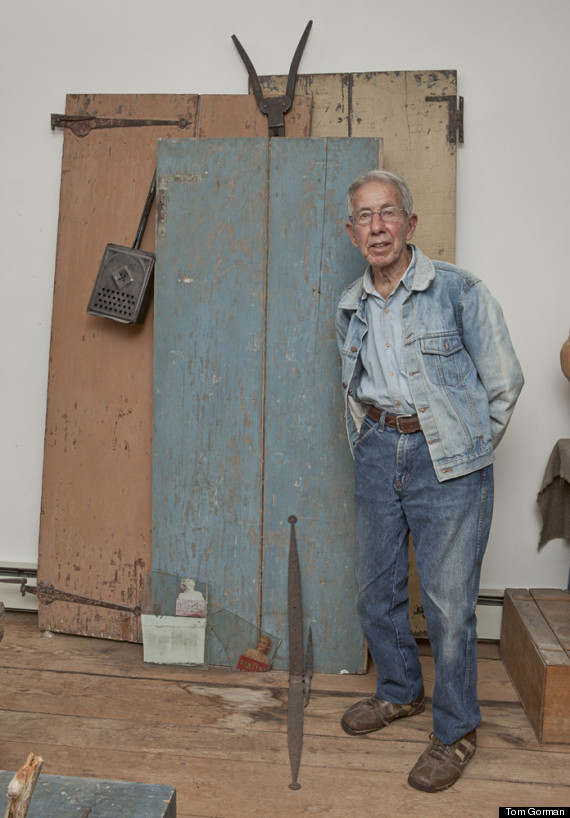 The artist at home. Photo by Tom Gorman.
His experience as a foster child and in the military are frequently employed in his artwork; in one painting, simply titled, "Foster Family," the artist presents adults engaged in various recreational activities while a child in a coffin lies in the right hand corner of the frame. It's a disturbing image, filled with the weight of his personal history. Byrd said about foster care: "That's the way it goes. It's terrible and it's good." He continued, "You have to be sure you're not one of the unlucky ones."
In the late '80s, Byrd retired and built most of his modest, light-filled home with his own hands. He was finally able to paint whenever he liked, and had the time to begin exploring sculpture, creating a series of works in the '90s from wood and found objects. When he wasn't working on his art, he collected vintage bottles at trade shows. From his art and his hobbies, it is apparent Byrd is a well-trained scavenger, able to find what is useful and employ it at will.
We asked the artist how he felt about having his first exhibition at his age. "It feels good, it feels great," he said. "It was a matter of getting everything together and being there."
On the phone, the artist is modest about his talent, and grateful for the publicity, even if it arrives over a half century later than one would expect. In the end, Byrd just wants people to engage with his artwork, saying, "It's hard to tell what the meaning of the work is, but it should be up to everybody to figure that out for themselves."
Calling all HuffPost superfans!
Sign up for membership to become a founding member and help shape HuffPost's next chapter