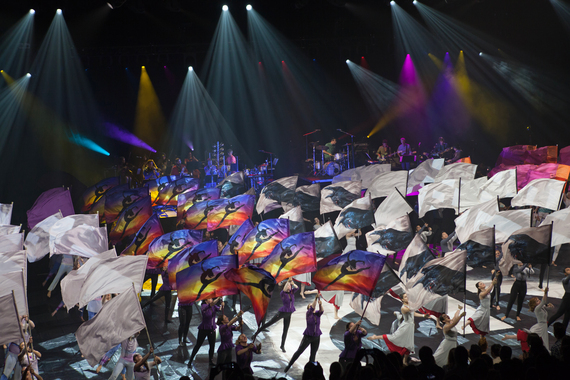 In a world where we think we have seen everything and certainly as New Yorker's we know everything-- inexhaustible David Byrne, surprises us with Contemporary Color presented by BAM at The Barclay Center in Brooklyn. My assumptions were totally wrong, not really understanding the nature of the present day color Guard zeitgeist; I had only the most rudimentary idea of what I was about to see and it took me a minute to grasp what I was looking at. Not until after the first set of flags unfurled and a big video screen with a slick, silver haired announcer (who probably covered a few Miss America Pageants in his career) showed up to explain that what we are looking at is something known as COLOR GUARD. With him a kitschy array of judges, town folks, and performers went on to elaborate about their experiences and hopes. And now that I have been introduced to it, I want to follow it.
I was totally absorbed in this singular dance, acrobatic, athletic performance craft. What an uplifting show!!! David Byrne you more than rock, you reign!
With live performances by Nelly Furtado, How to Dress Well, Devonte Hynes, Zola Jesus, Lucius, Nicho+ Ira Glass, Money Mark + Ad-Rock, St. Vincent and tUnE-yArDs, matched up with Color Guard teams, who typically compete with recorded music, but in this instance great musical acts energized the performance and made it quite tactile.
Though at times, it seemed slightly off, due to the singers self-expressive physical gesturing, versus the dancer's ability to tell their story without being upstaged, as this was the case with wonderful Zola Jesus's head gesticulating mania.
What is Color Guard you ask? It is a synchronized compilation of finely tuned flag, fake saber and rifle swirling, looping, snaking, waving and weaving movements; married to dance, with themes ranging from self-aware awakenings, to zombie attacks, robot reveries, and timely topics on frightening abductions of young girls. This is no small feat and with 20-40 performers on the stage, synchronicity is essential. It takes focused dexterity and absolute commitment to sink all these elements together. Some performers have been doing this since high school and on into middle age, which makes this form of nimble talent even more compelling. Its been around for a while and began in the military, then making its way into high school competitions, to its present competitive art form.
The teams were all respectively great, imaginative and passionate, no matter a small hesitant saber twirl falling to the floor or procrastinating flag here or there. Bravo teams!
1. Shenendehowa High School from Clifton Park N, J
2. Alter Ego, Trumbull, CT
3. Ventures, Kitchener-Waterloo, On
4. Field of View, West Chester, PA
5. Black Watch, Mount Laurel, NJ
6. Mechanicsburg High School, Mechanicsburg, PA
7. Brigadiers, Syracuse NY
8. Sommerville High School, Sommerville, NJ
9. Les Eclispes, Longueuill, QC
10. Emanon, Hackettstown, NJ
.
Calling all HuffPost superfans!
Sign up for membership to become a founding member and help shape HuffPost's next chapter