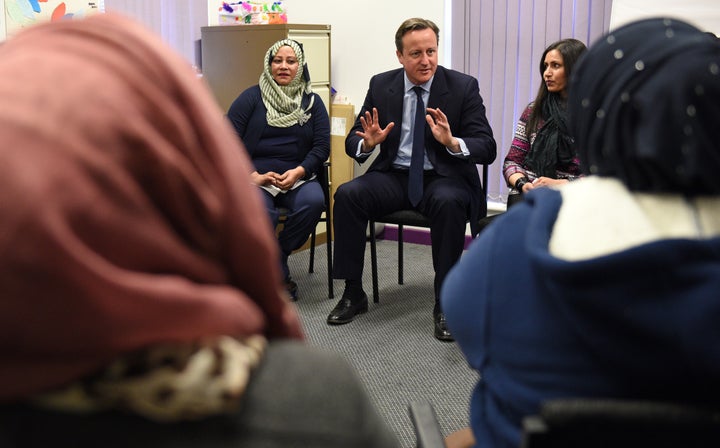 British Prime Minister David Cameron caused an outcry on Monday for appearing to single out Muslims in a new policy that could break up migrant families if newcomers to the U.K. do not learn English.
Migrants entering the United Kingdom on a spousal visa will be required to pass an English language test two and a half years after arriving in the country -- or else face deportation, Cameron wrote in an op-ed for The Times outlining his new policy.
While migrants from anywhere in the world would be subject to the language test, Cameron emphasized in his article that 190,000 Muslim women in Britain speak little or no English, despite having lived in the U.K. for years. 
"At the moment, someone can move here with very basic English and there's no requirement to improve it over time," Cameron wrote. "We will change that. We will now say: if you don't improve your fluency, that could affect your ability to stay in the U.K."
"Yes, we have responsibilities to migrants, but they have responsibilities too," he added.
Non-EU citizens can apply for a special visa to join family members in the U.K. who are British citizens, have settled in Britain, or were granted asylum or humanitarian protection there. EU citizens, on the other hand, do not need visas to enter, work or live in the country.
Currently, the U.K. requires migrants who wish to apply for citizenship or settle in the country to take language tests, but Cameron wrote in his op-ed that it was "time to be much more demanding." The new language tests and rules regarding deportation will come into force in October 2016, the prime minister said in an interview with BBC Radio 4.
Cameron also announced that the government would spend 20 million British pounds (about $28.6 million) to provide women, specifically, with English language classes across the country. There have been no more details about when and where these classes would begin.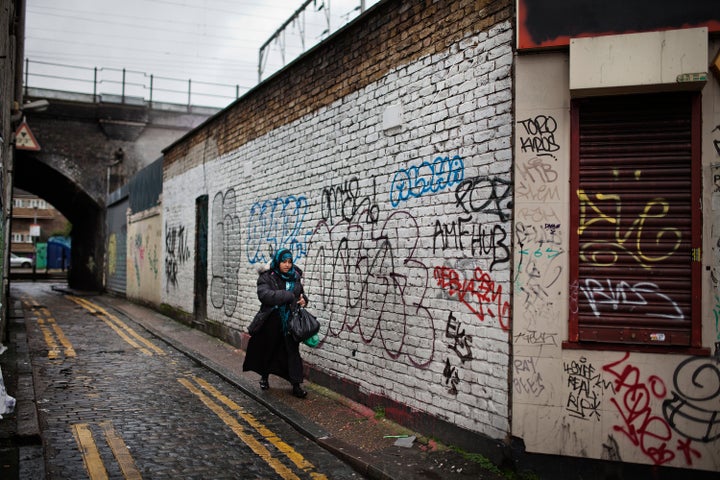 While Cameron clarified that there was no "causal connection between not speaking English and becoming an extremist," he also suggested that a lack of English language proficiency could drive people toward extremism.
"If you're not able to speak English, not able to integrate, you may find therefore you have challenges understanding what your identity is, and therefore you could be more susceptible to the extremist message that comes from Daesh," Cameron told BBC Radio 4, using an Arabic acronym to refer to the self-styled Islamic State.
Like many European nations, the U.K. is increasingly worried that its nationals are susceptible to extremism. An Islamic State militant believed to have beheaded at least seven men, including U.S. journalist James Foley, was later identified as Kuwaiti-born British national Mohammed Emwazi, also known as "Jihadi John."
Just last week, Philip Hammond, the U.K.'s foreign secretary, revealed that some 600 of the country's citizens had been caught trying to join the Islamic State group and other jihadist groups since 2012.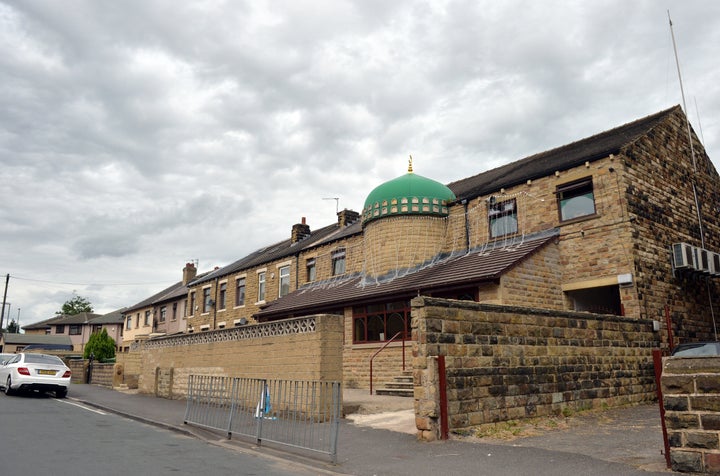 Critics say Cameron's decision to single out Muslim women in his op-ed and to cite extremism as justification for the English classes could further ostracize Muslims in the U.K.
Cameron's announcement about the language program was "tarnished by lazy and misguided links to extremism and terrorism, resulting once again in stereotyping Britain's Muslim communities as different and outsiders," Sayeeda Warsi, who is Muslim and a former chair of Cameron's Conservative Party, told the London Evening Standard on Monday.
"Linking women in the Muslim community who struggle with the English language to home-grown extremism only serves to isolate the very people Cameron says he is trying to help," said Tim Farron, leader of the U.K.'s Liberal Democrats party.
Many also believe Cameron's call for migrants to learn English is hypocritical, considering the prime minister's decision last July to cut a 45 million pound ($64 million) program that had provided language classes to 16,000 non-native English speakers. 
PHOTO GALLERY
10 Muslim Women You Have To Know
REAL LIFE. REAL NEWS. REAL VOICES.
Help us tell more of the stories that matter from voices that too often remain unheard.