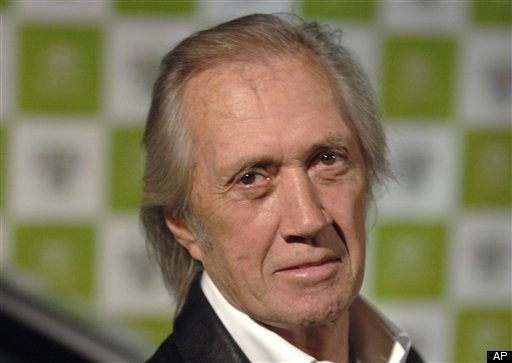 RadarOnline reports that a Thai publication has outraged the family of David Carradine by publishing a photo of him hanging:
The shocking published photo shows Carradine with his hands tied in front of him, hanging from the support bar in a closet. Tattoos on the lower half of his nude body can be seen.
Attorney Mark Geragos, who represents Carradine's brother, Keith, told Radar that the family is "outraged" by the move and will legally go after any publication in the U.S. that publishes the photo.
The circumstances under which he died have led to speculation that the 72-year-old actor may have been engaged in a dangerous form of sex play known as auto-erotic asphyxiation.

The practice involves temporarily cutting off the supply of oxygen to the brain to heighten the effects of a sexual climax.