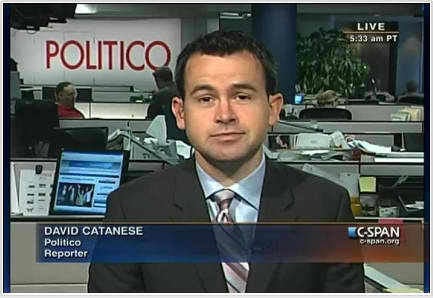 NEW YORK -– Politico reporter David Catanese apologized Tuesday night for tweeting in defense of Republican Rep. Todd Akin two days earlier, following the Missouri Congressman's controversial comment about "legitimate rape."
Politico editors removed Catanese on Monday from covering the Senate race in Missouri, a state where he covered politics before moving to Washington. On Tuesday night, Catanese told staff that the "entire incident was a misjudgment on my part" and that he never intended "to lend support to Rep. Akin's inexcusable remarks."
"I would never intentionally impugn a woman who has been the victim of the horrific crime of rape," Catanese wrote in a the staff memo. "My commentary on Rep. Akin's repugnant rhetoric failed to make this clear."
Catanese told staff he is "deeply sorry and apologize for the distress and distraction I have caused in the newsroom."
So far, Politico editors have not announced any suspension or further disciplinary action. In June, Politico editors suspended White House reporter Joe Williams for comments made about Mitt Romney on MSNBC and for some inappropriate tweets. Williams later lost his job.
Below is Catanese's full staff memo, obtained by The Huffington Post:
It is clear to me from conversations with colleagues the hurt I caused with my remarks on Twitter Sunday night.

I know that many colleagues were angry and offended by the content of those Tweets. After speaking today with some of those who were most offended, I fully understand the reasons for their offense and I sincerely apologize to all my colleagues at POLITICO.

The entire incident was a misjudgment on my part. It was never my intent to lend support to Rep. Akin's inexcusable remarks.

My only aim was to evoke a discussion -- from the neutral vantage point of a reporter -- about whether there were different ways of interpreting what Akin meant with his words.

The effort failed badly, because of my own imprecise wording.

I would never intentionally impugn a woman who has been the victim of the horrific crime of rape. My commentary on Rep. Akin's repugnant rhetoric failed to make this clear.

I am deeply sorry and apologize for the distress and distraction I have caused in the newsroom and promise to learn from this experience to better express my journalistic intent with greater precision and sensitivity.

Regretfully,

Dave