Staunch President Donald Trump ally and former Milwaukee County sheriff David Clarke faces trial this month for Facebook taunts against a plane passenger who Clarke thought disrespected him.
Passenger Dan Black filed a civil rights lawsuit against Clarke arguing he violated Black's First Amendment rights with retaliatory Facebook posts on the sheriff's page. Wisconsin U.S. District Judge J.P. Stadtmueller ruled Friday that Clarke's posts could "reasonably be understood as a threat, coercion, or intimidation that punishment ... will immediately follow." A jury is now set to hear the case Jan. 22.
Threatening posts appeared on the sheriff's Facebook page after Black, a Milwaukee resident, filed a complaint about his treatment by Clarke when the two men encountered each other on a plane heading from Dallas to Milwaukee early last year. Black shook his head when he recognized Clarke, and Clarke directed deputies to detain Black after landing. Black was met by six deputies and two police dogs, questioned and escorted from the airport, according to an FBI account of the events.
Black filed a civil rights suit against the deputies and Clarke — who was once considered for a post as Trump's deputy secretary of Homeland Security — accusing them of violating his constitutional rights of free speech and due process, and his right against unreasonable seizure.
Stadtmueller threw out most of Black's claims, and dropped the case against the deputies. The judge ruled that being questioned by deputies did not constitute a "seizure," and that the lack of due process was not the "most egregious official conduct" to "shock the conscience" and therefore did not require a trial.
But Stadtmueller ruled a jury should determine if the Facebook posts constituted intimidation that amounted to retaliation against Black. One of the posts on Clarke's Facebook page said if "Sheriff Clarke were to really harass you, you wouldn't be around to whine about it." Another post said the next time Black or anyone "pulls this stunt on a plane they may get knocked out."
The judge concluded that "Black has raised a triable issue ... as to his claim for First Amendment retaliation based on Clarke's Facebook posts."
Details of Black's encounter with Clarke re-emerged in December when an FBI affidavit about the incident was unsealed. The FBI filed the document last March in order to obtain a search warrant to examine Clarke's emails. Agents sought access to the emails via Google after obtaining one in which Clarke apparently instructed a subordinate to post on Facebook about Black. "Link to the complaint," said the email from Clarke's account to a staffer, according to the affidavit. "Sheriff has taken this asshole's complaint under advisement and summarily determined that he can go to hell."
After press reports about the unsealed affidavit, Clarke attacked the media on Twitter, vowing to "punch them in the nose" and "make them taste their own blood." He also posted a meme showing Trump holding a wrestler labeled "CNN" as another wrestler with Clarke's face kicks "CNN."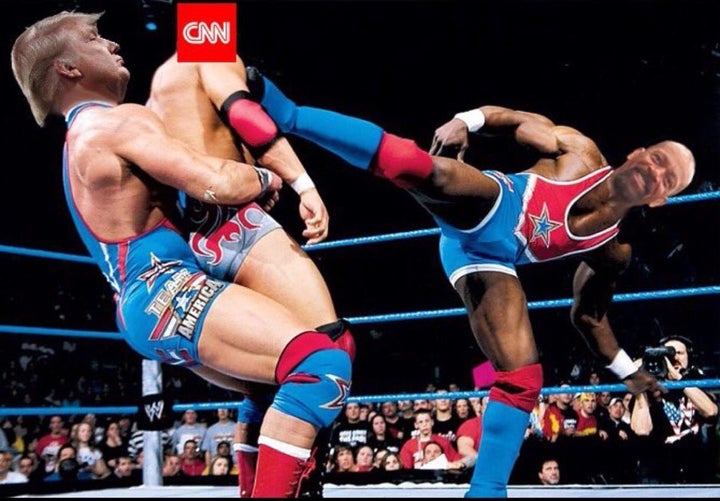 Clarke, who infamously called on citizens to take up "pitchforks and torches" and hit the streets because the system was rigged against then-candidate Trump, spoke at the Republican National Convention. He resigned last August following a number of troubling deaths in Milwaukee County jails.
Popular in the Community