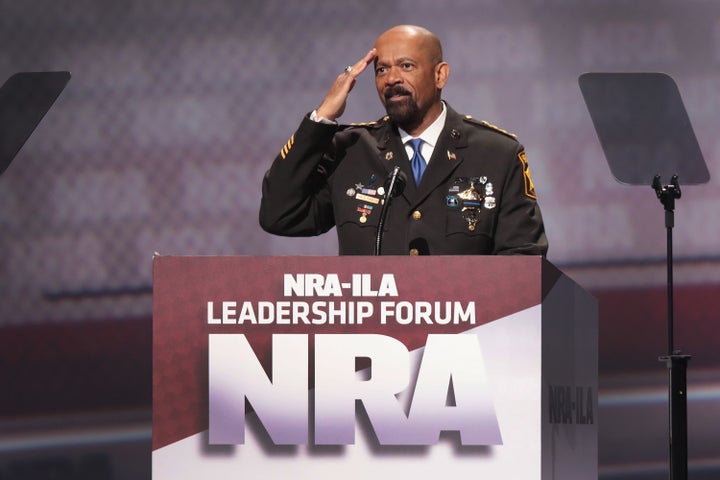 WASHINGTON ― The company that handled medical services for a Milwaukee jail formerly run by conservative firebrand David Clarke is facing criminal charges in connection with the death of an inmate who died of "profound dehydration" after Clarke's employees cut off his jail cell's water supply for a week.
The Milwaukee County District Attorney's Office brought seven counts of intentional falsification of records against Armor Correctional Health Services Inc. in connection with Terrill Thomas' 2016 death. The district attorney's office said that the company "engaged in a pattern and practice of intentionally falsifying entries in inmate patient health care records."
The company's personnel, investigators say, falsely stated that they checked on Thomas, when surveillance video footage contradicts these accounts. The district attorney's office added that staffers may have "identified Mr. Thomas' fatal medical distress" had they actually performed the medical assessments they claimed to have carried out.
Thomas, a 38-year-old with mental health issues, died on April 24, 2016, nine days after his arrest in connection with a shooting. Other inmates nearby his cell said he begged for water in the days before he died.
"During my investigation into Mr. Thomas' death, I determined that medical staff, employed by Armor Correctional, made multiple false entries in Mr. Thomas' patient health care record," Robert G. Stelter, an investigator with the district attorney's office, wrote in a criminal compliant.
"I compared Criminal Justice Facility video surveillance footage of Mr. Thomas' cell area with entries in Mr. Thomas' patient health care records," Stelter wrote. "That comparison showed Armor Correctional employees either walking by Mr. Thomas' cell without stopping or never appearing at his cell at all, when at the same time, the employees recorded they medically assessed Mr. Thomas."
One Armor Correctional Health Services employee even "fabricated blood pressure and pulse readings" that were never performed, Stelter wrote.
Erik J. Heipt, an attorney for the Thomas estate, told HuffPost that it was "beyond rare" for a company to face criminal charges in connection with a jail death. He added it was remarkable that prosecutors were alleging that the company had a corporate practice of falsifying medical records. Heipt is representing the Thomas estate in their lawsuit against Clarke over Thomas' death.
Armor Correctional Health Services said that they put patient care "first and foremost" and said the charges were isolated to the "alleged failures" of three people.
"This is not a reflection of Armor's culture or representative of the many care-providers dedicated to providing medical and mental health treatment in the Milwaukee County Jail. At the jail, approximately 37,000 health screenings occur annually which facilitates an additional 90,000 medical, mental health, and dental patient encounters. The company intends to vigorously defend all claims," Armor said in a statement.
"Although for privacy reasons we cannot comment directly on any current litigation, as we have stated before, any loss of life is tragic. The company and its employees remain committed to our core principles of consistent, compassionate, and quality patient care."
Clarke resigned from his post as Milwaukee County sheriff last year. In recent months, he's been suspended from Twitter over a threat to make the media "taste their own blood." Reports also revealed that Clarke came under FBI scrutiny for violating the civil rights of a passenger on an airplane, though federal prosecutors declined to bring charges in the case.
Ryan Reilly is HuffPost's senior justice reporter, covering the Justice Department, federal law enforcement, criminal justice and legal affairs. Have a tip? Reach him at ryan.reilly@huffpost.com or on Signal at 202-527-9261.
Popular in the Community