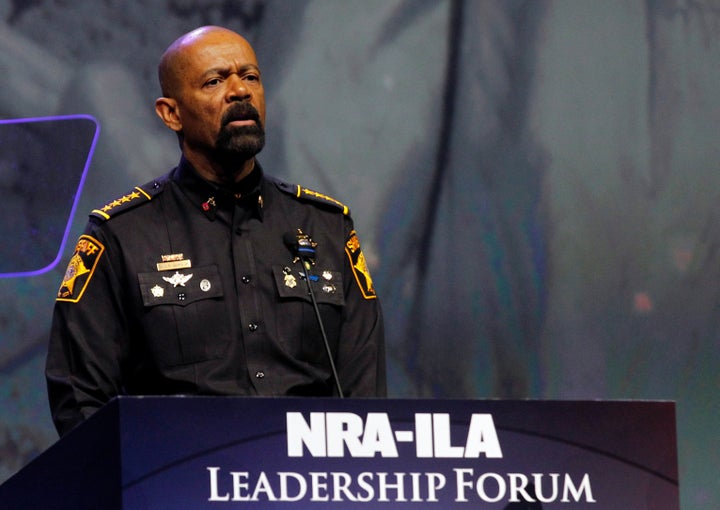 Three inmates and a baby have died since April at a jail run by Milwaukee County Sheriff David Clarke, but the outspoken lawman is refusing to take any responsibility. Instead, he's blaming a health care provider and the inmates themselves for deaths under his watch.
The controversial cases include a man with mental health issues who died of "profound dehydration," two inmates who died after suffering medical emergencies in their cells and a newborn baby whose death has been blamed on ignored requests for medical help from an inmate in labor. An independent investigator concluded last month that health care staffing shortages, delays in access to care and insufficient oversight of personnel at the lockup may have contributed to these deaths.
The scrutiny has become a major headache for Clarke, a bombastic self-promoter who was once thought to be a contender to run President-elect Donald Trump's Department of Homeland Security. On Wednesday, Rep. Gwen Moore (D-Wis.) sent a letter to the Department of Justice asking for a federal probe into the jail, and last week a Milwaukee County supervisor called on Clarke to resign, accusing him of failing to take seriously the duty of managing the Milwaukee County Jail. The county's chief medical examiner has taken the criticism further, telling the Milwaukee Journal Sentinel that Clarke had "threatened" and "verbally pummeled" him in October, after he released information about two deaths at the facility.
In an interview with Wisconsin Watchdog published this week, however, Clarke pushed back against his critics, suggesting the inmates had brought death upon themselves. From the Watchdog report.
Clarke said what the Journal Sentinel's "hit job" missed is the fact that jail populations are filled with sick people who have made a lot of bad decisions that have compromised their health.

"Two inmates suffered from ... cardiac disease, which became critical when coupled with the effects of hardcore drug usage prior to their incarceration, with their extensive drug histories independently noted in their death investigations," he said.
Clarke reportedly went on to claim there was "no pattern or connection" in the jailhouse deaths. But it's unusual to see so many inmates die in such a short period. Based on an analysis of The Huffington Post's jail death database, other jails that have four deaths in a year are several times the size of Clarke's downtown jail site, which has a capacity of 960. Even if no additional inmates die at Clarke's jail this year, the facility's death rate will be roughly three times the national average, according to 2013 figures.
Jails face complex challenges in providing medical care for inmates, many of whom come from vulnerable populations. Lockups are often packed with poor or homeless individuals. Many inmates suffer from mental illness or other medical conditions. Caging human beings is an inherently dangerous business, which is precisely why it's critically important for jail staff to take the health of their inmates seriously. When they fail in this responsibility, as an independent investigator determined administrators at the Milwaukee County Jail did, people die.
But Clarke argues there's nothing he could have done to prevent these deaths. The blame, he told Watchdog, lies instead with the jail's private health care provider as well as with the inmates themselves.
"If there is a shortcoming here, people have to direct these questions at the medical staff," Clarke told Watchdog. "That [private] contract is run out of the House of Correction, and they report to the county executive."
Clarke's effort to absolve himself is "preposterous and maddening," said Erik Heipt, an attorney for the family of Terrill Thomas, the inmate who died of dehydration in April.
"A county cannot contract away its responsibility to provide constitutionally adequate healthcare to its confined citizens," Heipt told The Huffington Post in an email.
Other inmates heard Thomas beg for water in the days before he died, the Journal Sentinel reported in July. Thomas' death was ultimately ruled a homicide, and his family is considering a lawsuit against the county. Heipt says that while staff with the jail's health care provider may have contributed to Thomas' declining health and eventual death, so, too, did Clarke, as the official who oversees the jail and all of its operations
"For decades, the Supreme Court has made clear that contracting out jail or prison medical care does not relieve the government of its constitutional duty to provide necessary medical treatment to those in its custody," said Heipt. "The government's duty is non-delegable. Simply put: the constitution creates a continuing obligation on counties to provide needed medical care despite contracting out inmate healthcare to private, for-profit corporations."
"Sheriff Clarke may not think the buck stops with him," added Heipt. "But it most certainly does."
Ryan J. Reilly contributed to this article.
Popular in the Community